6 New Witchy Books to Make You Shiver
When autumn comes, I crave something a little spooky to read. Something with the slightest touch of shivery goodness. Enough to go with my mug of warm apple cider and cinnamon scone.
Here are my picks for witchy fall books. Fuzzy blanket and a flashlight are optional.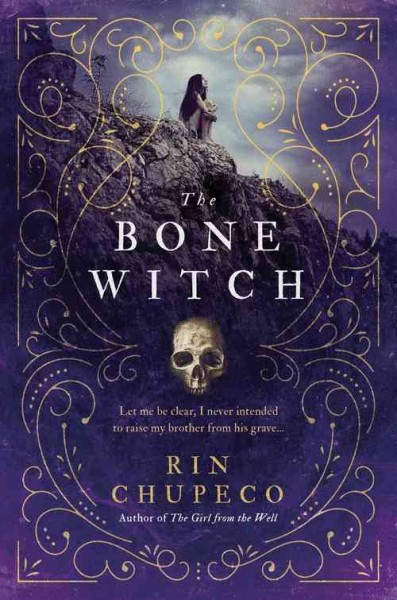 In the captivating start to a new, darkly lyrical fantasy series, Tea can raise the dead, but resurrection comes at a price. When Tea accidentally resurrects her brother from the dead, she learns she is different from the other witches in her family. Her gift for necromancy means that she's a bone witch, a title that makes her feared and ostracized by her community. But Tea finds solace and guidance with an older, wiser bone witch, who takes Tea and her brother to another land for training.
In her new home, Tea puts all her energy into becoming an asha-one who can wield elemental magic. But dark forces are approaching quickly, and in the face of danger, Tea will have to overcome her obstacles and make a powerful choice.
First in a series. The next book, The Heartforger is coming out in 2018.
The Bone Witch is also available as an:
Elloren Gardner is the granddaughter of the last prophesied Black Witch, Carnissa Gardner, who drove back the enemy forces and saved the Gardnerian people during the Realm War. But while she is the absolute spitting image of her famous grandmother, Elloren is utterly devoid of power in a society that prizes magical ability above all else.
When she is granted the opportunity to pursue her lifelong dream of becoming an apothecary, Elloren joins her brothers at the prestigious Verpax University to embrace a destiny of her own, free from the shadow of her grandmother's legacy. But she soon realizes that the university, which admits all manner of people –including the fire-wielding, winged Icarals, the sworn enemies of all Gardnerians –is a treacherous place for the granddaughter of the Black Witch.
As evil looms on the horizon and the pressure to live up to her heritage builds, everything Elloren thought she knew will be challenged and torn away. Her best hope of survival may be among the most unlikely band of misfits –if only she can find the courage to trust those she's been taught to hate and fear.
First in a series. The as yet untitled book 2 is due out in 2018.
Read Wand Fasted, an eBook prequel to The Black Witch.
The Black Witch is also available as an:
In a village at the edge of the wilderness of northern Russia, where the winds blow cold and the snow falls many months of the year, a stranger with piercing blue eyes presents a new father with a gift – a precious jewel on a delicate chain, intended for his young daughter.
Uncertain of its meaning, Pytor hides the gift away and Vasya grows up a wild, willful girl, to the chagrin of her family. But when mysterious forces threaten the happiness of their village, Vasya discovers that, armed only with the necklace, she may be the only one who can keep the darkness at bay.
First in a series.
After you read The Bear and the Nightingale, read The Prologue that didn't make it into the book.
The Bear and the Nightingale is also available as an:
New Year's Day, 1889. In Edinburgh's lunatic asylum, a patient escapes as a nurse lays dying. Leading the manhunt are legendary local Detective 'Nine-Nails' McGray and Londoner-in-exile Inspector Ian Frey. Before the murder, the suspect was heard in whispered conversation with a fellow patient — a girl who had been mute for years. What made her suddenly break her silence? And why won't she talk again? Could the rumours about black magic be more than superstition?
McGray and Frey track a devious psychopath far beyond their jurisdiction, through the worst blizzard in living memory, into the shadow of Pendle Hill — home of the Lancashire witches — where unimaginable danger awaits.
Second book in a series. Read the first book, The Strings of Murder.
A Fever of the Blood is also available as an eBook.
When a teenage boy dies suspiciously on Halloween night, Salem's chief of police, John Rafferty, now married to gifted lace reader Towner Whitney, wonders if there is a connection between his death and Salem's most notorious cold case, a triple homicide dubbed "The Goddess Murders," in which three young women, all descended from accused Salem witches, were slashed on Halloween night in 1989.
He finds unexpected help in Callie Cahill, the daughter of one of the victims newly returned to town. Neither believes that the main suspect, Rose Whelan, respected local historian, is guilty of murder or witchcraft. But exonerating Rose might mean crossing paths with a dangerous force. Were the women victims of an all-too-human vengeance, or was the devil raised in Salem that night? And if they cannot discover what truly happened, will evil rise again?
Set in the same world as The Lace Reader.
The Fifth Petal is also available as an:
New York, 1880. Seánces are the entertainment of choice in exclusive social circles, and many– some with true powers, others gifted with the art of performance– find work as mediums. At Tea and Sympathy, Adelaide Thom and Eleanor St. Clair provide a place for whispered confessions, secret cures, and spiritual assignations. When Beatrice hires as a shop girl, she doesn't know she has spiritual gifts.
As she learns to harness her powers, she doesn't know of the evils lurking– or the courage it will take to face them.
The Witches of New York is also available as an:
You might also enjoy
Save
Save
Save
Save
Save
Save
Save
Save
Save