7 Books to Help You Read Diversely
It's important to stretch our boundaries and read diversely. Instead of always picking up go-to authors, step outside the authors you usually read. It's a great way to support and explore different cultures, beliefs and experiences. I've created a list of favorite books and authors that represent diverse perspectives.
NK Jemisin
The City We Became by N.K. Jemisin. From the publisher, "Five New Yorkers must come together in order to save their city from destruction.
Every great city has a soul. Some are ancient as myths, and others are as new and destructive as children. New York? She's got six.
When a young man crosses the bridge into New York City, something changes. He doesn't remember who he is, where he's from, or even his own name. But he can feel the pulse of the city, can see its history, can access its magic. And he's not the only one.
All across the boroughs, strange things are happening. Something is threatening to destroy the city and her six newborn avatars unless they can come together and stop it once and for all."
Her work has won several awards including the Hugo, Nebula, and Locus awards. She is the first author to win the Hugo Award for Best Novel in three consecutive years or for all three novels in the Broken Earth trilogy.
Nnedi Okorafor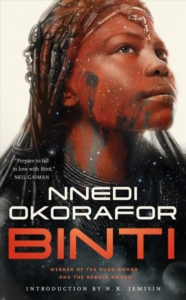 Binti by Nnedi Okorafor. From the publisher, "Her name is Binti, and she is the first of the Himba people ever to be offered a place at Oomza University, the finest institution of higher learning in the galaxy.
But to accept the offer will mean giving up her place in her family to travel between the stars among strangers who do not share her ways or respect her customs. Knowledge comes at a cost, one that Binti is willing to pay, but her journey will not be easy.
The world she seeks to enter has long warred with the Meduse, an alien race that has become the stuff of nightmares. Oomza University has wronged the Meduse, and Binti's stellar travel will bring her within their deadly reach.
If Binti hopes to survive the legacy of a war not of her making, she will need both the gifts of her people and the wisdom enshrined within the University, itself–but first, she has to make it there, alive."
Binti won multiple prominent literary awards, including the 2016 Hugo Award and the 2016 Nebula Award for Best Novella.
Farrah Rochon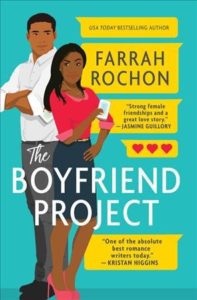 The Boyfriend Project by Farrah Rochon. From the publisher, "Samiah Brooks never thought she would be "that" girl. But a live tweet of a horrific date just revealed the painful truth: she's been catfished by a three-timing jerk of a boyfriend.
Suddenly Samiah-along with his two other "girlfriends," London and Taylor-have gone viral online. Now the three new besties are making a pact to spend the next six months investing in themselves. No men, no dating, and no worrying about their relationship status.
For once, Samiah is putting herself first, and that includes finally developing the app she's always dreamed of creating. Which is the exact moment she meets the deliciously sexy, honey-eyed Daniel Collins at work. What are the chances? When it comes to love, there's no such thing as a coincidence.
But is Daniel really boyfriend material or is he maybe just a little too good to be true?"
Jasmine Guillory
The Wedding Date by Jasmine Guillory. From the publisher, "A groomsman and his last-minute guest are about to discover if a fake date can go the distance in a fun and flirty debut novel.
Agreeing to go to a wedding with a guy she gets stuck with in an elevator is something Alexa Monroe wouldn't normally do. But there's something about Drew Nichols that's too hard to resist.
On the eve of his ex's wedding festivities, Drew is minus a plus one. Until a power outage strands him with the perfect candidate for a fake girlfriend. From the best man's toast to the bouquet toss, Alexa and Drew have more fun than they ever thought possible.
But before they know it, Drew has to fly back to Los Angeles and his job as a pediatric surgeon, and Alexa heads home to Berkeley, where she's the mayor's chief of staff. Too bad they can't stop thinking about the other."
Silvia Moreno-Garcia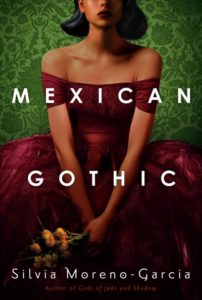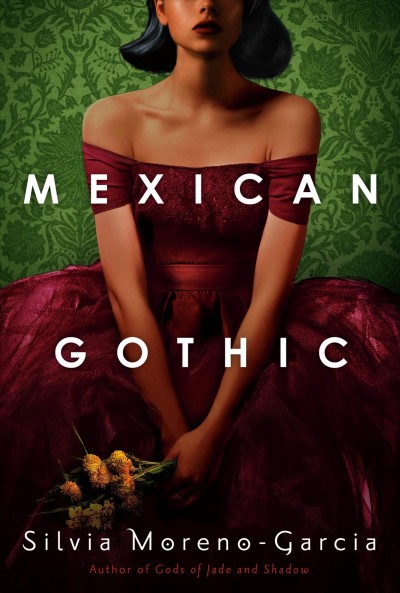 Mexican Gothic by Silvia Moreno-Garcia. From the publisher, "After receiving a frantic letter from her newly-wed cousin begging for someone to save her from a mysterious doom, Noemi heads to High Place, a distant house in the Mexican countryside. She's not sure what she will find, her cousin's husband, a handsome Englishman, is a stranger, and Noemi knows little about the region.
She's an unlikely rescuer:  a glamorous debutante with chic gowns and perfect red lipstick that are more suited for cocktail parties than amateur sleuthing. But she's also tough and smart, with an indomitable will, and she's not afraid.
Her only ally in this inhospitable abode is the family&;s youngest son. Shy and gentle, he seems to want to help her but might also be hiding dark knowledge of his family's past."
Her work has won the World Fantasy Award and been nominated for the Nebula Award.
Charlie Jane Anders
All the Birds in the Sky by Charlie Jane Anders. From the publisher, "When Patricia Delfine was six years old, a wounded bird led her deep into the forest to the Parliament of Birds, where she met the Great Tree and was asked a question that would determine the course of her life.
When Laurence Armstead was in grade school, he cobbled together a wristwatch-sized device that could send its wearer two seconds into the future.
When Patricia and Laurence first met in high school, they didn't understand one another at all. But as time went on, they kept bumping into one another. Now they're both grown up, and the planet is falling apart around them.
Laurence is an engineering genius who's working with a group that aims to avert catastrophic breakdown through technological intervention into the changing global climate. Patricia is a graduate of Eltisley Maze, the hidden academy for the world's magically gifted, and works with a small band of other magicians to secretly repair the world's every-growing ailments.
Neither Laurence nor Patricia can keep pace with the speed at which things fall apart. But something bigger than either of them, something begun deep in their childhoods, is determined to bring them together. And will."
Charlie Jane's work has received the Hugo, Nebula, Lambda, and Locus Awards.
Amal el-Mohtar and Max Gladstone
This Is How You Lose the Time War by Amal el-Mohtar and Max Gladstone. From the publisher, "Among the ashes of a dying world, an agent of the Commandant finds a letter. It reads: Burn before reading.
Thus begins an unlikely correspondence between two rival agents hellbent on securing the best possible future for their warring factions.
Now, what began as a taunt, a battlefield boast, grows into something more. Something epic. Something romantic. Something that could change the past and the future.
Except the discovery of their bond would mean death for each of them."
This book won  the BSFA and Nebula Awards and was a finalist for the Hugo Award.
Conclusion
Stretch your boundaries and add some (more) diversity to your reading list!
You might also enjoy