6 Chilling Books
Vampires, werewolves, and witches – oh, my! It is that time of year again…time to get spooky! If supernatural creatures excite you during this spooky season, then these chilling books are sure to satisfy your inner vampire…or werewolf…or witch…? Oh my! Here are 6 chilling, spooky titles that will definitely put you in the mood for Halloween.
6 chilling books
My first choice is Dead Until Dark by Charlaine Harris. Love blossoms between Sookie Stackhouse, a cocktail waitress in rural Louisiana who keeps to herself because of her ability to read minds, and Bill, a tall, dark, and handsome vampire with ties to a creepy crowd that may be responsible for the death of one of Sookie's coworkers.
Available as:
Secondly is A Secret History of Witches by Louisa Morgan. From the early 19th century, Brittany to London during the Second World War, five generations of witches fight the battles of their time, deciding how far they are willing to go to protect their family, their heritage, and ultimately, all of our futures. After Grandmère Ursule gives her life to save her tribe, her magic seems to die with her. Even so, her family keeps the Old Faith, practicing the spells and rites that have been handed from mother to daughter for generations. Until one day, Ursule's young granddaughter steps into the circle, and magic flows anew.
Available as:
Next, I recommend Shiver by Maggie Stiefvater. In all the years she has watched the wolves in the woods behind her house, Grace has been particularly drawn to an unusual yellow-eyed wolf who, in his turn, has been watching her with increasing intensity.
Available as:
Let the Right One In by John Ajvide Lindqvist. The body of a teenage boy is found, emptied of blood and the murder is rumored to be part of a ritual killing. Twelve-year-old Oskar is personally hoping that revenge has come at long last—revenge for the bullying he endures at school. But the murder is not the most important thing on his mind. A new girl has moved in next door—a girl who has never seen a Rubik's Cube before, but who can solve it at once. There is something wrong with her, though, something odd. And she only comes out at night.
Available as:
Bitten by Kelley Armstrong. On the eve of her marriage, Elena Michaels learns that her fiancé has been concealing his secret life as a werewolf, and, as a bonus, he has made her into one also.
Available as: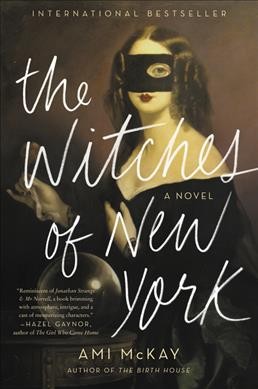 Lastly is The Witches of New York by Ami McKay. New York, 1880. Seánces are the entertainment of choice in exclusive social circles, and many– some with true powers, others gifted with the art of performance– find work as mediums. At Tea and Sympathy, Adelaide Thom and Eleanor St. Clair provide a place for whispered confessions, secret cures, and spiritual assignations. When Beatrice hires as a shop girl, she doesn't know she has spiritual gifts. As she learns to harness her powers, she doesn't know of the evils lurking– or the courage it will take to face them.
Available as:
Conclusion
October 31st will be upon us soon, and these chilling books are perfect to read if you want to be spooked. I do have one tip of advice though…Don't read these books at night! You can find these titles, and more, at Clermont County Public Library. Happy reading!
You might also enjoy