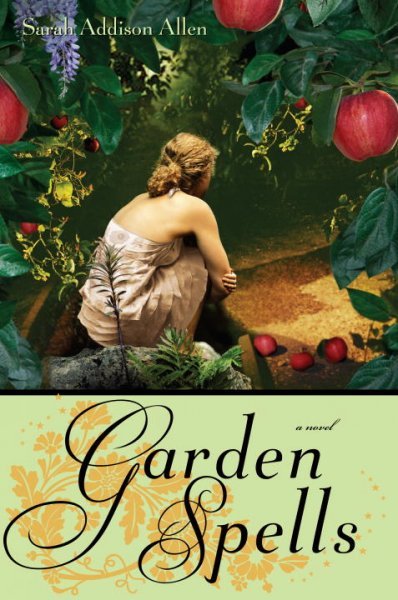 Booklovers Podcast: 9 Delicious Reads
Listen in as Mary and Andrea join me to talk about some tasty reads this episode. We prove that books are delicious as we cover fiction and nonfiction treats. Mysteries, memoirs and cupcakes – we discuss it all.
If you'd like to use one of the library's meeting rooms, check out the guidelines.
Our Picks
A Zombie Ate My Cupcake by Lily Vanilli. This book is an introduction to making cakes that look weird, ugly and even grotesque, but taste divine. There are amazing materials for making edible sculptures and hundreds of things you can do with natural ingredients.
Garden Spells by Sarah Addison Allen. This book has a gorgeous cover! A successful caterer in Bascomb, North Carolina, Claire has always remained tied to the legacy of the Waverly family, until her peaceful life is transformed by Tyler Hughes, an art teacher and new next-door neighbor, and by the return of her prodigal sister, Sydney.
Animal Vegetable Miracle by Barbara Kingsolver. Follows the author's family's efforts to live on locally- and home-grown foods, an endeavor through which they learned lighthearted truths about food production and the connection between health and diet.
Murder on the Rocks by Allyson K. Abbott. Mack's Bar is one of those nice, friendly places where everybody knows your name. That's great when someone's buying you a round, but not so hot when you find yourself atop a list of murder suspects–with your fingerprints on the bloody knife! Mackenzie "Mack" Dalton is a Milwaukee bar owner with a nose for trouble–literally. A neurological glitch has left her with extra perceptive senses. So when she stumbles upon a dead body in the alley behind the bar–the same spot where her own father was shot eight months earlier–she can tell right away there's something fishy in the air. The lead detective thinks there's a link between the two deaths, and he'll need Mack's help to sniff out the murderer amid the crowd of eccentric regulars. But when all the evidence points to her as the most likely culprit, it could be an early last call for Mack–and celebratory cocktails for a killer.
Yes, Chef by Marcus Samuelsson. It begins with a simple ritual: Every Saturday afternoon, a boy who loves to cook walks to his grandmother's house and helps her prepare a roast chicken for dinner. The grandmother is Swedish, a retired domestic. The boy is Ethiopian and adopted, and he will grow up to become the world-renowned chef.
Asking for Truffle by Dorothy St. James. When Charity Penn receives a letter saying she won a trip to South Carolina for free confectionery lessons at a seaside chocolate shop, the Chocolate Box, she's skeptical: she knows that she never entered the contest. An old prep school friend offers to look into the phony prize – and ends up drowned in a vat of chocolate. A guilt-stricken Penn heads to the sunny Southern beach town to investigate. Though she's wary of the locals, their eccentric vibe makes her defenses melt away. But learning the art of crafting delicious chocolates turns bittersweet when she unwraps a dark and deadly plot to destroy the charming resort town. Only Penn's quick thinking and a mysterious cask of rare cocoa beans can save the town she's learned to love. First in a series.
 Assaulted Caramel by Amanda Flower. Returning home to Harvest, Ohio, to help her grandparents run their Amish candy shop, chocolatier Bailey King must clear her grandfather's name in the murder of a local Englisch developer and catch a killer with a sweet tooth who is trying to fudge the truth. First in a series.
War and Peach by Susan Furlong. When one of the mayoral candidates, local farmer Clem Rogers, is murdered, all eyes turn to his rival–small-business owner Margie Price–and it is up to Nola Mae Harper to find the truth before the killer casts another fatal vote. Series.
Rosemary and Crime by Gail Ouest. When the local chef who agreed to do a cooking demo at the grand opening of her spice shop is found stabbed to death – and her prints are on the knife – Piper Prescott, a transplanted Yankee living in Brandywine Creek, Georgia, enlists the help of her outspoken best friend to prove her innocence. First in a series.
Subscribe to our Podcast
Don't miss a single episode of our Booklovers podcast.
Subscribe: iTunes | Google Play | Stitcher | RSS
Rate our podcast! Click that iTunes button and give us stars. All of the stars, please!
Want more book suggestions? Try NowWhat, our service that offers personalized reading suggestions.
Apply online for an eCard if you don't already have a card. Use our eCard to download eBooks, stream video and audio or access other eResources.
Other Suggestions
Save
Save
Save
Podcast: Play in new window | Download
Subscribe: Apple Podcasts | RSS | More