Flash Forward: Writing Short Fiction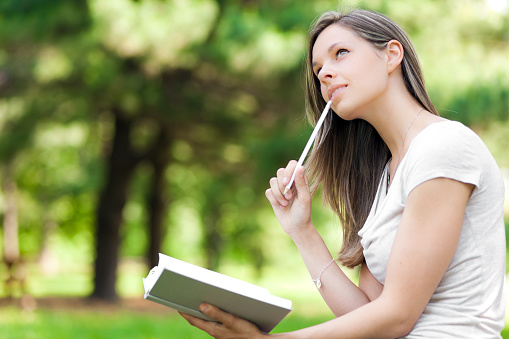 Fall is in the air, the leaves are picturesque, and it is officially time to get back to work on writing.  Summer vacations are over and it is the season of the Clermont County Public Library short story contest. Read about it here. Who has time to write a story? Anyone, especially if they write a piece of flash fiction.
What Is Flash Fiction?
Flash fiction, unsurprisingly, is a short form of storytelling. Defining it by word count is difficult as various sources quote different numbers but flash fiction is always less than 1000 words. Even the name "flash fiction" isn't standard as it is also called micro fiction, short short stories, postcard fiction and sudden fiction. Some authorities differentiate by stating that micro fiction is shorter than 400 words whereas short short stories are 300 words and postcard fiction literally fits on the back of a postcard. The analytical mind points out that if one has tiny handwriting one could really stretch out the postcard fiction, but that is just another reason why the definition is difficult to delineate. There is even a type of flash fiction called "Twitterature" which is 140 characters (including spaces), of course. Flash fiction stories can fall under any genre. Publishers in the sci-fi, fantasy, horror and even literary realms have embraced the creativity of the format. Flash nonfiction and memoirs and essays exist as well. The genre of flash fiction has existed for a long period of time but began to become popular in literary magazines within the last few years. It is hard to say if the genre is fashionable again because of our so called fast paced society or if it is just another trend that will soon wane. Either way, the genre has relevance for writers looking to develop their skills.
Why Flash Fiction?
Why write flash fiction? It takes less time to write and revise a shorter work. A piece of flash fiction also introduces readers to the writer's style and may help with the publishing process as many magazines are limited on space. Not to mention that focusing on a short word length forces the writer to closely examine their sentences and focus on the essence of the story. What is the crucial character, plot, or point of the piece? That must be crystal clear as there is no room for error. It will challenge authors and sharpen their skills. Finally, if the writer creates a piece between 700 and 1000 words, they can enter it into the CCPL contest. Suggested Works: Twitterature: the world's greatest books in twenty tweets or less by Alexander Aciman The Writer's Digest handbook of short story writing edited by Frank A. Dickson and Sandra Smyth Extraordinary short story writing by Steven Otfinoski Save