Podcast: Best Picturebooks to Read Aloud
Laura: [00:00:00] Welcome to this episode of the Clermont County Public Library's Booklovers Podcast. I'm your host, Laura. And today I'm joined by two librarians, Amy and Stacy. We're going to talk about the best picturebooks to read aloud. So, Amy, you're going to get us started.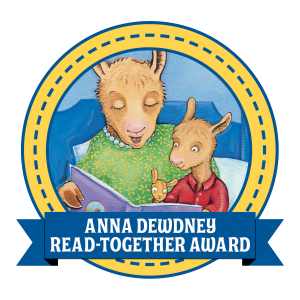 Anna Dewdney Read Together Award
Amy: [00:00:20] I'm going to talk about the Anna Dewdney Read Together Award, and some of the great picture books are from that. It's an award given annually to a picture book that is both a superb read-aloud and also sparks compassion, empathy, and connection. Which is something I think that we all need in this world – children, and adults.
Laura: [00:00:41] Absolutely.
Anna Dewdney quote
Amy: [00:00:42] And it is a fairly new award it's been given out since 2017. It was given an honor of Anna Dewdney. Who's the author of Llama, Llama, Red Pajamas, and so many other books. She was quoted in the Wall Street Journal before she passed away in 2016 as saying, that she believed that "a good children's book can be read by an adult to a child and experienced genuinely by both. [And that] reading with children makes an intimate, human connection that teaches that child what it means to be alive as one of the many beings on the planet. [And that] when we read a book with children, then children – no matter how stressed, no matter how challenged – are drawn out of themselves to bond with other human beings, and to see and feel the experiences of others. It is this moment that makes us human. In this sense, reading makes us human." Which is why these books are given for the empathy and for the connection.
The books that are chosen are chosen from ones that were published within the last five years of the award. And with that, I'm going to get started with one of them.
Picturebooks to read aloud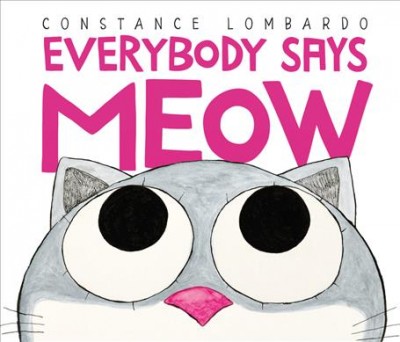 Everybody Says Meow!
Amy: This one is Everybody Says Meow! By Constance Lombardo.
Laura: [00:01:56] It's a great cover.
Amy: [00:01:57] It draws you in right away. It starts with a little gray cat who welcomes us as the reader and the listener to that magical time when everybody says meow. Are you ready? Her friends are over there and Meow, woof. It continues on as the dog says woof but she tries to get the dog to say meow, but he just can't. He just only says Woof.  It is a great book to help with inclusion because she comes up with a new plan where she can work with the dog and then everybody says meow and one dog says woof. Then another character comes into the equation.
It's a great book to read at the beginning of the school year, anytime that you want to work with inclusion or you have a group that is struggling to work well together, or  just any time as it's a really fun book to read and it's a perfect book to teach animal sounds as well. There's so much going for it.
The illustrations are wonderful.
Laura: [00:02:52] They looked super cute in the few pages you just have shown.
Everybody Says Meow! is available as a: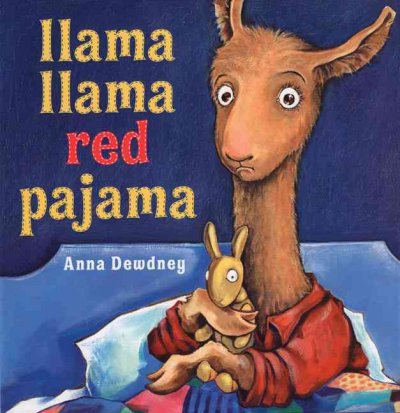 Anna Dewdney and the LLama LLama series
Stacy: [00:02:55] All right. So just really quick that Anna Dewdney Read Together Award is presented by a joint effort between the publisher Penguin Young Readers, and the organization, the Children's Book Council and their charitable arm called Every Child a Reader.
And like Amy was explaining, this is the fifth annual Anna Dewdney Read Together Award, in honor, of late Anna Dewdney who holds a special place in my heart; I think in a lot of librarians', parents', teachers' hearts as well as readers. But Llama Llama Red Pajama was the first read-aloud that I shared in my very first storytime as a youth librarian at the Union Township branch.
And it was wonderful. The kids loved it. So, her legacy lives on, in continuing the Llama Llama series and also as a Netflix series as well, which is really cool.
Amy: [00:03:45] One of my favorites at holiday time to share with outreach is Lama Lama, Holiday Drama. Because it talks about a little child that's having a meltdown because of Christmas and all the preparations, all of that time waiting… it's a great way to relate to children and show them that meltdowns happen, but that you can recover too.
Winner announced in May
Stacy: [00:04:05] Yeah. The whole series is great for those social-emotional learning aspects. So, voting for this year's awards for the six finalists has ended. But the winner will be announced during Children's Book Week and Children's Book Week is the annual celebration of books for young people and the joy of reading. It was established in 1919 which makes it the longest-running national literacy initiative in the country. Very cool. That's a collaboration between the Children's Book Council and Every Child A Reader.
So, you can go online to see this year's winner. When it's announced Children's Book Week will take place May 3rd through the 9th and you can also go online to see past years' winners as well. So, to do that, just go onto everychildareader.net/cbw. For Children's Book Week.
Laura: [00:04:55] I'll have links to that in the show notes.  It'll be at clermontlibrary.org and they'll be able to find links to all of your books.
More picturebooks to read aloud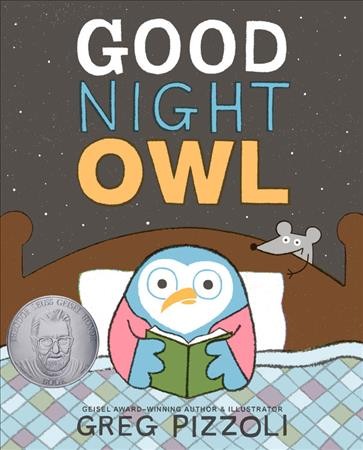 Good Night, Owl
Stacy: [00:05:02] Perfect. So, I'm going to go ahead and share my first pick for a great read aloud book.
I chose all of mine based on these are all ones that I have read actually in a storytime. And personally, to me, with a read-aloud, the illustrations in a picture book say just as much, if not more than the words do. In my opinion, they all have really great illustrations. So the first book is Good Night Owl by Greg Pizzoli who, in my opinion, Greg Pizzoli, can do no wrong.
So, this is just, if you pick any of his books, this is just one of them that is just a wonderful read aloud. First of all, it's humorous, which I always think is a big win. If you're reading to a class or a storytime or even a home. There are bright, large colorful illustrations. As you can see, I'll show you a couple of spreads.
So, you probably can guess Owl here is getting ready for bed. But he keeps hearing this noise and you can probably guess that it's coming from a little mouse. It's very cute. The readers are privy to what is going on. That there's a mouse and Owl's house, but Owl can't figure out where the sound is coming from.
And Owl gets more and more paranoid and upset. He can't figure out where the noise is coming from and he starts ripping up the floorboards in his house and taking down the walls and the ceilings. And by the end of the book, Owl does not have a house. Because he can't find where the noise is coming from, but then at the end of the book it's very sweet ending.
So, I won't spoil it for you, but it's a really fun read-aloud. It's fun to get the kids involved because they know that there's a mouse and they'll, you know, they'll start yelling. There's a mouse. Why doesn't the Owl see the mouse? It's very sweet. So, it's a good humorous book. It's good for storytimes, even a good bedtime read. So, that is my first pick.
Good Night Owl is available as a: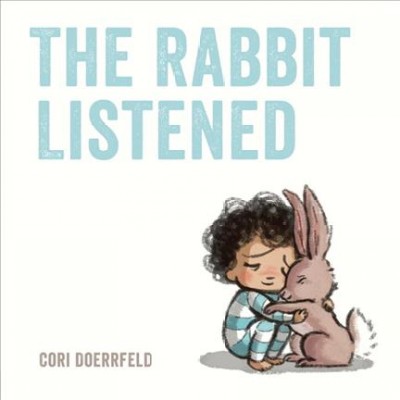 The Rabbit Listened
Amy: [00:06:50] Sticking with the animal theme. My next pick is the rabbit listened by Cori Doerrfeld. And this one is a great book for a quiet lap share. It's not as good for a classroom read aloud. I've connected with it a lot because I was a sensitive, quiet child when I was growing up and I still am. When I got upset, I often just needed some quiet time to process what was happening. This book is a great demonstration of what I needed and what so many other kids need.
It's all about Taylor, who's the child, and they decided to build something, something new, something special, something amazing. Taylor was proud. But then out of nowhere, things came crashing down and all different animals come to try and help Taylor process what had happened. The chicken was the first to notice. "I'm so, so, sorry, sorry. Sorry this happened. Let's talk, talk, talk about it. But Taylor didn't feel like talking. So the chicken left" and many different animals come and try to help Taylor process the problem.
But that is not what Taylor needs until the rabbit comes and the rabbit listened, the rabbit sits quietly next to Taylor and helps Taylor just by being there and by being present. Which is often the best way to be a friend or to help somebody going through a hard time is to just be present and just to be there. And this book is a perfect example of that, and it was the 2019 award winner.
Stacy: [00:08:30] I love that the illustrations really compliment the kind of quiet story too. Like lots of white space, pastel colors, nice, quiet read aloud.
Amy: [00:08:39] I also love the fact that Taylor is, a great name for the character, the characters not defined as a boy, not defined as a girl, it will relate to anyone and everyone. And the different animal parts all fit what we would consider a traditional animal personality – The chicken is noisy, the bear is loud and yells and the other animals come in and then the rabbit is just quiet.
The Rabbit Listened is available as a: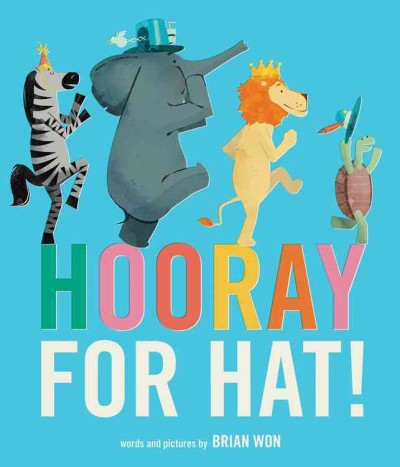 Hooray for Hat!
Stacy: [00:09:05] My next pick is another kind of bright, colorful book called Hooray for Hat! by Brian Won. This was another really fun read aloud because it gets the kids involved in saying the refrain, "Hooray for hat!" throughout the book. It starts out with elephant here. Who is very grumpy. We can probably all relate to that, waking up on the wrong side of the bed and just having a bad day from the get go.
But his spirits are immediately lifted when he finds a present on his doorstep and it is—and this is a fun book too, because you get to kind of turn it—it is a stack of hats and who doesn't like the stack of hats? Look how happy he is. So sweet. Throughout this book, he goes outside and meets his different friends who were also grumpy as well.
And what does he do? He gives them a hat and then they're happy. So, it's fun to get the kids to exclaim with you the refrain, "Hooray for hat!" throughout the book. So, they go on and they meet different animals and each one is grumpy. Each one gets a hat and then they're happy. So, this is kind of a great social, emotional learning book without a heavy-handed message. The kids learn about sharing and making friends and trying to listen and make our friends happy. Without that kind of heavy-handed message and the illustrations in my opinion are just beautiful.
It's great for a big group read because you can see the illustrations from far away. And this one is just a really fun one to read aloud.
Laura: [00:10:44] I imagine that's delightful when you have a room full of storytime kids and they're all going "Hooray for hat!" So much fun!
Hooray for Hat is available as a: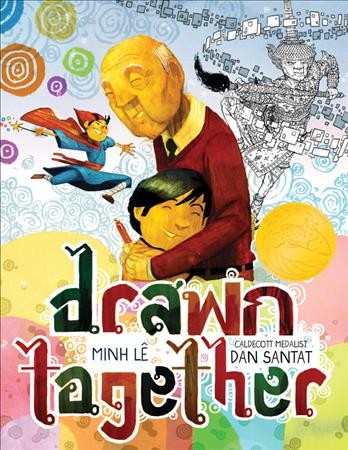 Drawn Together
Amy: [00:10:55] My next one is Drawn Together by Minh Le and illustrated by Dan Santat.
It is a great book to read aloud, to help children and adults find ways to overcome barriers and to really connect with others. It is the story of a boy who is dropped off by his mom to spend the day with his grandfather. There is a language barrier as well as a cultural barrier, the food is different, everything is different.
They can't communicate in the way we normally do, they try to watch television, but even that is difficult because it's not what either one wants to watch. So the young boy goes off and begins drawing and grandfather gets very, very excited because he is an artist as well.
They begin to build a world together through their illustrations and they work together and "All the things that we could never say come pouring out. And we build a new world that even words can't describe." It shows how they bridged that difference, bridged that gap between the two of them. It's just a great way to talk about how to connect and how to, find something that's similar. And it was a 2019 Honor book for the Anna Dewdney award.
Laura: [00:12:57] It looks very sweet and very gentle.
Amy: [00:13:00] A lot of my books are that way when I'm choosing for a one-on-one read, I'm very much a gentle read, but then I can also be very boisterous and very loud and like doing story times with a group and I can get kids yelling with Hooray for Hat or others.
But sometimes I just want that gentle comfort.
Stacy: [00:13:21] It's nice to have the different perspectives from different librarians, you know, types of read alouds. So not everything has to be loud and boisterous.
Amy: [00:13:33] A lot of the books that we choose, depending on what we're looking for, if we're looking for a one-on-one read, it's very different than what I would choose for a group read aloud or an outreach or something like that, or a Storytime.
Laura: [00:13:51] that the beauty of picture books so that they can be all of those things.
Stacy: [00:13:54] Exactly. And Dan Santat is one of my favorite authors, but illustrators, especially just his, anytime you see one of his books, you just want to like pore through every single spread. That's just so gorgeously illustrated.
Drawn Together is available as a: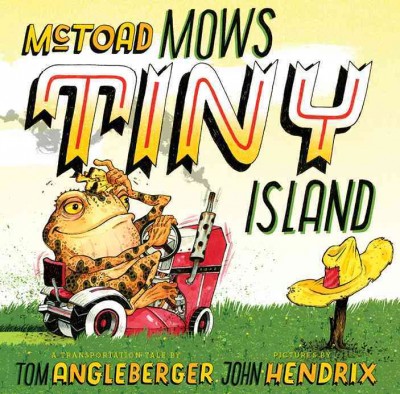 McToad Mows Tiny Island
Stacy: All right. My next pick is McToad Mows Tiny Island So cute. It's written by Tom Angleberger and the pictures are done by John Hendrix. So, you can see McToad there on his lawn mower. I love this book so much. The illustrations are just fantastic. So, this is McToad. He's obviously a toad.
And his job is to mow the grass on Big Island every single day of the week, except for on Thursdays. And on Thursdays, he gets to mow Tiny Island which is why Thursday is his favorite day of the week. So, there's Big Island and then here is Tiny Island. So exactly how does McToad get his lawnmower from Big Island to Tiny Island? Well he takes a truck, he takes a forklift, he takes a train, he takes the baggage buggy and so on and on so that he can reach Tiny Island. So, this is a really fun transportation book, learning about different types of transportation. And when he gets to Tiny Island, it takes him, as you can guess all about like two minutes to mow it because it's tiny, I'll have to show you a spread.
Laura: [00:15:37] cute.
Stacy: [00:15:38] So there's his crane lifting his mower and that is tiny. It just gets me every time. The first time I read this, during the storytime, the adults in the room cracked up, I think more so than the kids. They just got such a kick out of it. So, here's McToad and he takes a break halfway through, drink some lemonade and put some oil in his mower and then he finishes. And then he has to go back to Big Island. So, he does everything in reverse. That's really fun to see.
So, as I said, this is a great choice for transportation, learning about different types of things that go. And because the illustrations are so detailed, I think this is best for a small group or one-on-one, it is a fun read-aloud. Like I said, but with the beautiful illustrations, kind of like I said with Dan Santat, you just kind of want to really study them and pore over them. So, this would be fun, I think for just a small classroom setting or at-home bedtime story.
Laura: [00:16:51] McToad with a lawn mower, mowing an island – how can you not giggle about that?
McToad Mows Tiny Island is available as a: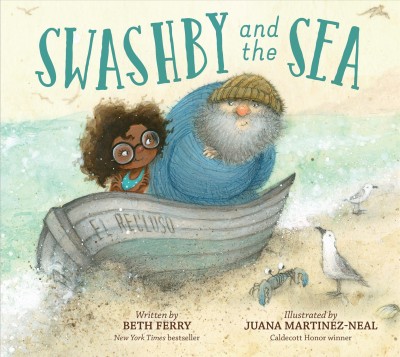 Swashby and the Sea
Amy: [00:17:01] It's so funny, we seem to be connected as my next one is Swashby and the Sea. It is also with water and islands, but this one he lives on the shore by the sea.
Captain Swashby is the old man, a hermit living by himself, happily. He lives next to the shore and the sea provides everything he needs. I love the illustrations. It's so warm and it makes you want to go to the beach. Then one day, a little girl and her granny move in, and his sereneness, his quietness is gone because she is running around, playing, and squealing. And Swashby battens down the hatches and he tried to get her to go away, he leaves messages in the sand this one says "no trespassing". What I love about this book is "the sea fiddled with it just a bit", the sea changes the words, now the message says "Sing" and she does, and she sings every song she knows while dancing up and down Swashby's deck.
Then she asks him what now? And he writes "now vanish" in the sand and he "added a starfish for an exclamation point. The sea fiddled, just a little more wish is what it says." So the little girl makes a wish and Swashby keeps yelling that, the sea is messing it up and that's not what he wrote to begin with.
One of the messages is "please go away". And once again, the sea fiddled and turned it into "play". She starts building a sand castle and he thinks she's building it all wrong, so then they start playing together. At one point, she ends up getting needing help. Eventually the sea gives Captain Swashby once again, exactly what Captain Swashby needed, which was a friend.
This tender book is a nominee for this year's award. It may be the winner, it may not. But it will be an honor if it's not a winner because every book that they nominate wins the award or it's an honor.
Stacy: [00:20:20] And this sweet, gentle story is complimented so well. They picked the perfect illustrator, Juana Martinez-Neal, she's one of my favorites.
Just her illustrations just make you happy. I think they're gorgeous.
Amy: [00:20:35] Thank you for pointing that out. Yes, it is written by Beth Ferry and it's illustrated by Juana Martinez-Neal. Juana Martinez-Neal is a Caldecott honor award winner, which is another children's award.
Laura: [00:20:51] So yeah, it's easy to see why those are gorgeous illustrations.
Amy: [00:20:53] It just makes me want to live on the beach.
Swashby and the Sea is available as a: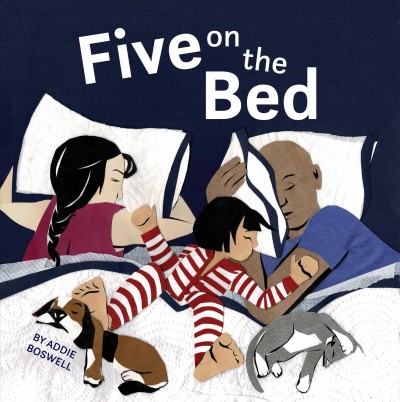 Five on the Bed
Stacy: [00:20:59] My next pick is called Five on the Bed. I was going to say five in the bed, but it's Five on the Bed by Addie Boswell. This is a deceptively simple counting story, counting up to five. And one of my favorite types of illustrations is cut paper and collage.
If you can see, I don't know if you can see closely, but the pillows and the comforter are paper towels that she cut and ripped and the rest is cut paper which is really neat. I was actually very impressed with the illustrations in this book. So, I went onto Addie Boswell's website and there is a video kind of like a time-lapse showing how she created the illustrations in this book, which is really fun to watch.
So, if you're interested, you can check that out. This is a deceptively simple counting book. It only goes up to number five. So, you would think, Oh, I don't know, that doesn't seem hard enough for my preschooler to read to them. But it doesn't go kind of in chronological order, one, two, three, four, or five.
First there's just one on the bed, which is cat.
And then there's one on the bed and one below the bed. So, you can talk about opposites above, below. You can talk about ask, you know, those great dialogic questions during the read aloud. Why is the doggy under the bed? Why is the cat on top of the bed? The cat gets what it wants would be my answer.
And then it kind of changes. Now there are two. Where did the dog go? There's a cat, there's dad, two on the bed and then two below the bed. So, it doesn't go one, two, three. You can do simple math two plus two, and count on your fingers as you're going. So, like I said, it's deceptively simple and it's just a very sweet story.
So, it depicts this family, a mom and a dad, a little girl, and then there are two pets throughout the day. And then as they're getting ready for bed. So, the last spread shows them all together. Five on the bed, all cuddled up, cozy, sleeping soundly. And ready for bed. So, this is a good one I think because the illustrations are so bold, it would be a good one to read to a group or just one-on-one for a bedtime story. That was a sweet one, I think.
Laura: [00:23:41] Absolutely.
Five on the Bed is available as a: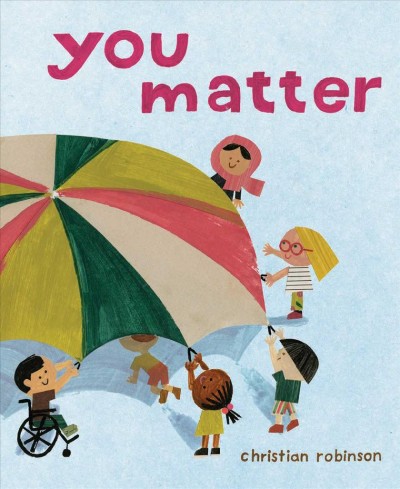 You Matter
Amy: [00:23:44] My last one is called You Matter by Christian Robinson.
And it is just a beautifully, simply illustrated book. Talking about connection and how everything matters. "The small stuff too small to see." And I love the fact that it's looking in a microscope and what you would see in that microscope. "Those who swim the tide and those who don't. The first to go and the last." and then it goes on.
Everyone needs to be told that they matter, even the smallest have a part to play. And "even if you're really gassy you matter". Everything in the universe is connected to everything else and it all matters. And you matter as part of that connection and everyone needs to be told that, adults, children, everyone.
You Matter is actually a 2021 nominee book as well. It was published in 2020, last year with all the issues that were going on in the world. And just that idea that everybody matters and everybody's connected.
Laura: [00:25:17] So simple, but beautiful.
Stacy: [00:25:24] And that one is that Christian Robinson? Also wonderful illustrator. And he was a Caldecott medal winner. Yeah. Lots of talent on the list this year. Great.
You Matter is available as a: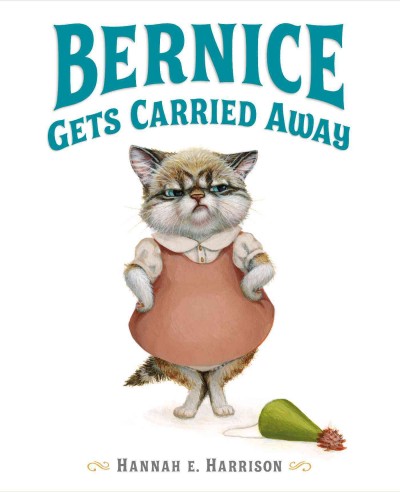 Bernice Gets Carried Away
I have one more as well. I saved my favorite for last it's called Bernice Gets Carried Away by Hannah E. Harrison. This is my, I think my favorite because the illustrations are just so expressive. All the animals are, as you can see, they're anthropomorphized, you know exactly that Bernice is having a bad day. Look how grumpy she is, but look at that cute little face. I just love it so much.
Hannah Harrison is such a talented artist. You can just tell that Bernice is just having a bad day. Look at that. So, Bernice and all of her animal friends are clearly at an outdoor party. Looks like so much fun. I would love to go to it, but she's having a bad day. So first of all, everybody gets a piece of cake with a flower frosting, except for Bernice, she gets a plain piece.
And she's also upset because she gets the icky more gross tasting grapefruit soda, and everybody else gets the delicious watermelon soda. She only gets like a tiny little gum drop from the party piñata while everybody else is pigging out. So, she's having a bad day, but also you can tell she wants to have a bad day.
Like she's just in a bad mood and we all have days like that. So, when she sees that they're bringing out the party balloons, she seizes her chance and grabs all of them. So funny. And she gets carried up, up and away up through the clouds. While she's up there, she realizes that her problems really aren't that big.
And so, she starts giving her balloons away and that causes her to float back down. So, she gives one to the cloud who is angry and then he brightens up and the sun shines and she gives one to the bluebird who has an empty nest, and it cheers her day up. So, Bernice falls back down to the ground where her friends are anxiously awaiting and she, of course, apologizes to them.
And then she shares her balloons. And then soon everybody else starts sharing as well. So, this one does have a little bit more of a heavy-handed message, but in my opinion, I think the illustrations make up for it. It's a very sweet book. I have read it in the story time and it is a quieter read.
I think it's best for one-on-one sharing. But again, one-on-one sharing, readalouds are just as good.
Laura: [00:00:00] I totally identify with Bernice. I've had those days.
Stacy: [00:00:04] I think those social emotional picks for kids are so important because it shows such a range of emotions that everybody feels, and kids need to know that like it's normal to feel that way, but also, how can we process our emotions and end up with a happy day at the end of it all.
Amy: [00:00:23] Sharing is one of those social-emotional skills that's so hard to learn. Especially if you feel that you are getting the short end of what everybody else is sharing – like the cake they're sharing with her, but she's not getting what she wants. It's very hard to share when it doesn't feel fair. She had to learn that on her own and that's a great way, you know, cause sometimes kids have to learn that sometimes you don't get exactly what you want. But you can still help and share.
Stacy: [00:00:53] Yeah. I think that the nuance of the book, which picture books definitely have nuances, is that in the beginning, she was not communicating that she was unhappy or that she didn't feel like she was getting her fair share. So, by the end of it, when she starts sharing—none of the animals actually speak in the book—but you can tell by their actions and their expression of emotions that she has apologized to her friends by the end of the book, and then they all start sharing together. So, great message.
Laura: [00:01:22] It's a wonderful message.
Bernice Gets Carried Away is available as a:
In conclusion
Laura: All right, Amy, Stacy, thank you both for sharing those wonderful, delightful best picturebooks, all of those look like they're winners and everybody should check them out right now. Absolutely. And listeners, viewers, if you'd like to check those out, I'll have links to all of the books plus the websites that Stacy mentioned in the show notes. Go to clermontlibrary.org.
Viewers, remember to subscribe to the Clermont Library's YouTube channel to get this and other great library-created content. And listeners, subscribe to the Booklovers Podcast. Thanks, everybody for listening and watching.
Amy: [00:02:03] Thank you.
Stacy: [00:02:03] Thank you.
You might also enjoy
Podcast: Play in new window | Download
https://clermontlibrary.org/wp-content/uploads/2021/04/blog-best-picturebooks.jpg
440
330
Laura Eckert
https://clermontlibrary.org/wp-content/uploads/2022/11/CCPL-Logo-tightcrop-transparent.png
Laura Eckert
2021-04-26 11:07:07
2023-02-14 12:15:45
Podcast: Best Picturebooks to Read Aloud