During this episode of the Booklovers Podcast, we're sharing our thoughts about the Youth Media Awards for 2021.
Laura: [00:00:00] Welcome to the Clermont County Public Library's Booklovers Podcast. I'm your host Laura. And today I'm joined by two librarians who love children's books, Cara and Stacy.
They're sharing their thoughts about the recently announced American Library Association's Youth Media Awards. Each year, the ALA awards outstanding books, and other materials for children and teens.
Link to the complete list of nominees and winners for the 2021 Youth Media Awards.
So Stacy, are you going to kick this off with the Caldecott books?
Youth Media Awards: Caldecott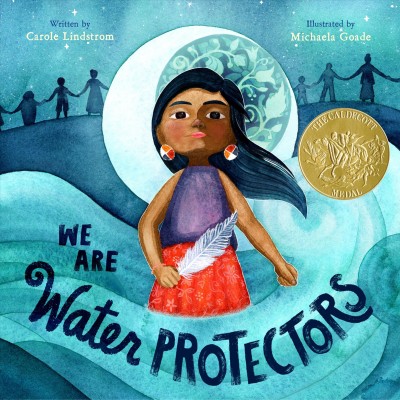 We Are Water Protectors
Stacy: [00:00:38] Yes. All right. Absolutely. I wanted to say first off that there are over 20 categories for the youth media awards that are announced annually. We obviously can't talk about all of them. So, Cara and I kind of got together before this and we decided which categories we were going to talk about.
We wanted to hit the major awards. And then hopefully we'll be able to talk about a few of the lesser-known, but still very well-loved categories. I'm going to kick it off with the Caldecott. People who love children's literature, probably know what the Caldecott is. But it is awarded annually to the artist of the most distinguished American picture book for children published the previous year.
I love this award because it goes to the illustrator, which most of the awards go to the author. The winner this year was We are Water Protectors illustrated by Michaela Goade, and it was written by Carole Lindstrom. And I think the biggest thing about the win this year for the Caldecott is it is the first Native American who has won this award.
Laura: [00:01:51] Wow!
Native American representation
Stacy: [00:01:51] Yeah, it's huge. Which is awesome. In 2018 there was a study done of representation and picture books. And 1% of characters were Native American in picture books that were published. And this was from 2018. So hopefully it's increased. And it has increased in the past few years. All the picture books that were published in 2018 which were over 3000, only 1% included Native American characters.
So, for a Native American author and illustrator to win this award that featured Native American characters is huge, which is wonderful.  Michaela is an enrolled member of the Tinglit and Haida tribes of Alaska, which I thought was very interesting. We Are Water Protectors is about conservation, a direct response to the production of the Dakota Access Pipeline and the protest by the Sioux tribes.
So, both the author and the illustrator, there's a note at the end of the book saying that those protests really inspired both of them. And they really just wanted to create a story based on true events. So, I think it's just really special that it won one of the most major awards for children's literature.
We Are Water Protectors is available as a: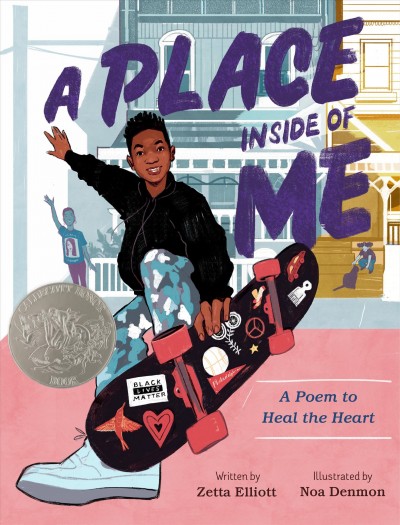 A Place Inside of Me
And I also think it's interesting how the other books were very well known and received. Several starred reviews from different publications. And then others didn't. So, there was an honor book and it was A Place Inside of Me: A Poem to Heal the Heart.
It was illustrated by Noa Denmon and it was written by Zetta Elliott. So that won one of the honors, but when it was published, it only received two trade reviews and none of them were starred. But it wins the Caldecott honor, which I'm not saying that it shouldn't have. It's just so interesting to me how some books receive a lot of like media attention and others don't which I think it really speaks to the committee.
A Place Inside of Me: A Poem to Heal the Heart is available as a book.
The Youth Media Awards committee and its choices
Stacy: I think Cara probably knows more about the standards that the committee adheres to. She could probably speak to it a little bit at least. I don't know exactly all the rules and regulations they have to follow. But I think it speaks to the committee's determination to review as many picture books as possible.
So not just the ones that get really great reviews, but everything, maybe not everything, but as close to everything as possible.
Cara: [00:04:31] I think it's really interesting how, yeah, like you were saying, the committee, it's hard to predict where they're going with things because they have so many books to choose from.
I think I read, at least for the Newbery committee, I'm more familiar with their process and information, but you know, it gets thousands of books shipped to them for their year that they're on the committee, and how to sift through those and give each one the attention that it deserves? I don't know how they do it.
Hard to predict the winners of the Youth Media Awards
But yeah, I think that it's really hard to predict because there are so many books. And just because it was well-reviewed or not well reviewed means nothing. And I think maybe, I find it frustrating that we don't get to hear the committee's deliberations. We never understand why they chose things because they don't release any of that information.
So it's just all kind of mysterious.
Stacy: [00:05:23] That's so interesting to me. I probably should have looked this up beforehand, but I don't know what year this is for the awards. I know there have been awards added over the years. So, I wonder if it's always been like that, that we don't know really the criteria or why.
Cara: [00:05:39] I assume so. I believe the Newbery is from the 1920s. Is that correct? And the Caldecott is from the '30s approximately? Yeah. So I'm sure they'll be celebrating once it hits a hundred years of the awards. I don't think we've quite gotten there yet, in a couple of years maybe.
Stacy: [00:05:54] That's so interesting. And too, for the committee to review thousands of books that sounds like a full-time job. But obviously like these people have full-time jobs, they're mostly, you know, librarians, teachers.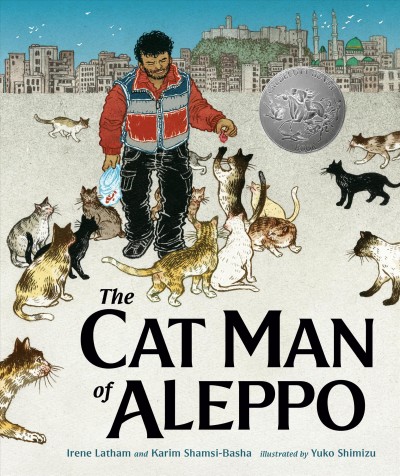 The Cat Man of Aleppo
Stacy: What I also thought was interesting is there is an honor that is a non-fiction picture book, and what I thought was interesting is there is a non-fiction picture book that won an honor this year, and that is The Cat Man of Aleppo.
Yuko Shimizu illustrated that. And Irene Latham and Karim Shamsi-Basha wrote it. So that is about a cat rescue during the Syrian civil war. And I did a tiny bit of research on the book and Shimizu has an illustrator's note in the back of the book.
She said she spent about half of her time that she had allotted to illustrate this book, which was nine months on just purely research. So, the illustrations are very detailed, which I think is interesting. A creator by the same name is the person who created Hello Kitty, but that's not this Yuko, that's a different Yuko, which I thought was funny.
The Cat Man of Aleppo is available as: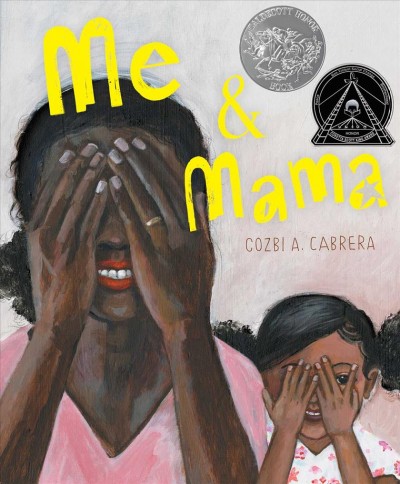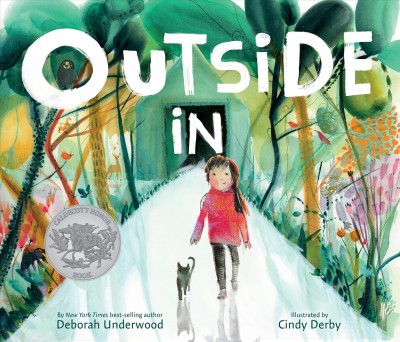 Two more Honor books
And just quickly the other two honors Me and Mama illustrated by Cozbi A. Cabrera. And then Outside In illustrated by Cindy Derby. I visited both of those illustrators' websites and I think it's worth it to do so.
Cozbi, along with being an artist and illustrator, she makes cloth dolls that she sells and they're absolutely gorgeous. So, you should check out her website.
Me and Mama is available as a book.
And then Cindy Derby on her website, it has time-lapse videos of her watercolor illustrations for Outside In. I loved time-lapse videos for everything, food, art. So, it's really neat to see. And she uses watercolors, which is my personal favorite for illustrations.
Outside In is available as a book.
And I should point out We Are Water Protectors is done in watercolor as well, which I think is very fitting.  We'll move onto the next category, I guess, which is Newbery.
Cara: [00:08:09] Yeah, my favorite category. So I snagged that.
Stacy: [00:08:12] It's totally Cara's wheelhouse.
Youth Media Awards: Newbery
Cara: [00:08:14] Yes. So the Newbery is for the most outstanding contribution to children's literature in the previous year.
And a lot of times we think about middle grade for that category, so grades four through six, which often does place in the award. But really the age range is for ages zero to 14. So sometimes people are surprised when picture books are included, but they're perfectly well within their rights, as are books for like younger teens. Which sometimes gets people a little up in arms because they think it's too old for the Newbery age, but it goes up to age 14.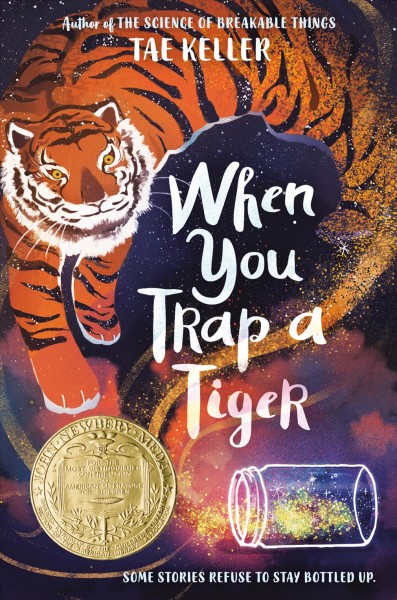 When You Trap a Tiger
So in the past couple of years, we've seen a lot more of those young YA [young adult] kind of titles coming in for Newbery. But this year it was a really nice mix. There were three middle-grade books. One of them was the winner, which is When You Trap a Tiger by Tae Keller. I had heard a little bit of buzz on that one. I never got around to reading it, so I snatched it up from the library. So I've just started it. I'm not too far into it, but I have been enjoying it.
When You Trap a Tiger is available as a: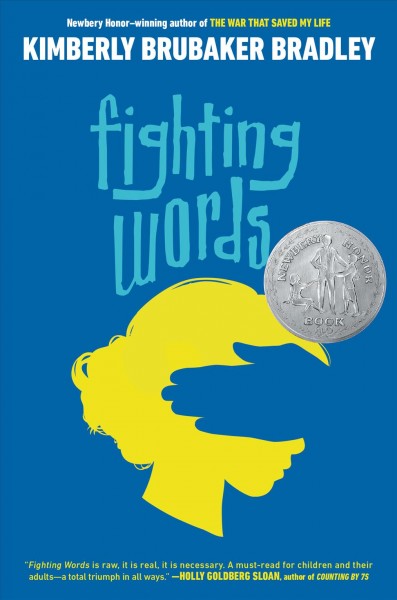 Fighting Words
And then the other two middle grade ones are Fighting Words by Kimberly Brubaker Bradley, which I'm so glad they recognized. I was hoping that this one would win the award, but you know, getting an honor is a huge honor as well.
So this one is the story of Della and her sister Suki and they escape a bad situation and get placed in foster care. So it's kind of the fallout of what happened to them. It's a little bit of a mystery, that you see as the book unfolds, what actually happened to their family. I just love Della's voice.
I did not listen to the audiobook of this one, which I believe got an Odyssey award, which is for audiobooks. So I'm sure it was fantastic, but even just reading the text, her voice is really strong. You can tell what kind of character she is right away. And I really liked her.
So I think kids will identify with her. It does deal with some really heavy topics, so it's got child abuse and mental health issues that it deals with. But I think that is really important. You know, topics to talk about in the right setting and it's really done in an age-appropriate way. So it's not like you would feel like it's something you couldn't give to a middle-grade audience.
Fighting Words is available as:
Heavier book topics
Stacy: [00:10:28] Yeah. I think that that is so important.  There's been a lot of talk recently about like heavier topics for middle grade and people are really coming out in support of it because children of all ages go through traumatic events. And as long as it is written age appropriately, personally, I don't think there's anything wrong with it.
Cara: [00:10:52] I'm glad you're seeing some support for it, because some of the groups that I follow that talk about Newbery titles, some of them, I think it's a mix of like teachers and librarians, and some of them are like, I really don't think I should put this in my library, and that's disheartening to me.
Push back
But it was written for that age group, but they're afraid to talk about those, and that might be a generational thing, or, you know, maybe they're from a conservative area, but I do see some push back. I saw it on Fighting Words. Some people said, I wouldn't give that to a kid in elementary school.
Laura: [00:11:22] That's so important to include, especially mental health. Everybody has mental health issues, even little kids.
And I think we need to normalize that that's a part of everybody's makeup. It's just like your physical health. I think that's doing kids a real disservice to not include it.
Cara: [00:11:37] Yeah, exactly. I think that the acceptance is growing, but I still am seeing some push back.
Stacy: [00:11:43] And how interesting, because there are so many picture books published about emotions, anxiety, dealing with emotions, things that come up. But when you kind of get into the meat of it for middle grade, it's like, Oh no, no, like, we can't let them read this on their own. But you know, hopefully, a caregiver or a teacher or librarian can supplement, like, not just here's this book, but here's this book and let's talk about it.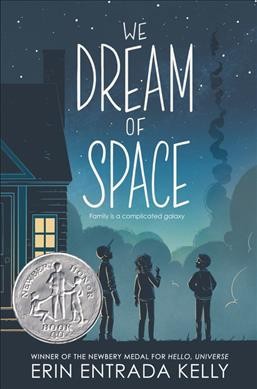 We Dream of Space
Cara: [00:12:13] Yep. So that is, was one of the honors. That was the middle grade. We Dream of Space by Erin Entrada Kelly was another middle-grade honor book, and A Wish in the Dark by Christina Soontornvat. I think those are interesting as well. Erin Entrada Kelly won the Newbery a couple of years ago.
We Dream of Space is available as a:
A Wish in the Dark
Cara: And then A Wish in the Dark, I have not read, but two of my librarian friends have. It's a retelling of Les Mis[erables], which I guess isn't always obvious from the outset. I think maybe if you read a summary, you know, or are very familiar with the story. So that's just a really interesting topic. But they seemed to like it pretty well.
A Wish in the Dark is available as: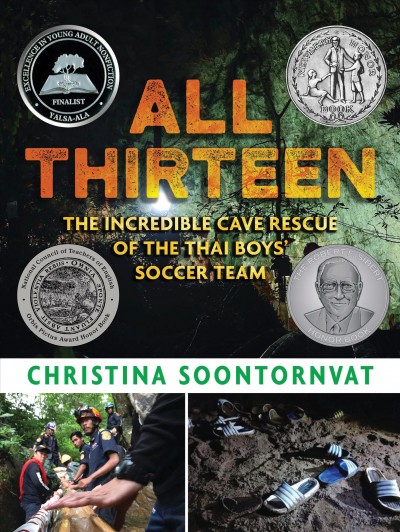 All Thirteen
Cara: And then the other two honors to round it out: We have a nonfiction book, All Thirteen [The Incredible Cave Rescue of the Thai Boys' Soccer Team], also by Christina Soontornvat. So there have been, I think maybe one or two instances in the past where someone's won two honors in the same year, and she won some other awards for that too. The YALSA nonfiction and Sibert honors as well. So it looks fantastic.
I browsed through it when we got it at the branch, never ended up reading it, but the subtitle is The Incredible Cave Rescue of the Thai Boys' Soccer Team. So if you remember that from the news a few years back. Very suspenseful. So, yep.
All Thirteen is available as a: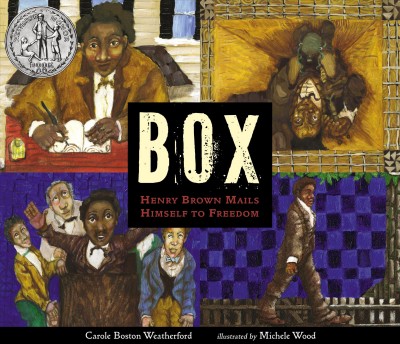 Box: Henry Brown Mails Himself to Freedom
Cara: And then the last one that was a Newbery honor book was a picture book, Box: Henry Brown Mails Himself to Freedom by Carole Boston Weatherford. And those are written in verse or little poems that go along with the illustrations. So definitely an interesting choice, but I think it's well deserved.
Stacy: [00:13:49] Yes. I watched that book actually. So, there is a read along movie available on hoopla for Box. It's long, so I definitely think it is age appropriate for the Newbery. Like you were saying, the Newbery is for a wide age range. But I would use it to teach. If I were a teacher, an upper elementary unit, because there's just so much in that story.
That is a true story that you could teach and the illustrations are beautiful in that I feel like that could have been a Caldecott contender as well. I don't know if they were, it looks like they were painted. I don't know if they were oil or acrylic, but they're just gorgeous illustrations too.
Cara: [00:14:30] And very cool perspectives. I believe there's one where it shows him in the box and how squished he was in there and talks about how he survived his trip. And people were sitting on the box when it was being transported, and he was upside down when he wasn't supposed to be. So, yeah, definitely some, I think you could work in some physical aspects if you were teaching it, like, let's see what that would be like, you know, maybe test it out with a big cardboard box, just to give them an idea.
Stacy: [00:14:57] Yeah. A lot of teaching opportunities, which is great.
Box: Henry Brown Mails Himself to Freedom is available as a:
Early chapter book recommendations
Cara: [00:15:02] So I wanted to talk about some books that I loved from last year that I wish had been recognized by the Newbery committee that unfortunately they just didn't pick them this year for whatever reason, but I would highly recommend that you read them. And I had to cut this list way down, as you can understand.
I had a lot more than I loved, but I tried to be brief. So I picked two pairs of books. So the first two are early chapter books, which I think the committee hardly ever recognizes. I don't know if that's just an awkward age group. It's maybe hard to get a handle on what's good. Those are also just hard to find.
I have a lot of parents who ask for them in the library. And you kind of have to know what you're going for because they're not just sprinkled throughout the collection. So I would say these are for grades two through four.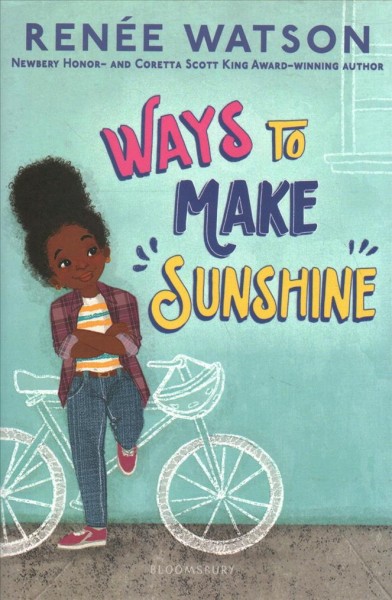 Ways to Make Sunshine
Cara: This one is by Renee Watson. Called Ways to Make Sunshine. It's just such a cute realistic fiction, kind of slice of life [book].
If you like Ramona, I think you would like this. It was really cool to see just a portrayal of a contemporary black family, you know, going through their life. So she, the main character's name is Ryan. She has a lot going on: her family's just moved and she's about to have a new sibling in her family. But she's trying to make the best of it, which is where the title comes from. So cute. Really liked that one.
Ways to Make Sunshine is available as: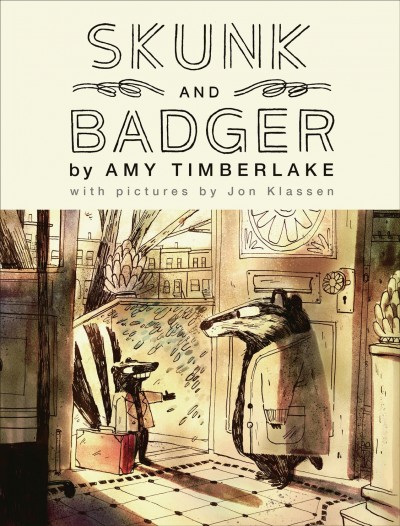 Skunk and Badger
Cara: You're going to love this cover. This one is Skunk and Badger by Amy Timberlake. I would recommend this to anybody, any age if you like children's literature. If you like animal books, I kind of compare it to Frog and Toad, even though it's on a higher reading level.
I think the committee may have had, if they considered it, they may have had a hard time because it's an illustrated chapter book. So again, it doesn't really fit into a nice box there. It's illustrated by Jon Klassen, which, you know, if you know his hat books, everybody just loves him.
And I actually fell in love with it because of the audiobook. Michael Boatman reads it. I'm so sad the Odyssey committee didn't recognize it. I don't know if I've ever laughed that much. I can guarantee pretty much that I have not laughed that much with an audiobook. His reading is just perfect and he makes up these voices that are so distinct for Skunk and Badger.
So it's kind of an Odd Couple story. They don't get along, but they have to move in together and they just get into fights. Badger is focused on his serious rock work and Skunk likes to cook, so he's always making these huge messes. He makes delicious food, but it makes a mess. And of course, Badger doesn't like it. So just hilarity ensues. I love Skunk and Badger.
Skunk and Badger is available as a:
Historical fiction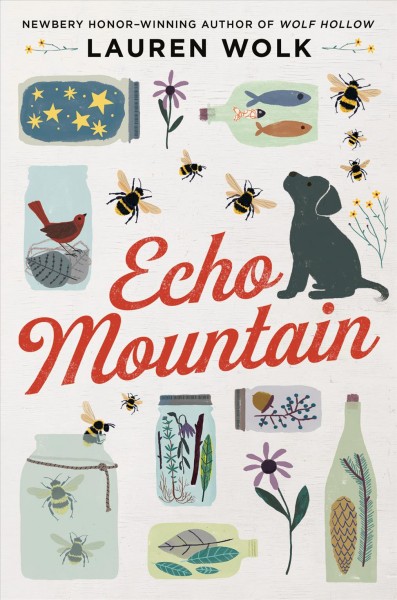 Echo Mountain
Cara: And then the other pair that I picked are historical fiction. So this one is Echo Mountain by Lauren Wolk. I think her books are always talked about for Newbery. She did get an honor for Wolf Hollow, which was set during World War II. Echo Mountain is set during the Great Depression.
So the main character, Ellie, her family have lost their home and their jobs in the Great Depression. So they actually moved to Echo Mountain and just are living kind of out in the wilderness. There's a small community there. But then there's an accident with her dad. He falls into a coma, and he was doing the bulk of the work to support their family. So she tries to find a cure for him. She finds some new friends that are helping her with that. It's kind of like a survival story. I mean, all the things she encounters, like bees and all kinds of animals that cause trouble, so it's got that aspect to it too. So I really enjoyed that one.
Echo Mountain is available as a: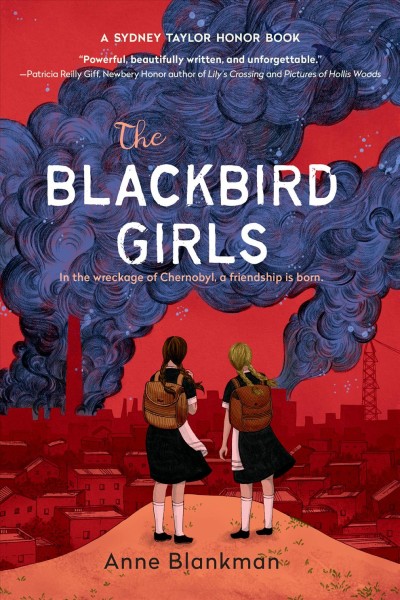 The Blackbird Girls
Cara: And then my last one for historical fiction is The Blackbird Girls by Anne Blankman. This one was fantastic. It did win, I believe, an honor for the Sydney Taylor Award, which is books that authentically display the Jewish experience.
So it says [on the cover] "In the wreckage of Chernobyl, a friendship is born". So that's two girls whose fathers worked for the Chernobyl power plant. And of course, the setting is when the reactor exploded in the 1980s. So they do not get along. Valentina's family is Jewish and Oksana's family has racist views toward her family.
So there's a lot dealing with race in the book. And then when they are evacuated, they're kind of forced together. They do become friends and they go live with Valentina's grandmother. And so it does also give like alternating chapters about the grandmother as a child escaping the German invasion during World War II.
So a really complex story, super well-written. I listened to the audiobook and I loved it. So was sad not to see that win either.
The Blackbird Girls is available as a:
Choosing Youth Media Awards Honors books
Stacy: [00:19:52] And it's really hard when there's so many good books that are published. And do you know how many possible honors they can name? Cause sometimes they only name two, sometimes they'll name four or five. Is there a limit? Do you know?
Cara: [00:20:05] I don't know that there is a limit. It seems like if they choose a lot, it's about five. I don't know if they've ever chosen six or more. They can choose none if they want to.
Stacy: [00:20:16] Right.
Cara: [00:20:16] I don't usually see that, but it is kind of surprising when they only choose like two or three.
Stacy: [00:20:21] I was like, out of all the books published this year, there's only a handful that you would award, but again, like the committee is different every year. Like you said you don't know their criteria. It's just, it's so tricky.
Cara: [00:20:33] Yeah. I guess they have different rounds of negotiations. They meet and talk, do balloting and vote for books that they liked to get them narrowed down.
So they do that a couple of times throughout the year, usually at the Midwinter meeting for ALA and then, you know, closer to the event.
Youth Media Awards: Coretta Scott King
Stacy: [00:00:00] Our next category, we're going to talk about some of the Coretta Scott King awards. So, there's actually four different Coretta Scott King categories. There's an author award, an illustrator award, the Coretta Scott King-John Steptoe award, which is for new talent. And then the Coretta Scott King-Virginia Hamilton award, and that is for a lifetime achievement. So, my favorite is the illustrator category. I feel like that goes along well with my love for the Caldecott.
Cara: [00:00:29] I feel like I should define the award before we get started. It's for recognizing an African-American author and illustrator of outstanding books for children and young adults. So it's kind of, for all age groups, they've got the author as Stacy said, and the illustrator. I like how they cover kind of all their bases with one award.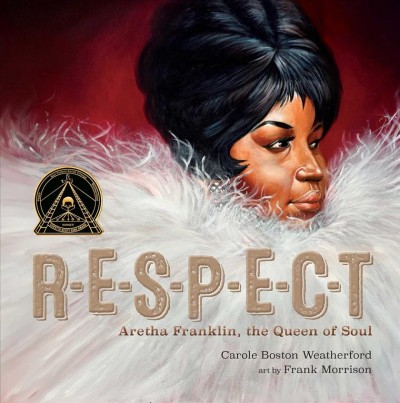 R-E-S-P-E-C-T: Aretha Franklin, the Queen of Soul
Stacy: [00:00:50] Yeah, that's really neat. And the illustrator award went to one of my favorite non-fiction picture books this year, and that was RESPECT Aretha Franklin: The Queen of Soul. And the illustrator is Frank Morrison. It is written by Carole Boston Weatherford. That's the illustrator award.
Frank Morrison won that and he has won several Coretta Scott King awards before. He won the John Steptoe award for new talent. And then two of his previous picture books won illustrator honor awards in previous years. So, this book is about Aretha Franklin, of course. And it chronicles her childhood and it focuses a lot on her spirituality, her connection with her church, and how that impacts and influenced her music and his oil paintings are just absolutely gorgeous. I feel like every spread, if there was a print available on his website, I would want to purchase them because they're just, they're so beautiful. So, he is obviously a recognized, amazing talent and definitely, I think deserved this award.
RESPECT Aretha Franklin: The Queen of Soul is available as a book.
Illustrator Honor Books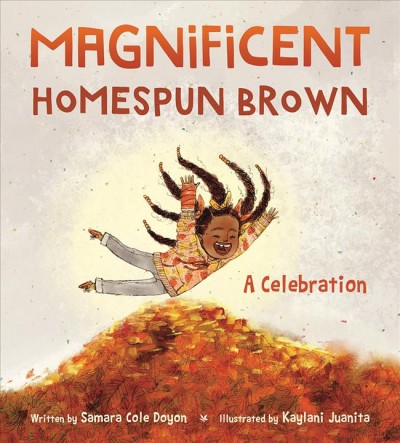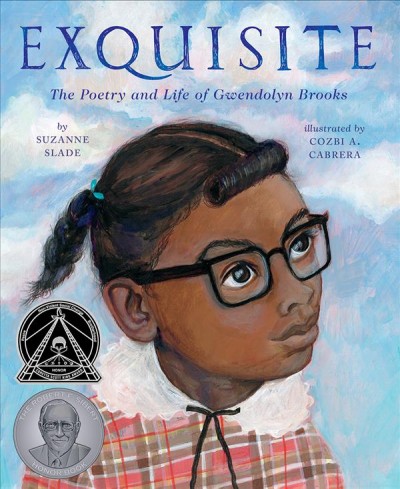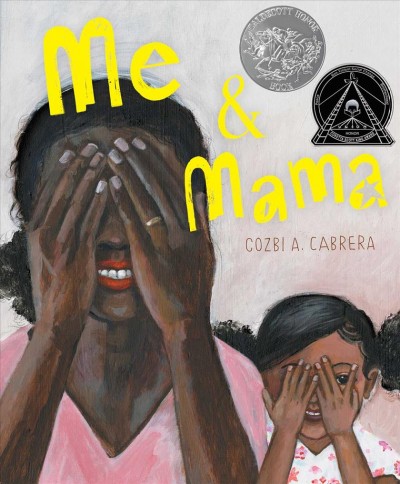 There were three honor books this year. One was Magnificent Homespun Brown: A Celebration by Kaylani Juanita, and then the two other honors, Exquisite: The Poetry and Life of Gwendolyn Brooks, and then Me and Mama were both illustrated by Cozbi A. Cabrera, and Me and Mama won one of the Caldecott honors as well.
So, she was just racking them all up this year. She's got a lot of recognition, which I think is great.
Magnificent Homespun Brown: A Celebration is available as a:
Exquisite: The Poetry and Life of Gwendolyn Brooks is available as a:
Me and Mama is available as a picture book.
Author Honor Books
Cara: [00:02:30] Definitely. Well, I brought some of the books from the author book award. So I'd read the winner and one of the honors, so I thought I would talk about those.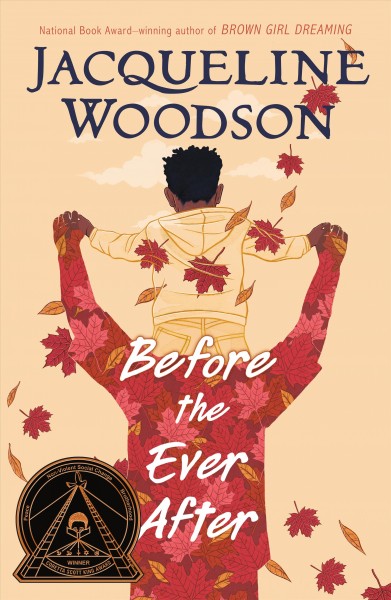 Before the Ever After
So the winner is Before the Ever After by Jacqueline Woodson. And I think most people who are familiar with children's literature know that she is just like an absolute powerhouse in children's literature and YA. She did have an adult novel last year that was really great. So she's just kind of all over the board, which is really cool.
And she is a former National Ambassador for Children's Literature, so definitely highly regarded in the children's literature world. And I love this story. I listened to the audiobook. It's a novel in verse, which really fits with the main character's kind of way of looking at life. He's a musician.
So he likes to write songs and play music. His name is DJ and his dad is a professional football player. And so it deals with how, you know, his dad, he won a Super Bowl, so he's been playing for a long time, very successful player, but obviously sustained a lot of injuries as football players do and starts to have violent outbursts and memory loss.
And it's set in the nineties before they knew a lot about how concussions and traumatic brain injuries are connected. So they don't get a lot of help. And so it's kind of how he and his mom deal with his dad's decline. What I really liked about this book is he has a lot of family support and a lot of friend support.
So it was really cool to see a portrayal of like a strong black support system. I really liked that one.
Before the Ever After is available as a: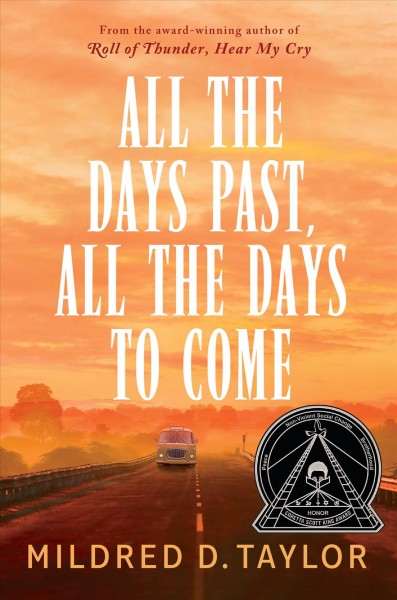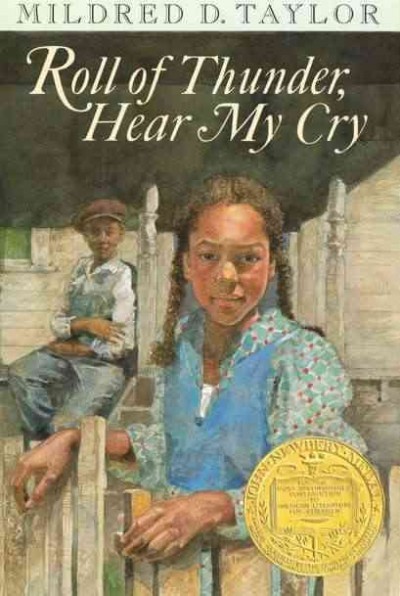 All the Days Past, All the Days to Come
And then there were three honors, so All the Days Past, All the Days to Come by Mildred D. Taylor. Here's another one has been around for a long time, [author of] Roll of Thunder, Hear My Cry. I have not read the newest one as part of that series.
Did you get to that one, Stacy?
Stacy: [00:04:18] No, I didn't. How, how long ago was the first one in that series? 30 years?
Cara: [00:04:24] A long time.
Laura: [00:04:27] I bet it's longer because I remember it and I am much older than the two of you. So probably.
Stacy: [00:04:33] 40. It might be 40.
Cara: [00:04:35] Yeah.
Stacy: [00:04:37] Yeah. And it's, what I think is interesting is Roll of Thunder, Hear My Cry is the second in that series. It's not the first, but it's like the most well-known because it won the Newbery, I believe, the year it was published. So, the newest book All the Days Past, All the Days to Come, it's in our YA collection. So, it's actually, it's written for like a little bit older age group because it follows the same families – Cara, you're going to talk about this. I'm sorry.
Cara: [00:05:02] No, you can. I hadn't read it.
Stacy: [00:05:06] I haven't read it either, but there was like huge, just excitement when it was announced that I think this is going to be the last in the series because it's such a beloved series and people have literally grown up with the characters. So, it's really neat.
All the Days Past, All the Days to Come is available as a: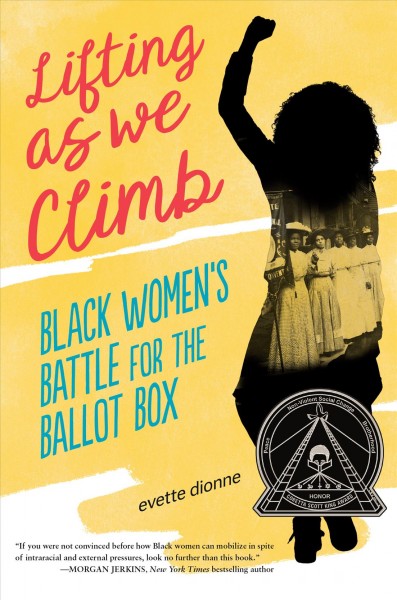 Lifting as We Climb: Black Women's Battle for the Ballot Box
Cara: [00:05:22] So another of the honors is Lifting as We Climb: Black Women's Battle for the Ballot Box, written by Evette Dionne. So that one, I did look through it briefly, but I didn't read that one either.
Lifting as We Climb: Black Women's Battle for the Ballot Box is available as a: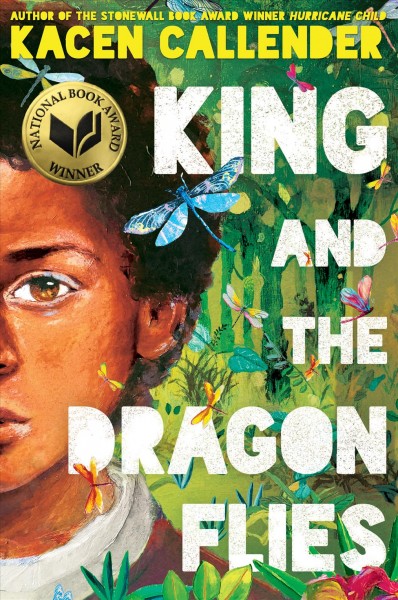 King and the Dragonflies
Cara: So I'm going to talk about the third one, which I did read, is King and the Dragonflies by Kacen Callender.
And they won the National Book Award for Children's Literature for this book. So, fantastic book that definitely was talked about a lot before award season. So we kind of knew that it was in the running. I feel like it's a really different story than most of the ones that were out there for 2020. King, his brother's just passed away and he believes that he is visiting him in the form of the dragonfly.
So it's where the title comes from. So his family is dealing with a lot of grief, but most of the books centers around King and his classmate, Sandy, who's gone missing. And he used to be friends with Sandy. He's not anymore. So it's kind of part of the mystery of why aren't they friends anymore.
And then, where is Sandy? And then of course the family dynamic was King and his parents were grieving and he keeps trying to reach out to them and they're not being supportive. So I thought it was interesting how it's kind of two different perspectives on grief between Before the Ever After and King and the Dragonflies and how families react to it, how they support each other.
So his dad is finally supportive in the end. There's a scene where, you know, he's trying to talk to his dad and his dad says, I really don't know how to feel about you being gay, but I love you. I want you to know that. So you know, it's interesting that it's a very honest approach and realistic and how he's not getting a ton of support, but he finally kind of feels heard at the end, so.
I listened to the audiobook of that one as well. I do a lot of audio, so I enjoyed that one. It's set on the Louisiana bayou. So it's definitely got that Southern flavor to it. Awesome.
Stacy: [00:07:16] And Kacen is a relatively new author. They've I think had another book out a few years ago.
Cara: [00:07:24] Yeah, they've been very, very well received. Very well reviewed.
Stacy: [00:07:29] The Hurricane Season?
Cara: [00:07:31] Yeah, that might be it. So it's on the front here, of the cover, the Stonewall Book Award winner Hurricane Child.
Stacy: [00:07:39] That was great. So, I definitely think they're going to be around for a long time and probably coming out with new and inventive ways to delight us with children's literature and probably win lots more.
King and the Dragonflies is available as a:
Youth Media Awards: Printz
Stacy: So, we're going to segue into young adult titles now with the Printz Award. And that is for excellence in literature written for young adults.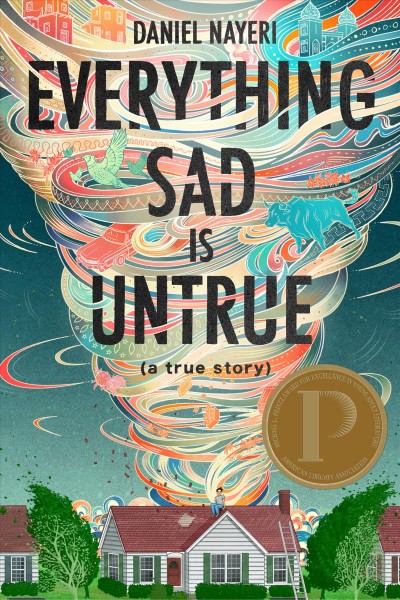 Everything Sad is Untrue: A True Story
Stacy: And the winner this year was one of my favorite actually middle-grade books. So, it is Everything Sad is Untrue: A True Story by Daniel Nayeri. And it is technically written for more of a middle-grade audience. But I think personally it goes up to high school.
So, another book about grief, there's a lot of, there was a lot of grief in children's literature this year.
Which I think is interesting because all of these books you know, their manuscripts and ideas started years and years ago. Like all of the stuff that came out, people were like, it's so fitting for 2020, but it's just like kind of coincidence that stuff was published, you know, in this year that, you know, so many things happened.
But it's such a wonderful story. It has a really, I think, eye-catching cover on it; the house and like tornado just kind of visually depicts what the main character goes through. So, he and his family are immigrants from Iran. They lived in a refugee camp in Italy. And so, it's about his experiences, it's based on the authors' actual experiences. And it was just so well received.
Everything Sad Is Untrue is available as a: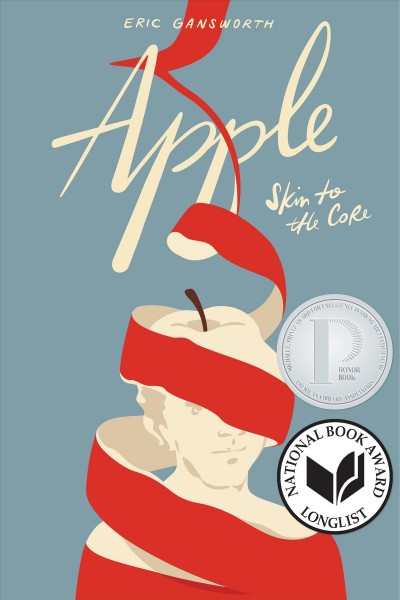 Apple: Skin to the Core
The publisher, Levine Querido, it was a newer publishing company and they published two Printz Honors: the winner and an honor book, which was Apple: Skin to the Core. So that, that was one of the honor books as well. That's by Eric Gansworth who is a pretty prolific, I would say children's young adult author and that one is written in verse.
And it is about his own experiences as an author. An apple is actually a derogatory term used against Native Americans, which I did not know until I read this book. So, it is meant in a derogatory way as a Native American who is "red on the outside, white on the inside." So, it is kind of a way that the title is a play on that, kind of way that he takes back, I think, ownership of that. And that one was just beautifully written as well and got a lot of really great, great buzz.
Apple: Skin to the Core is available as a: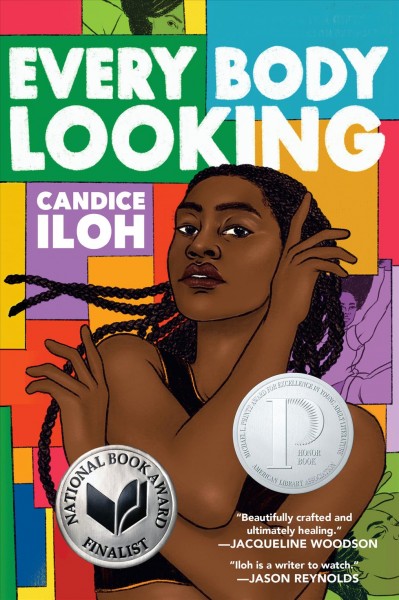 Everybody Looking
Our next book, Everybody Looking by Candace Iloh was another honor that got a lot of buzz. But then I didn't really hear a lot about it after it came out. I watched a live interview with Candice and Jason Reynolds, who, if you're a YA fan you've heard of him, he wrote Long Way Down, The Boy in the Black Suit, Stamped, tons of different titles. And he really hyped this book up. And then I feel like it got really quiet afterward.
I was really excited to see that it won an honor. So that was really nice. It's also in verse, which I think is interesting. The committee picked some like, really different kinds of titles, I think for Printz, they picked like a middle-grade for the winner, two books in verse.
Everybody Looking is available as a:
Stacy: So, Cara and I both read that. Do you want to talk a little bit about Dragon Hoops?
Cara: [00:11:14] Yeah. And it's interesting to hear you talk, to me, about the first two that you mentioned, the winner and then Apple. Because I meant to read both of those, never got around to them, but it sounds like they're kind of based in memoir, which we've been getting a lot of requests for, especially from like our local high school teachers.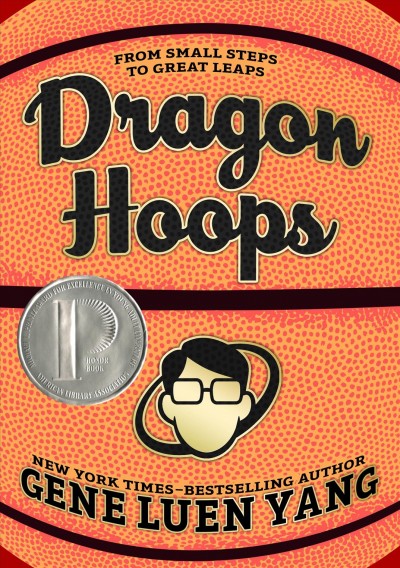 Dragon Hoops
They're doing units on memoirs. And Dragon Hoops is as well, but it goes quite a bit further beyond that. So it's a really interesting mix of memoir and history, and the author Gene Luen Yang also talks about his life as an author and just kind of his personal life and how he reacts when he's writing a story and how that affects his personal life.
So a really interesting look at a lot of different things. It's very complex. It's the story of him kind of not being a sports guy, but wanting to get sports. So he decides that he's going to chronicle a season of his, the high school that he works at, their basketball team, all the way through the state championship.
They've always been pretty good. Usually have a shot at that. So that's what he's following, but then he also mixes in the history of basketball itself and how it's perceived in Asian culture. So kind of racial aspects to it as well, and how those players are received once they get to the NBA.
But I just marked this page, because I think it's really interesting how he portrays it visually. So he's got counting down [game clock] and then the action in the middle; he did a really great job of that throughout the book. So I did love that one. I'm glad that it won something. I think it's got a lot of teen appeal too, which, they don't consider that for most of the awards.
They're just looking for the best. They don't really necessarily care about the kid appeal factor, which is something I always read for because I'm wanting to share it with kids. But I think that that one has it, so that's great.
Stacy: [00:13:09] It is like heartwarming. It's funny. Gene's work is always kind of like a really cool mix of those two. And it actually made me care about basketball, which I don't care about, but I really wanted them to win. So, it was really exciting to read about it.
Dragon Hoops is available as a: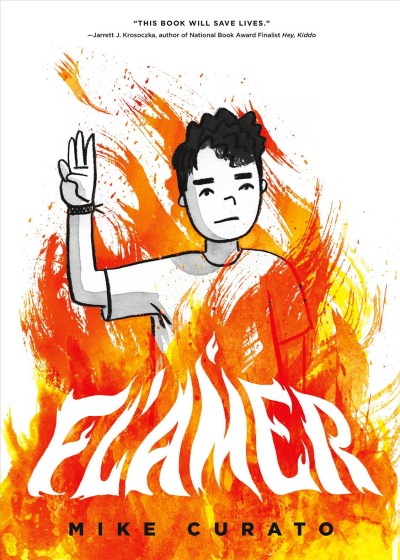 Flamer
Stacy: One other graphic novel that I wish so, so badly, would have won any award, but especially the Printz was Flamer by Mike Curato. I really kind of really thought it was going to. So that one I loved. But the other honor was Traci Chee's We are Not Free. I read about so many books since it's my job as a collection development librarian, I read about so many books, which I'm like, sounds great. Add it to the list, add it to the list, and then I never get around to reading it. So that one is definitely on my to-be-read list.
Flamer is available as a:
Stacy: So that wraps up; Cara, if you wanted to talk about our last category.
Youth Media Awards: Schneider Family
Cara: [00:14:09] I brought some books for the Schneider Family Book Award, which recognizes books that embody an artistic expression of the disability experience. So again, another award that goes through different age levels.
They have a young children's winner, which is usually a picture book, and a middle grades winner, and then a teen winner. So they picked winners in those categories and some honors. Interestingly enough, they did not pick an honor at all for teens. I always think it's interesting when they don't pick an honor; it kind of makes the winner stand out even more.
But I thought this category was cool because I had read all the winners, which doesn't happen a lot. So I was like, let's talk about that one. And definitely very, very relevant topics and kind of a good mix of representation too.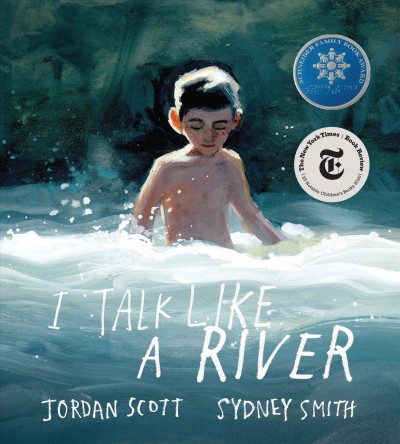 I Talk Like a River
So the picture book winner, or the young children's category winner, is I Talk Like a River, which is a gorgeous picture book.
And when I first saw it online, you know, you sometimes see a preview of the cover, not very large. I thought it was a photograph. Yeah. Cause it's just gorgeous, but it's really well done. Just beautiful art about the child and how he's feeling. So the child has a stutter, but it doesn't actually use that word in the text until the very end of the book, which I think is a really interesting approach too. He just uses metaphors that are tied to nature.
So he talks about how he feels like he has a pine tree in his mouth, that the roots are tangled up with his tongue, and he feels like there's moon dust on his lips and he can't talk around it. And how embarrassing that can be. But then his dad takes him to the river, which is where he likes to go when he has a bad day.
And his dad says, you talk like a river. And so he really reflects on that and identifies with it, that yes, the river can be chaotic, but it's also very calming and it's always moving. So it is like how he talks, but he sees that as a positive thing, he draws strength from it. He, you know, really identifies with that.
Beautiful illustrations and message
So, beautiful illustrations and a beautiful message. And it's got a nice author's note at the end that talks about how this is based on, the character is nameless, but it's based on the author, who's a poet and based it on his childhood, and his dad really did tell him that he talks like a river, so very cool.
Stacy: [00:16:27] Listen, I actually watched this book too, so on hoopla there's a read-along video and it is narrated by the author and when he's reading it in the story he does stutter. So, I think that's very interesting. Because when you're reading it, you can tell right away what you know, his difficulty with speaking.
But when then when you're reading the book, like, you're not quite sure maybe until the end, what is he talking about? So that's, yeah, that's so interesting. And I agree. Beautiful illustrations.
I Talk Like a River is available as a: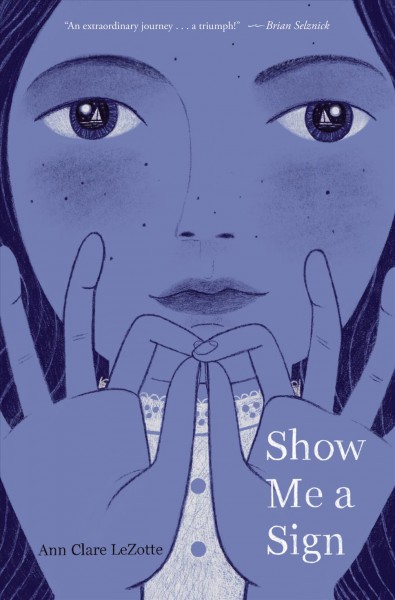 Show Me a Sign
Cara: [00:17:01] I loved that one. The next one, I don't have copy of it because they're all checked out, which is a good thing.
So I read this one online. It's called Show Me a Sign by Ann Clare LeZotte. And it's the middle grades winner for the Schneider Family Book Award. And it was a really interesting historical fiction that's based in reality about a deaf community on Martha's Vineyard. It's set at the very beginning of the 17th century.
So kind of a new settlement there. And it explores how the community has different ways of communicating because they're isolated. They kind of come up with their own sign language. Some of them are hearing, some of them are deaf, so they have different ways of communicating. And the main character, Mary, her family, her mom is hearing, but she and her dad are deaf.
Convey signing
So it's interesting how the text portrays them signing, like it uses words. It doesn't like depict the signs. But it also gives like textual clues of how the deaf person would react or what they're thinking, because they're not hearing any of the noise that's going on in their world.
So really interesting perspective and also kind of suspenseful book. Her brother has just passed away. So her family is dealing with grief, so more grief. And she has friends on the island. So it's kind of just her life at the beginning, kind of setting the scene and then this man comes to the island.
So he's like an outsider and he wants to study the deaf community, but he's very, very derogatory toward them, does not have positive views of deaf people. And he ends up kidnapping her because he wants a specimen to study with this doctor that he works with in Boston. So he kidnaps her and takes her to Boston.
And so part of the story is her trying to escape and get back home. So it's really action-packed at the end. It's a little slow at the beginning. I think it would be a good read aloud. The author is actually a deaf author and librarian. So very authentic. She did a lot of research for it.
Stacy: [00:19:03] I think this would be a great movie too.
Cara: [00:19:07] And she's writing another book. It's not a sequel, it's a companion book. But I think it's supposed to come out this year. So I'm looking forward to that.
Stacy: [00:19:15] Ooh.
Show Me a Sign is available as a: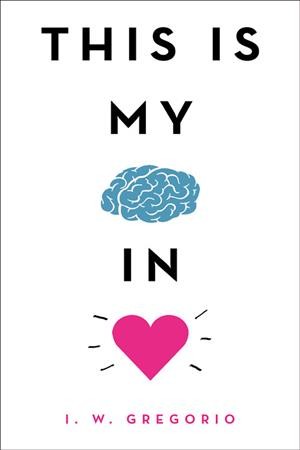 This Is My Brain in Love
Cara: [00:19:16] And then the teen winner for the Schneider Family Book Award is This is My Brain in Love by I. W. Gregorio. And she has written a cute teen romance that I really enjoyed, but it's a lot more complex than that. So it's the story of Jocelyn and Will, and Jocelyn's family owns a Chinese restaurant called A-Plus, and Will's looking for a summer job. So she ends up hiring him because they need marketing help.
it's a failing restaurant and her dad's planning to move them back to New York City, and she doesn't want to move. So they're trying to save their restaurant. They kind of have all these adventures surrounding the restaurant. They're trying a food cart, lots of dumplings in this book that will make you very hungry.
Yes. But it's also dealing with their relationship that's new, so it's really cute, how they kind of fall in love over the course of the book. She's not supposed to be in a relationship; Jocelyn's family doesn't allow that. So that's part of the story. And then they both have mental health issues that are addressed.
So that's why this was recognized for Schneider. Jocelyn is dealing with undiagnosed depression, and she really doesn't want to acknowledge that because there's such a stigma in her community about that. And then Will does go to therapy for his anxiety, but he's having a really hard time controlling it.
The text shows how it affects their relationship and how they're trying to deal with that in the midst of everything else. So I really enjoyed that one.
This Is My Brain in Love is available as:
Weightier topics
Stacy: [00:20:43] Again with kind of heavier topics like mental health, anxiety, I think is such a huge concern for a lot of young adults. And I did read an interview with the author and she talked in the interview a lot about her own experiences with mental health and how she got help. So, I think, again, if it's written in a helpful way that's age appropriate, I think can just be such kind of like a lifeline for people.
Cara: [00:21:15] Yeah, you can tell that she wrote it that way. As an adult listening to it, I was almost like, okay, this is a little too much because it seems didactic. But I think if you've never been introduced to, how do you get help?, her incorporating it into the story and kind of explaining those things can be really helpful for a lot of teens.
So I do think it's valuable.
Stacy: [00:21:37] That's wonderful.
Laura: [00:21:38] It's amazing to see so many books that are dealing with difficult topics. And seeing so many "own voices" books makes me super happy.
Stacy: [00:21:46] Absolutely.
In conclusion
Laura: [00:21:48] So, thank you both for coming on and talking about all these amazing books from the Youth Media Awards. I really appreciate that.
It's always fun to have people who are passionate about the books that they work with every day.
Thank you, listeners and viewers. If you're listening to the podcast, hit that subscribe button so you don't miss an episode of the Booklovers Podcast. Viewers subscribe to the Clermont library YouTube channel for this and other great library-created content. Thank you, everybody. Happy reading!
You might also enjoy
Podcast: Play in new window | Download