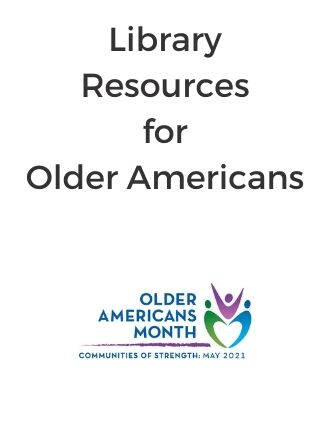 Older Americans Month
May celebrates older Americans, making it the perfect time to explore what the Library offers to our older members of the library community.
What the Library offers to older Americans
Older Americans have built resilience and strength over their lives through successes, failures, joys, and difficulties. The Library honors and celebrates that resilience and strength.
Explore what we offer in our collection and our services, and find out what we can do for you.
Books and audiobooks
Enjoy popular books in a Large Print format. We also offer Books on CD, Playaway digital audiobook players, and digital audiobooks from our Digital Library resources, The Ohio Digital Library and Hoopla.
Playaway digital audiobooks players are self-contained devices that don't require downloading or Wi-Fi. Playaways have universal audio jacks compatible with headphones and auxiliary cords.
Craft resources
Are you a crafter? We offer adult craft instructional videos on our YouTube page as well as thousands of books and eBooks that teach crafting techniques, like knitting, book-binding, and wood-working – as well as many more subjects! Access the Hobbies and Crafts Reference Center which has hundreds of magazine articles and video tutorials available online 24/7.
Newspapers & Investment Surveys
Our branches have local newspapers as well as national papers. To find out whether your branch has your favorite paper, contact your local branch!
The Amelia, Miami Township, and Union Township Branches get Value Line and Value Line: Small and Mid-cap Edition. The Union Township Branch gets Standard & Poor's The Outlook. Both periodicals provide up-to-date information on stocks & investments.
Classic movies and television
The library has a sizable collection of classic TV shows & movies, such as I Love Lucy, Dragnet, Gunsmoke, and many more, so you can always watch your old favorites. You can check out DVDs or stream episodes using Hoopla.
We also have biographies & memoirs of classic TV & movie stars, as well as documentaries about the golden age of TV.
Genealogy resources
Explore our genealogy databases. All of our locations offer in-branch access to Ancestry Library Edition.
Access ProQuest Historical Newspapers: The Cincinnati Enquirer (1841 -2009) from anywhere 24/7. It's an invaluable resource for genealogical research.
Do you have a genealogy-related question? Fill out the Genealogy Information Request and a Batavia Branch staff member will assist you. Please allow plenty of time for staff to research and respond to your request. Our Batavia Branch houses the Clermont County Genealogical Society's collection.
Veterans' History Project
The Clermont County Public Library has been interviewing local veterans since 2005 as part of the Library of Congress's Veterans' History Project. Do you want to contribute an interview? Contact Chris Rich, manager of the Owensville Branch, at 513-732-6084 to set up an appointment. We record and save the interviews as DVDs; each interviewee receives a DVD. We also add each DVD to the Library's collection; those are available to check out to the public. And we send a copy of each interview to the Library of Congress.
Local history
We have videos about local history on our YouTube page, as well as a videos dedicated to Senior interests. We also have books about Cincinnati and Clermont County's history that contain information that can't be found anywhere else.
Book clubs
We have book clubs that meet both in the afternoons and in the evenings over Zoom. You can read more about them and sign up here. We can also assist community book clubs by making book recommendations and by ordering books for pickup.
Book-a-Librarian service
If you need one-on-one assistance with using a computer, tablet, or phone, as well as how to use our eBook services, request a Book-a-Librarian appointment.
Other resources
Branch staff can provide virtual outreach services to senior living centers – contact your local branch to find out how we can help your senior living center with outreach!
Share the Storytime videos on our YouTube page and Zoom programs with the little ones in your life.
Want to stay in the loop? Let us know your email preferences, and we'll email you about upcoming Library events.
In conclusion
May celebrates older Americans, making it the perfect time to highlight what the Clermont County Public Library can do for the older members of our community. Spread the word and give one of our great resources a try today!
You might also enjoy