Stories About Love For All Ages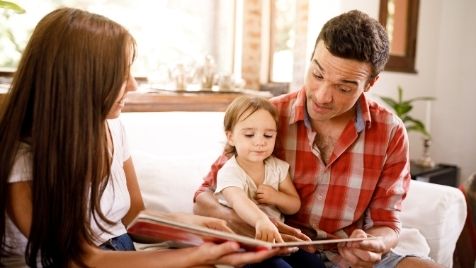 Curl up with your little one to read, listen to a tale together, or indulge in a book of your own after they've fallen asleep.
Picturebooks about love
Here are a few picture book recommendations that are funny for kids and parents to read together.
Here Comes Valentine Cat
My first suggestion for a story about love is Here Comes Valentine Cat by Deborah Underwood; pictures by Claudia Rueda. A decidedly anti-valentine Cat receives unexpected gifts from a neighboring dog and can't decide what to make of them. Will the dog change Cat's mind about Valentine's? Whether you love dogs or cats or both, this is an adorable read.
Available as:
Ethan Long Presents Valensteins: (A Love Story)
My next love story suggestion is Ethan Long presents Valensteins: (A Love Story). On a cold, dark night perfect for scaring, Fran is making a valentine, causing other members of Fright Club to howl and hiss over the idea of being in love. An untypical Valentine's day book featuring monsters and a rather sweet Frankenstein.
Available as:
Storytelling about love
If you'd like a break from reading stories and want to have stories told to you for a change, check out the Dreamweavers Storytelling Troupe.
First, you can listen to me tell "Jack Rabbit in Love," a story that's fun for all ages and sure to bring a smile to your face. Trickster Jack Rabbit falls in love with the entirely WRONG person with comical results.
Afterward, watch Kevin and Lisa bring stories about love to life. Listen to an Arthurian tale about a knight's quest to answer "What do women desire most?" as well as a Jewish retelling of Cinderella where the heroine's intelligence is what captures the attention of the rabbi's son.
Stories about love for adults
Finally, after the little ones are asleep, don't forget to indulge with a romantic tale of your own. I personally enjoy a good historical romance.
Bringing Down the Duke & A Rogue of One's Own
My first suggestion for adults is Bringing Down the Duke by Evie Dunmore. The first in Dunmore's A League of Extraordinary Women series, this Victorian romance has women's suffrage, an insufferable Duke, and a brilliant and destitute woman caught in between her cause and the attraction she feels for a man opposed to it. I love a good historical romance and this one has humor added to the mix. I enjoyed the sequel, A Rogue of One's Own, just as much.
Bringing Down the Duke is available as:
A Rogue of One's Own is available as:
In conclusion
Enjoy my suggestions of books and stories about love to share with your little ones or enjoy by yourself.
You might also enjoy