Podcast: Our Favorite Audiobooks for Kids
Laura: [00:00:00] Hello and welcome to the Clermont County Public Library's Booklovers Podcast. I'm your host, Laura. And today I'm joined by two librarians who are very passionate about audiobooks for kids, Cara and Amy.
Favorite audiobooks for kids
Laura: So Cara, would you like to kick things off?
Importance of a good narrator
Cara: [00:00:19] Yeah, definitely. I picked three books that I love the narrators for.
I think the narrator makes or breaks an audiobook. Some people don't like audiobooks. I think they probably just listened to a bad narrator.
Laura: [00:00:33] I must have gotten bad narrators at first because I was like, I do not see what the attraction is. And then I got somebody who was just delightful, Moira Quirk. She was amazing. And I'm like, okay. I now have to listen to everything that she's narrated. So I'm with you 100%. Narrator is everything.
Cara: [00:00:59] I'm the same way. I didn't listen to audiobooks for the longest time, because I hated one that I listened to.
But then once I got into it, now I have a favorite audiobook narrator for adults. I don't have a favorite for children. They seem like they're all over the place, you know, they don't do so many, but Cassandra Campbell reads a ton of adult fiction, maybe like historical fiction, because that's usually what I read, and she's fantastic.
Amy: [00:01:22] I think with kids, people often jump to Jim Dale, who did many of the Harry Potters and this got a lot of people into Harry Potter and listening to audiobooks for the first time. Yeah, there are a lot of audiobooks that are really well done I agree totally narration can break a story or make it.
Cara: [00:01:41] There've been some where I've listened to it, and I've wondered if I really didn't like the story or I just didn't like the narrator. Because I was so annoyed by the narration, I was like, I'm not sure if I went back and read the book if I'd like it or not, but who has time for bad books? So I didn't try.
Skunk and Badger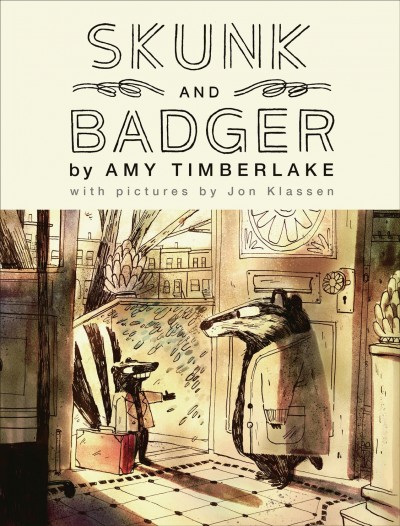 My first one is Skunk and Badger, which is by Amy Timberlake. It's illustrated by Jon Klassen. So if you're probably familiar with his picture books, he did the Hat series, I Want My Hat Back. So it's definitely worth looking at the print version to see his illustrations.
And then I would highly recommend combining it with the audiobook, which is read by Michael Boatman. He apparently does some acting. I hadn't really heard of him before, but it's a fantastic audiobook. He brings a lot of energy to it and has really distinct voices for each of the characters. And I just really liked the way that he does the humor in the book.
It made me laugh so much. I would highly recommend listening to that one. It's about three hours long, so I think it'd be good for like a day trip if you were driving somewhere, just for the day. It's kind of a quick little audiobook, but it has a really modern classic feel to it.
Skunk and Badger premise
So it's your typical animal fantasy where they're acting as humans. The premise is that Badger lives in his Aunt Lula's brownstone, and that's where he does his Important Rock Work. And one day there's a knock at the door, and it's Skunk. And he has no idea who Skunk is. He thinks he's selling something and he tries to get rid of him, but he quickly realizes that Aunt Lula actually sent Skunk to live with him, which he would have known if he'd read Aunt Lula's letters, but he hadn't been reading them. So he kind of feels like he has to let Skunk in. He tries to give him a closet to live in. And so they really don't get along. They're totally different personalities. It's kind of like an Odd Couple for kids.
But it's really sweet and they kind of figure things out toward the end. And I was going to show an illustration from Jon Klassen's fantastic art. There's all these chickens outside the brownstone, and you can see Badger's eye is really big. He's like, what are all these chickens? And it says "The landscape had gone chicken."
The way that it's written, it's just fantastic. So in addition to seeing the illustrations, I would recommend getting the print book if your kid is learning to read or is struggling to read; that can be a really great way for them to connect what they're hearing with what they're reading and to develop their reading skills.
I definitely recommend pairing them if you can.
Amy: [00:04:09] It's also really great, if you have dyslexia or other reading issues or comprehension issues to hear it, it helps the auditory learners learn it better too.
Cara: [00:04:19] Definitely. It's great for a lot of things. So I'm going to share; this is the very beginning of Skunk and Badger.
Audiobook clip from Skunk and Badger
Narrator: "The first time Badger saw Skunk, he thought, "Puny," and shut the front door. Badger didn't normally shut the door on animals that knocked. But there was too much slick in this one's stripe, too much puff in his tail. Also, there'd been that grin, and the way he'd stuck out his paw as if he had been looking forward to meeting Badger for a long, long time.
Badger knew what to make of that. He shut the door before the fellow got any ideas. "Not. Buying. Anything," he said through the keyhole.
When the knocking continued, Badger added, "Ever."
Then he drew the bolt. And the double bolt. And latched the chain. "Quartzite!" Badger thought briskly as he padded back into his rock room."
So he's going to work on his Important Rock Work, which the narrator talks about all the time, his Important Rock Work.
Laura: [00:05:34] That was absolutely charming. I defy any adult to listen to that and not giggle at least once.
Cara: [00:05:39] I definitely think that one's for the whole family. I think everybody can enjoy that one.
Skunk and Badger is available as a: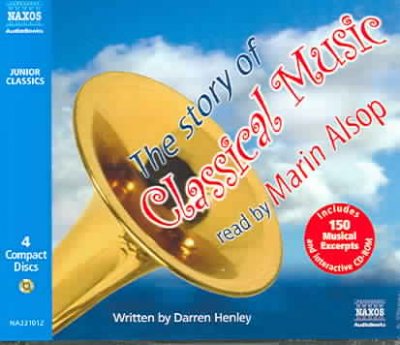 Story of Classical Music
Amy: [00:05:43] Definitely. Mine is also another great one for the whole family. I'm a big nonfiction reader and I found a nonfiction title great for the whole family.
It's called the Story of Classical Music, written by Darren Henley and it's read by Maryanne Alsip who is the conductor for the Bournemouth Symphony Orchestra. Published in 2004, it's four discs long and about four and a half hours, but you don't have to listen to it all in one chunk, you can break it up.
Premise of Story of Classical Music
It's a 1,200-year look at classical music from the very beginning starting with a Gregorian chant in the Medieval Period and going all the way up to modern classical music of the 21st century, the early 2000s, when the book was published. It includes 150 excerpts from the music that it talks about.
You're introduced to each composer and their music. And then you get a brief excerpt of a piece of their music. The excerpts are about nine minutes long for each one. Composers like Mozart and Beethoven get more examples. But the other composers will get a song or two, and there's always an introduction of each composer.
86 composers are discussed. The composers are Western European focused. I have two critiques – the first is that it is not world music, it is definitely Western classical music. The second is there are only two female composers mentioned. It does mention Egypt and the fact that in Hieroglyphics there are people playing flutes, but no printed music was left, so they just kind of skip over it. It's like, okay, this was in Egypt and now we're going to Western Europe, and that's where they focus. They do have some American composers starting on disk three, so it's late when America gets into the story.
Additional resources
There is a booklet that does include all of the titles of the pieces played and the composers, along with who's playing them, it is not all the same orchestra or soloists. There are a lot of individual people playing and different orchestras. The booklet also includes a timeline that shows where the music falls in terms of world history, so you can learn a little bit about world history, the CDs include very brief notations of world history as well.
Disc four is also a CD rom as well as a musical CD. The CD rom includes how to read music. And it actually is fairly in depth on how to read music, it talks about tone, the staffs, and the name of the letters and how that all works. Also, there's pictures of composers, there's world flags and National Anthems, a dictionary of musical terms, quizzes and games, and a text version of the Story of Classical Music, if you want to follow along. But you don't need to use the CD Rom to enjoy the CDs.
I will play a brief introduction from the very beginning of the CD.
Audiobook clip from Story of Classical Music
Narrator: This is the story of classical music. Have you ever imagined what the world would be like if we had no music at all, listen… quiet, isn't it. But don't worry. Our story. Isn't quiet at all. It's filled with the most beautiful and exciting sounds ever made, and it will be finding out all about the people behind me sounds and about some of the greatest pieces of classical music ever written.
Music like this: (Beethoven: Symphony No. 5 plays briefly)
And this: (Britten: The Young Person's Guide to the Orchestra plays briefly)
And this: (Offenbach: Can-Can from Orpheus in the Underworld plays briefly)
And even this: (Saint-Saëns: The Carnival of the Animals (Fossils) plays briefly)
Amy: What I love about it too, is that it's a sneaky way to learn things without really focusing on that, rote learning. And it's just a fun and great introduction to all kinds of classical music, that I think anybody from babies up through the very senior of us would enjoy.
The Story of Classical Music is available as a: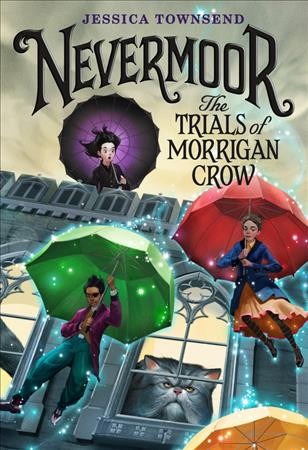 The Trials of Morrigan Crow
Laura: [00:09:47] it sounds like a lot of fun. All right, Cara.
Cara: [00:09:50] My next pick is maybe even more fantastical, so Skunk and Badger is animal fantasy, and then I chose The Trials of Morrigan Crow, which is part of the Nevermoor series. It's definitely a Harry Potter read-alike, so if you've gone through all the Harry Potter, like Amy mentioned, by the incomparable Jim Dale, and even if you've read through or listened to all of the Series of Unfortunate Events; I know that's another huge series.
One of my absolute favorite audiobook narrators of all time, Tim Curry, does a lot of those. And I mean, I can listen to him read the phone book, but he's amazing. Some of them are read by Lemony Snicket himself. So that's kind of interesting where you've got the author doing some of them and then a famous actor doing some of them.
Premise of The Trials of Morrigan Crow
So if you've listened to all those or read all those, I would recommend Nevermoor next. There's quite a few books in this series. I'm not sure if it's finished yet or not. But the first one is, you know, setting the stage for this world. So Morrigan Crow is a cursed child. She was born on Eventide, which is the unluckiest day of the year.
And it means that at the next Eventide, when she turns, it's supposed to be, when she turns 12, she'll die at midnight. But it ends up that it was an 11-year Eventide. So she finds out that she's going to die right away. She's shocked because everybody thought it was going to be 12 years. But this guy, Jupiter North, kind of swoops in and saves her.
So he takes her to Nevermoor, which is a magical city where she doesn't have to worry about dying. She just has to go through four trials to be admitted into the Wundrous Society, which is their prestigious group that she wants to join. So she either has to try to navigate that or go back to her real life where she's destined to die. So fairly easy choice. The trials are not easy though. The other kids that are involved all have special skills. She doesn't have one, or at least she doesn't know that she has one. So she finds it pretty difficult, but I really enjoyed this one. I know there's been kind of a lot of Harry Potter readalikes.
Harry Potter readalike
I feel like this one is different enough that you don't really feel like she's trying to just play off of Harry Potter's success. So it's by Jessica Townsend and then the books are read by Gemma Whelan. I had never listened to anything by her, but I thought she was really great. Anything with an accent, I'm pretty much there. So she's got an accent. I really enjoyed how she read it. It's 11 hours long. So I think it would be good if you're driving somewhere far away, like a trip to the beach or something like that. But I think it's worth the listen. So this is when she finds out that Jupiter is interested in bringing her to Nevermoor.
Audiobook clip from The Trials of Morrigan Crow
Narrator: [00:12:31] "But there was a noise. A very small noise that was barely a noise – like a tiny whisper or rush of air. She flicked on her lamp and the room flooded with light.
It was empty. Morrigan's heartbeat quickened. She jumped up and looked around, under the bed, threw open the wardrobe – nothing.
No. Not nothing. Something.
A small white rectangle stood out against the dark wooden floorboards. Someone had slipped an envelope under her door. She picked it up and creaked the door open to peek into the hallway outside. There was nobody there.
On the envelope, someone had written untidily in thick black ink: Jupiter North of the Wundrous Society wishes to present his bid for Miss Morrigan Crow. Again."
Cara: [00:13:28] That's Nevermoor, the first book in the series.
Laura: [00:13:32] I love that she does have a delightful accent.
Cara: [00:13:35] Yep.
Trials of Morrigan Crow is available as a:
Laura: [00:13:37] All right, Amy.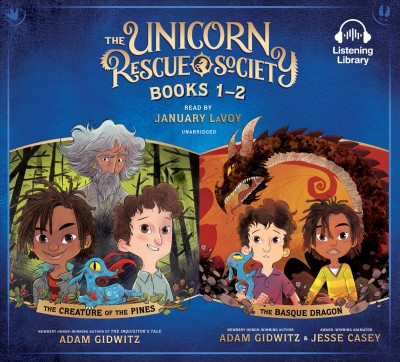 The Unicorn Rescue Society
Amy: [00:13:38] My next one is also fantastical. It is the Unicorn Rescue Society. And the audiobook is comprised of books one and two. Book one is called the Creature of the Pines and book two is called the Basque dragon.
And it's a continuation story, obviously, there are five books/audiobooks total. They're available as audio books through overdrive. But books one and two are combined on a CD at the library.
The Creature of the Pine
The Creature of the Pine starts with Elliot Eisner's first day at his new school and it's a field trip day (which I can't imagine trying to start school and meet new friends while being on a field trip at the same time). His class is going to the pine barrens of New Jersey. The school is located in New Jersey too. Elliot is walking down the aisle of the bus, trying to find a seat where somebody looks friendly and approachable, but not too weird, not too different, so that he could actually try and survive his first day of school. He sits down next to Uchenna Devereaux, and they quickly start talking to each other about the field trip and about school, and as it turns out, Uchenna was a new student last year, so she kind of understands his plight.
The field trip is led by Professor Fauna, who supposedly teaches social studies at the school, but he's also rumored to have a torture chamber in the basement of the school, there is a lot of mystery about him. Most of the kids are scared of him as well.
Kind of the way I imagine Count Olaf in Lemony Snicket's Series of Unfortunate Events, sort of overbearing and frightening, but you find out later that he's not quite so frightening as he appears.
Once at the Pine Barrens, Uchenna goes off the path to investigate some strange noises that she hears and a few moments later, she screams. Then Elliot decides that he has to save his new friend because you know, he's not going to just let her peril. He follows her off the path and then they see a strange blue creature with wings, tied up in a balloon string. They rescue him and as it turns out the creature also likes Elliot's granola bars that his mom and grandma make.
When they catch up with the class they don't mention that they found this new creature. The class meets with the caretaker of the Pine Barrens, and she mentions a mythical creature said to live in the area, a Jersey Devil, a blue creature the size of a deer with wings.
Uchenna and Elliot realize that they've seen and saved a Jersey Devil. Later, this same devil decides that he's still hungry. He tries to get some more Granola bars by sneaking into their backpack. The story continues at a park and that's where Professor Fauna assists Uchenna and Elliot. And the question is, is can they keep the Jersey devil safe? Can they find him again once he's in the park, because the Jersey Devil, has the ability to go invisible in the shade? Also, why are there so many mysteries around Professor Fauna and why does he seem to act so strangely?
The Basque Dragon
Book two, The Basque Dragon, is Elliot's second day of school. They do survive the first book and that first day. On Elliot's second day of school, Uchenna and Elliot are recruited as assistant members of the Unicorn Rescue Society by Professor Fauna, to fly to the Basque region of Spain, after school, to try and save a dragon.
They're sort of thrown into the Rescue Society and as you're listening, you'll learn who stole the dragon, why they stole the dragon, and some dragon history and information on the Basque region as well. The question is, will Professor Fauna Elliott and Uchenna return to New Jersey before dinner, and will it be noticed that they are missing?
Narration
The narrator does a great, great job of creating distinct voices for each character which is really helpful as there are the three main characters in each of these stories and many minor characters.
I forgot to mention the books were written by Adam Gidwitz and it's read by January LeVoy. It was published in 2018, it is four disks and it's about four hours and 45 minutes, almost five hours, but it is book one and book two, and they're two separate books. So you could easily listen to one and then listen to the other. Each one starts with the same letter of introduction, which I'm going to play now.
Audiobook clip from The Unicorn Rescue Society
Narrator: [00:00:00] Unicorns are real.
Or at least, I think they are.
Dragons are definitely real. I have seen them. Chupacabras exist, too. Also Sasquatch. And mermaids – though they are not what you think.
But back to unicorns. When I, Professor Mito Fauna, was a young man, I lived in the foothills of Peru. One day, there were rumors in my town of a unicorn in danger, far up in the mountains. At that instant I founded the Unicorn Rescue Society – I was the only member –  and set off to save the unicorn. When I finally located it, though, I saw that it was not a unicorn, but rather a qarqacha, the legendary two-headed llama of the Andes. I was very slightly disappointed. I rescued it anyway, of course.
Now, many years later, there are members of the Unicorn Rescue Society all around the world. We are sworn to protect all the creatures of myth and legend. Including unicorns! If we ever find them! Which I'm sure we will!
But our enemies are powerful and ruthless, and we are in desperate need of help. Help from someone brave and kind and curious, and brave. (Yes, I said "brave" twice. It's important.)
Will you help us? Will you risk your very life to protect the world's mythical creatures?
Will you join the Unicorn Rescue Society?
I hope so. The creatures need you.
Defende Fabulosa! Protege Mythica!
Professor Mito Fauna, DVM, PhD EdD, et cetera.
Amy: [00:02:11] There is a lot of adventure in both of the stories. It is great for holding everyone's attention, even adults. Nothing is too scary in either book and it would be enjoyed by anybody age five and above.
Laura: [00:02:30] Sounds great.
Amy: [00:02:31] It is.
Cara: [00:02:32] Yeah. I like the sound of that one. That was one that was on my list, one I never got around to. Is that one of those series where each book is by a different author?
Amy: [00:02:47] The first one is written by Adam Gidwitz. The second one is Adam Gidwitz and Jesse Casey. Adam Gidwitz writes all of them, though some may have co-authors.
The Unicorn Rescue Society is available as a: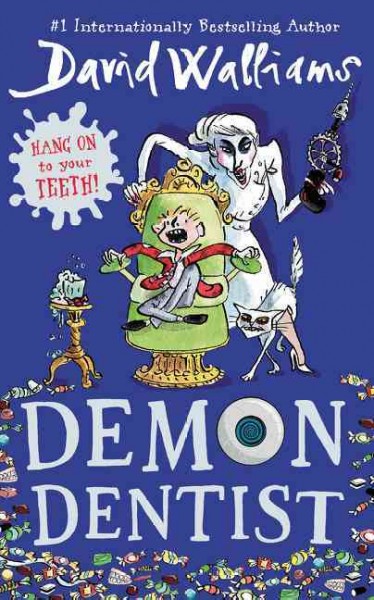 Demon Dentist
Cara: [00:02:59] well, speaking of not too scary, my next one is a little bit scary. So if you have younger kids, I wouldn't recommend it.
Probably grades three to four and up, or if your kids really like scary stuff, it's not too scary. And it's also pretty funny. It's called demon dentist. It's by David Walliams. Who is a British comedian. The grownups might know him from little Britain or other, you know, I think he does some stand-up, but he also writes children's books and he does a fantastic job.
Authors reading their own work
And then he reads the audio book. So I'm kind of fascinated by authors that read  their own books as the audio book. the one that I mentioned earlier where I didn't like it, it was read by the author and I don't know, it's like maybe she just pushed to read her own story, but she was not a good narrator.
But then you have people like role doll who have read their own works, which I just loved listening to Charlie and the chocolate factory. Arnold Lobell does the frog and toad books. So there are a lot of good ones where the author does their own work and they do it justice. So his book is in the book it's paired with illustrations.
It's the famous British illustrator, Tony Ross. And there are a lot of illustrations. So this is another good one to pair with the, you know, the book with the audio.
Premise of Demon Dentist
So the premise is that the main character's name is Alfie and he hates going to the dentist after he had a terrible experience quite a few years ago.
So he has awful teeth and his social workers trying to force him to go to the dentist. And there's a new dentist in town. Her name is miss root and she lives at school and she gives all the kids toothpastes and candy. So it seems like there's something fishy going on with a new dentist. Around the same time kids that are losing teeth and putting them under their pillows for the tooth fairy, instead of finding money, they're finding weird creepy crawly, things like bugs and eyeballs and not nice thing.
So Althea and his friend Gabs are trying to investigate what's going on in town. But kind of the whole story is leading up to what's going to happen when Alfie ends up in the dentist chair. So this is the prologue of the book. It is definitely scary. Like you would kind of expect  but the rest of the book is pretty funny.
I promise. So this is the prologue.
Audiobook clip from Demon Dentist
Narrator: [00:05:21] Darkness said come to the town. Strange things were happening in the dead of night. Children would put a tooth under their pillow at bedtime excitedly waiting for the tooth fairy to leave a coin. In the morning, they would wake up to find something unspeakable under there, a dead slot alive spider hundreds, and hundreds of ear weeks, creeping and crawling beneath their pillow or worse much.
Worse someone or something have come into their bedrooms in the hours of darkness snatched the tooth after blood curdling calling card behind evil was at work, but who or what was behind it? How could they sneak into children's bedrooms without being seen? And what could they possibly want? With all those teeth.
Cara: [00:06:26] So that's Demon Dentist. I have books out that at schools and kids come in and they're like, I want the book.  Yes, he's great.
Demon Dentist is available as a: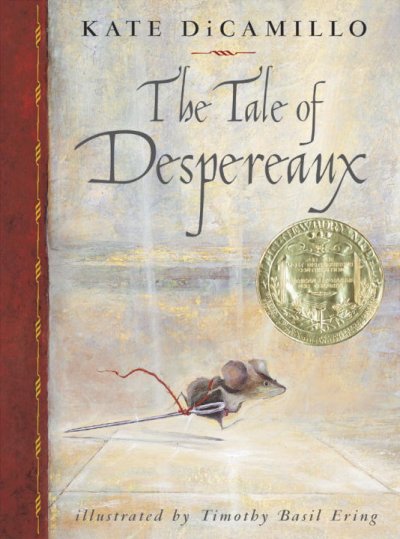 Tale of Despereaux
Laura: [00:06:37] All right, Amy, you're up.
Amy: [00:06:38] My last one is also for an older audience, a fourth grade and up listener. It is the Tale of Despereaux by Kate DiCamillo. Graeme Malcolm reads it. And it was published in 2003. It is four discs long and about three and a half hours.
Premise of The Tale of Despereaux
It's the story of Despereaux Tilling, a mouse who lives in a castle and loves music and stories. One evening he does the unthinkable for a mouse and he falls in love with the princess, who lives in the castle, named Pea. And he talks to humans, this leads to the disastrous situation where Despereaux is led away to the dungeon to be fed to the rats. This is also the story of a rat name, Roscuro, who lives in the dungeon. He only wants to live in the light because he's tired of living in the pitch, black darkness of the dungeon.
And this dungeon has no light. The dungeon keeper has a rope tied around him, which is how he finds his way through the dungeon. And so Roscuro, who is one of the rats down there, has seen the light upstairs when a prisoner comes and he's decided he wants to live in the light.
Also, it is the story of Miggery Sow, who is a servant girl, was sold by her father for a red tablecloth and a cigarette. Her owner does not treat her well, he boxes her ears (she is described as having cauliflower ears because she's hit in the head so many times) and she's hard of hearing. Miggery has a dream of being a princess. The story intertwines all of those stories along with a few more, you meet Miggery's father, you meet the Dungeon master, you meet Pea the princess and all of those stories intertwine.
It is in the end a heartwarming story. But there is a lot of adventure and it is definitely for an older audience. There's a little bit of a discussion about abuse, there's also death and torture, and you are dealing with a dungeon.  For the younger audience, it might be a little frightful. It would definitely hold everyone's attention, fourth grade and up in a car for a trip and there is nothing gory or violent in the story. It's just, you know, a little bit heavier themed.
And I have a little bit of the introduction of Despereaux.
Audiobook clip from Tale of Despereaux
Narrator: [00:09:07] The April sun, weak but determined, shone through a castle window and from there squeezed itself through a small hole in the wall and placed one golden finger on the little mouse
The other older mice children gathered around to stare at Despereaux.
"His ears are too big," said his sister Merlot. "Those are the biggest ears I've ever seen."
"Look," said a brother named Furlough, "his eyes are open. Pa, his eyes are open. They shouldn't be open."
It is true. Despereaux's eyes should not have been open. But they were. He was staring at the sun reflecting off his mother's mirror. The light was shining onto the ceiling in an oval of brilliance, and he was smiling up at the sight.
"There's something wrong with him," said the father. "leave him alone."
Despereaux's brothers and sisters stepped back, away from the new mouse.
"This is the last," proclaimed Antoinette from her bed. "I will have no more mice babies. They are such the disappointment. They are hard on my beauty. They ruin, for me, my looks. This is the last one. No more."
"The last one," said the father. "And he'll be dead soon."
Laura: [00:10:19] How fun is that?
Amy: [00:10:20] Exactly
Cara: [00:10:21] Oh, I love Kate DiCamillo. She's one of my favorites.
Amy: [00:10:25] It's such a great story. It's so well told. It's so well written, as all of her books are. She's definitely one of my favorites too.
Tale of Despereaux is available as a:
In conclusion
Laura: [00:10:33] Thank you both for sharing some amazing audiobooks for kids. I know I'm going to be visiting the catalog to check some of those out. And just a reminder as well to all of our watchers and listeners that they can find the show notes on clermontlibrary.org and links to all of them the audiobooks will be there.
So thank you to the two of you. This is always so much fun. And I love hearing about all the great books and audiobooks you suggest. Thank you to our viewers. Remember to follow Clermont Library on YouTube so you get all of our book talks plus additional great library content. And to our listeners, remember to subscribe to the Booklovers Podcast. Thanks, everybody. Happy reading.
You might also enjoy
Podcast: Play in new window | Download
https://clermontlibrary.org/wp-content/uploads/2023/01/fe-kids-audiobooks.jpg
440
330
Laura Eckert
https://clermontlibrary.org/wp-content/uploads/2022/11/CCPL-Logo-tightcrop-transparent.png
Laura Eckert
2021-05-10 11:07:49
2023-02-14 12:19:27
Podcast: Our Favorite Audiobooks for Kids