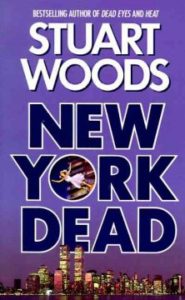 Stuart Woods has several series but is best known for his Stone Barrington novels.  Mr. Barrington is a former N.Y.P.D. detective turned lawyer.  Woods writes fast-moving investigative thrillers full of twists, and action, often with political or legal intrigue. They are often set in the south and feature boats and boating.  The trappings of the rich and famous – food, wine, name-brand clothes – fill the pages and contribute to the adventure.
Authors with a similar style
Jeffrey Archer – Writes a diverse range of fast-paced thrillers.  His novels feature likable characters, the rich and powerful, and offer international intrigue.
David Baldacci – Creates detailed plots, fast-paced with suspense and power-hungry characters.  Baldacci uses themes of political, corporate secrets, and espionage.
Stephen Cannell – Writes fast-paced novels featuring complex plots.  His characters are likable and could be on the screen. His primary character is Shane Scully, LA police detective.
Harlan Coben – Fast-paced and complex plots similar to Woods'.  Try the Myron Bolitar mysteries.
Nelson Demille –  Writes fast-paced thrillers with complex plots and subplots.  Realistic conflicts like Woods against legal and political backdrops.
Robert Dugoni – Writes action-packed, suspense legal thrillers with David Slone as a wrongful death San Francisco attorney.  The Jury Master is the first in the series.
James Grippando – Writes suspenseful, multi-plotted novels, featuring likable heroes battling corrupt politicians, lawyers, and greedy corporations in dangerous situations.  Start with The Pardon.
John Grisham – Provocative stories and fast-paced novels similar to Stuart Woods with less sex and violence.
Brad Meltzer – Creates fast-paced, complex plots, and suspenseful thrillers often set in financial, legal, and political settings.  Often his naïve heroes find themselves fighting against dangerous and powerful adversaries.  Start with the Zero Game.
James Patterson – Writes fast-paced novels with strong dialogue, well-developed plots and twists.  His earlier novels provide detailed descriptions of violence and sex.  Patterson's Women's Murder Club series is similar to the Stone Barrington series in the novels are fast-paced, focusing on wealthy lifestyles and developed plots.
Lawrence Sanders – Writes several series that are fast-paced, and full of detailed plots, twists and turns.  McNally's Secret may appeal to the Stone Barrington series, as the plots deal with investigations.