PREPARE YOUR CHILD FOR SUCCESS AS A READER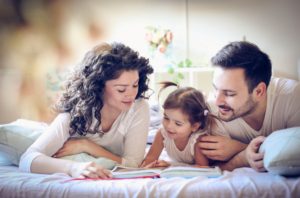 Help your child become aware of and comfortable with books and language. You're getting them ready to learn to read! It's never too early to prepare your child for success as a reader. Research shows that children who are read to from an early age have a larger vocabulary, have better language skills when they start school, have a greater interest in books, and enjoy reading activities to a greater extent.
Book Review
Share books like The Very Impatient Caterpillar by Ross Burach with your child. Waiting is not easy especially for a caterpillar with no patience at all. Find out what happens when it is time for this caterpillar to "metamorphosize". Can he stay in his chrysalis for two whole weeks? Will he be more patient when he becomes a butterfly? These are just some of the questions you can ask your child as the two of you enjoy this very funny book. You can make predictions, talk about what it means to be patient and even how a caterpillar becomes a butterfly.
Tips for Success as a Reader
Talking to your child as you read a book with him will help him to better understand what is being read. Talk about the story, any unknown words and how it relates to her life. If you do these simple things with this book, your child will have fun while getting ready to read.
1000 Books Before Kindergarten
Remember to sign up for 1000 Books Before Kindergarten. Every book read to your child counts toward the goal of reaching 1000 books. Children participating in the program earn books, toys, or ribbons at every 100 book milestone. Does it sound impossible to read 1000 books before kindergarten? It's not! Three books a day for one year = 1,095 books!
Conclusion
Sharing books with children is one of the most important things we can do in their lives. Read with them. Visit storytimes. Sign up for 1000 Books Before Kindergarten. Check our Event Calendar for upcoming storytimes and events. Raise readers!
You Might Also Enjoy
Written with Kim Smithers, Youth Services Specialist at the Owensville Branch Library.