The Newbery Award For Children's Books Explained
Stacy: Welcome to the Clermont County Public Library's Booklovers Podcast. I'm your host today. My name is Stacy and I'm joined by two youth services librarians, Cara and Kristine. Hi guys. During this episode, we're going to discuss the Newbery award. We're really excited! We're going to talk about the criteria used by the Newbery committee and our two guests are going to discuss their predictions for the 2022 Newbery award.
Stacy: Remember that show notes with links to all the titles we talk about are available at clermontlibrary.org.  And I'm going to kick things off and talk a little bit about what the Newbery award is and about the exciting anniversary coming up. So, this is the first in a series of four podcasts that we're doing to celebrate the 100th anniversary of the Newbery award.
A brief history of the Newbery Award
Stacy: So just a little bit about the creation of the award. First of all, the Newbery medal is given by the Association for Library Service to Children, which is a division of the American Library Association. And it is given to the author of "the most distinguished contribution to American literature for children."
Stacy: And it's given to books that were published the previous year. So, the 2022 awards will go to books published in 2021. Some quick history: in 1921, Publishers Weekly editor Frederick Melcher proposed the award to the American Library Association meeting of the children's librarian section and suggested that it be named for the 18th century English bookseller, John Newbery. The idea was enthusiastically accepted by the children's librarians and Melcher's official proposal was approved by the American Library Association board in 1922. The Newbery award thus became the very first children's book award in the world. From the beginning of the awarding of the Newbery medal, committees could and usually did cite other books as worthy of attention.
Newbery Honor books
Stacy: So, such books were referred to as Newbery runners-up, but in 1971, the term runners-up was changed to honor books. And actually, a lot of my favorites are not Newbery medals. They're Newbery honor books. So, we'll be talking about that a little bit too. So that new terminology was made retroactive and that allowed all the former runners-up to now be referred to as Newbery honor books.
100 years of Newbery Awards
Stacy: So, listeners if you heard me say at the beginning and you paid attention to the date of the first Newbery Medal it was awarded in 1922. You'll realize that 2022 marks the 100th anniversary. So, the Association for Library Service to Children says about this anniversary, "This anniversary commemorates not only a century of captivating books, it celebrates the longevity and evolution of the award. The world has changed in the last 100 years. And with it, the Newbery medal seeks to recognize stories that represent and respect all youth." I think all children's librarians are excited for this historic anniversary and perhaps none more than our two guests today. So next Cara has some great information about how each year's Newbery committee is formed and the criteria that they use to choose winners.
Newbery committee and criteria
Cara: Thanks so much for having us, Stacy, and for saying how excited we are about the Newbery. It's true. I consider myself a Newbery nerd. I always read all the books that might be up for the Medal every year. So I love to talk about the Newberys. The process and information about the committee is pretty complicated, so if anybody wants to delve into that, that is on the American Library Association's (ALA) website.
Choosing the Newbery committee
Cara: You can check out the Newbery manual there, which is about 70 pages of dense information, so I tried to narrow it down into just the basics, to give an overview. Every year they pick a new committee to choose the Newbery Medal, so you never really know what you're going to get, because they all kind of start from scratch, other than that manual.
Cara: Because everything's confidential, you don't know what the previous committee talked about or how they made their choices, which is a really cool way to go about it, because every year's awards are really different based on that committee.
Cara: So they start the process over every year in January at the ALA's mid-winter meeting; that's when the new committee meets. And that's also when they're awarding that year's awards. So that committee is kind of ending their term, and the new committee's coming on. And every committee is made up of 15 members.
Cara: They're all members of that group that Stacy mentioned, the Association for Library Service to Children (ALSC). They make nominations all year long for books that they think should be considered. So they're kind of in constant communication with each other, whether that be, in the past, they communicated by mail; recently they've had to do it virtually because of the pandemic.
Committee communications
Cara: Usually they're meeting in person if they can, but of course they can be from all over the country, so I think they've probably always done a mix of different ways of communicating. But they do have a couple of meetings that are required.
Cara: So that first Midwinter is not required, but the one where they're announcing the award is required for them. And then they also have one in the summer, which is kind of their midway point where they're really getting into their year and about to start their formal nomination process.
Committee voting process
Cara: So there are more details about how complicated that is in the manual if you care to take a look at that. And then at their mid-winter where they're announcing the awards, they have their formal balloting process where they vote on books. They're assigned a number of points based on what rank they choose for each book.
Cara: And so that decides the winner. And then for the honors, they don't have to name any. If they felt there were other books that were distinguished, they could use those. They don't have to be books that were runners-up in the balloting process. They can start the voting process over. So that's interesting.
Honors books
Cara: And then when you're talking about the runners up, those were listed not in alphabetical order but in order of preference. And now that they've gone to honors, they're actually just listed in alphabetical order. So they all have equal weight, which I thought was an interesting point that they made, that none of them are ranked better than the others.
Cara: They can consider all eligible books that are published in that year that they're working with for ages 0 to 14. So that includes over 5,000 trade titles, according to the manual. I think they read a lot less than that. I've heard committees say that it's hundreds. I don't think they're able to read thousands.
Criteria
Cara: So they probably kind of give a cursory overview of different books and then decide which ones they actually want to read in full. The author has to be a US citizen or a resident for at least six months out of the year, and it has to be an original work. They cannot consider the author's previous works.
Cara: They can only consider illustrations and other features if they detract from the text. So the text is really what they're considering. Because of that, they can consider all forms of writing. So it doesn't necessarily have to be a novel; it could be poetry, plays; as we've seen, it can be picture books and graphic novels, because those contain text as well.
Finding the most distinguished
Cara: And then they specifically state in the manual that it's not an award for didactic content or popularity. So they're really looking for, as you mentioned, Stacy, the most distinguished, which they do give a definition of, they do have some guidelines to go by. It says that it has to be marked by eminence and distinction, noted for significant achievement, excellence in quality, and individually distinct.
Cara: And then when they're looking at the distinguished contribution they have further criteria. So they have to consider the interpretation of theme or concept; presentation of information, including accuracy, clarity, and organization; development of a plot; delineation of characters; delineation of a setting; and appropriateness of style.
Cara: But it's interesting that it does point out that they do not expect the committee to find excellence in all of the named elements. So it's not necessary that it has all of those things, just some of them. But still, any way you look at it, it's an enormous undertaking. I don't know how even 15 people can look at all of the children's literature, just for a year.
Reading to evaluate
Cara: I've heard that they spend the entire year reading, rereading, and evaluating, and probably taking time off work. A lot of them work full-time as librarians, professors, teachers, but having to take vacations just to read, which sounds fantastic. But I've heard committee members say you really get into a different mindset, so it's really not reading for enjoyment. They really do take their tasks seriously. So that's a lot of work.
Stacy: Hopefully that would count as continuing education. Maybe. I can't imagine that they have to take their own vacation days. That doesn't sound like fun at all. Sounds like work, like you said.
Predictions for 2022 Medal
Cara: Yes. So we're going to spend the rest of the podcast sharing our predictions for the 2022 Medal, which is awarded for a book published in 2021.
Cara: So that counts up through December 31st. There are books that are still coming out that could be considered, and that poor committee's scrambling, as they do every year, to try to get their hands on all these books. Publishers do send them books, but I'm sure they still try to seek out others. So today we're going to look at traditional Newbery books, which are middle-grade novels, meaning that they're published and intended for children ages 9 through 12.
Cara: And then in another podcast, we're going to look at what we consider nontraditional titles, such as picture books and nonfiction, which are just as eligible but have historically been considered far less often for Newbery recognition, although we're seeing them a lot more often in recent years, so the committee is definitely widening their net. But I'm going to turn it over to Kristine for her first pick.
First picks
Kristine: So as you mentioned, Cara, there are so many books out there and I have been reading voraciously, but I feel like I have barely scratched the surface. So I'm going to talk about some of the books that I chose that I think are strong Newbery contenders, but at the same time, I keep running across new titles that I'm like, Ooh, that one could be a possible contender as well.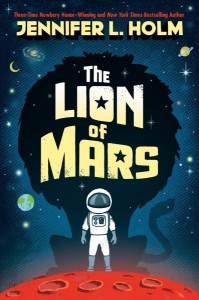 Lion of Mars
Kristine: And so the first book I chose today is called the Lion of Mars by Jennifer L Holm. And this is a science fiction book. Hence the title Lion of Mars. The story follows a boy, 11-year-old Bell who has basically spent his entire life growing up on the planet Mars. He lives with a very small group of other kids and adults on the American colony on Mars.
Kristine: Other countries like France have colonies as well, but the Americans are forbidden from having any contact with the other colonies. So they're kind of isolated by themselves. And as the story goes, we see that presents a problem. When all of the adults in the American colony start becoming ill with some mysterious virus and it's up to Bell and the other kids to try and figure out how they can save the adults, how they can keep the colony running, and essentially save themselves.
Kristine: And they soon realize that they're not going to be able to do it alone, that if they want to save the adults, the colonies, and themselves, they're going to have to venture out and make contact with those other colonies, essentially breaking the rules. I think this is a great book. I think the author does a fantastic job of describing what life on Mars would be like.
Great descriptions
Kristine: Obviously nobody has actually set up a colony there, but she just gives great descriptions of what Mars looks like, what their colony, which is actually in underground lava tubes, looks like, and how it functions day to day so that they can actually survive in a very inhospitable climate.
Kristine: So I think she really does a great job among other things of describing that setting. And so this is my first choice. We're going to talk about today for Newbery contenders.
Perfect for reluctant reader
Stacy: Interesting. I feel like that's a good pick for reluctant readers too, because it has, like that sci-fi spin and maybe a little bit of adventure.
Kristine: It's definitely got a good bit of adventure. A little bit of mystery even. There's a cat persistent throughout that in my mind is quite adorable. So I think there's a lot of things that would appeal to a lot of readers, including those reluctant readers and awesome.
Kid appeal
Cara: Yeah, I agree. I loved that one. I thought that it definitely had kid appeal, which is something that I always look for when I'm reading Newbery picks, even though that's not something the committee looks for. So it's kind of the distinction between, they're supposed to look for, you know, it's written for a child audience, which it can be, and also be very boring to a child, so it's written on their level, but it's not necessarily appealing to them.
Cara: They don't need to look for child appeal, but I always look for that when I'm reading, because I feel like it can be great, but then at the same time I need books that I can promote to actual kids, too.
Kristine: I think of several that I've read and I'm going to talk about I think that one has maybe the widest range of appeal.
Kristine: I think a lot of kids that are interested in different things would really enjoy that book.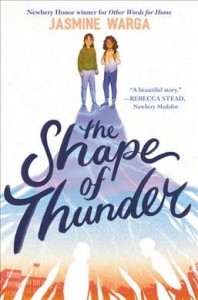 The Shape of Thunder
Cara: My first book is totally different, I would say because it's a very heavy topic. And it's realistic fiction, which is what I tend to read, and we've seen is what the committee tends to award, is for realistic and historical fiction, which are two of my favorites, so maybe that's why I love the Newbery, or part of it.
Jasmine Warga's previous awards
Cara: But Jasmine Warga was awarded the Newbery Honor a couple of years back for the 2020 award for her book Other Words for Home, which is actually set in Cincinnati; it's a novel in verse. If you haven't read it, I would highly recommend it.
Cara: So she definitely has the chops for it, but because the committees can't consider their past works, it doesn't mean she's a shoo-in at all. But I just think she's a fantastic author.
Difficult subject
So as I mentioned, this story [The Shape of Thunder] is very heavy. I think it's really timely for sure. It deals with the aftermath of a school shooting.
Cara: And I think having that kind of distance in the aftermath is probably one of the things that makes it appropriate for a middle-grade audience. Although we know, any student who's in school is dealing with active shooter drills on a yearly basis, so that you know, it's their reality for sure.
About the book
Cara: But you're not seeing the actual shooting in the text; it's been a year since it happened. And these two friends on the cover, Cora and Quinn, used to be best friends. They're next-door neighbors. But they're so closely involved in the shooting that that's caused a rift in their friendship.
Cara: So Cora's sister Mabel was shot in the school shooting, and then Quinn's brother is the one who committed the crime. And she feels guilt about it because she saw him with guns and didn't say anything about it. So definitely very heavy topics. It does have a little bit of a sci-fi twist.
Plot of The Shape of Thunder
Cara: So the plot of it is that they haven't spoken in a year, but Quinn reaches out to Cora because she wants to try to be friends again, and she thinks maybe they can try to fix it with time travel. So they're trying to figure out how they can get back and change what happened. I think the way that she develops the characters is really distinguished and also her writing style is just wonderful, but they each have their own distinct voice, and it goes back and forth between their perspectives. So I would recommend this one for ages 11 and up.
Good book club choice
Stacy: Wow. I feel like that would be a really good pick for middle school book clubs.
Cara: Yes.
Stacy: Even early high school book clubs. I mean just the content, so, yeah. And she's a Cincinnati native, right, Jasmine Warga?
Cara: Yeah, as far as I understand, she doesn't live here anymore.
Stacy: That'd be very cool though if she won another award.
Cara: Yeah, definitely, I'm rooting for it.
Kristine: I think it would be great for a book club. I think there's a lot of points for discussion in that one, but I thought it was a really strong book. I would hate to be on the Newbery committee because all of these that we're talking about I think are great.
Kristine: And you kind of have different things that they excel at, but I really enjoyed that one. It's a little heavier topic, but I thought she, she handled it really well.
Second picks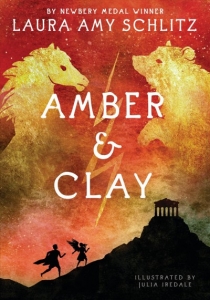 Amber and Clay
Kristine: All right. Well, my next book kind of goes off on a completely different genre and it is Amber and clay by Laura, Amy Schultz. And I tend to read more realistic and historic fiction. And so I put this one off for a long time. It's not my typical genre. And as you can see, it looks like a pretty thick book.
Stacy: It is huge.
Kristine: But it kept getting a lot of buzz and I was like, I'm going to read it, I'm going to read it. I'll get to it. And so I finally did, and I have to say, I really am glad that I did. I thought this was just a really unique and interesting book. So this is what they call an epic story.
About Amber and Clay
Kristine: It really is epic. It's set in ancient Greece, and it follows the lives of a boy named Rhaskos who is very artistic, but he is a slave boy in Greece and it follows another girl named Melisto, who is actually part of an aristocratic family in Greece. So it kind of follows their two parallel lives that don't seem like they are going to have any connection, but they become linked together by the gods in this story.
And it's just, Laura did a fabulous job of researching this story. Pulling on that ancient Greek mythology. And she did it in a really unique way. This story combines verse and prose.
It starts with an artifact that's been discovered and there is a picture of the artifact. And so she shows the artifact, she describes the artifact kind of like you would see in a museum exhibit. And then she goes on to tell the story behind that artifact. And there's a lot going on in this story, but she does a great job of linking it all together.
For older readers
Kristine: It's a very compelling story. I think it will keep your attention. I would say this kind of leans more on the older end of the Newbery, as Cara said, Newbery considers anything from zero up to 14. So I think this is going to lean more towards that older end, 10 to 14, maybe. But she did a great job in how she presented her information in a really unique way. it's fiction, but it still has a bibliography.
Kristine: So very well researched with accurate information. I think she's got a strong shot. Again, just because of really the uniqueness and the way she laid it out. I thought she did a really excellent job at that. So that is another one of my possible contenders, Amber and Clay.
Stacy: That's awesome. I feel like that'd be a good choice for those readers who really want like an epic read, like you said, and they want to like really be immersed in the story and the world, and they want a lot in, you know, into the meat of the story. So it sounds like it's a good pick.
Not Kristine's typical book choice
Kristine: I enjoyed it. If I wasn't trying to read for the Newbery, I probably wouldn't have picked it up. So I'm glad, glad that I did.
Cara: You've maybe convinced me. I don't know. Well, it was on my radar. I picked it up and looked at the first couple of pages and I was like, I don't think I'm the reader for this.
Kristine: It took a little bit to get into, but once I got into the story I had to keep, I actually listened to it. I had to keep listening to see what was going to happen next.
Stacy: Give it a chance.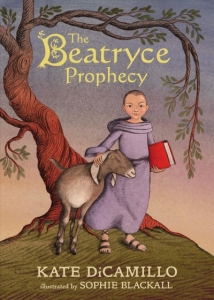 The Beatryce Prophecy
Cara: Well, my next one is The Beatryce Prophecy by Kate DiCamillo. So this is her brand new book that just came out, I believe in September of 2021, so toward the end of the year, but I'm sure the committee will take a look at it.
Author Kate DiCamillo
Kate DiCamillo is absolutely no stranger to the Newbery. She has won two Newbery Medals in the past, which is the most that anyone's ever won. She's not the only person to have done it; she's one of six people who have won the Newbery Medal twice, but no one's ever won more than that.
Cara: She was awarded the Medal in 2004 for The Tale of Despereaux and again in 2014 for Flora and Ulysses. And she also has a Newbery Honor to her name for her first book, Because of Winn-Dixie, which I think is probably her most beloved, which was all the way back in 2001. So she's been around for a really long time.
Cara: She's one of my favorite authors. I always feel like she can do no wrong. I mean, she's branched out into early chapter books, picture books. She's got all kinds of stuff out there. Kind of in different genres too. But you know, she just keeps coming up with new stuff, because this one's totally different for her, I would say. Maybe a little bit of flavor of Despereaux to it.
About The Beatryce Prophecy
Cara: It feels like it's set in the past, although I saw an interview with her and she kind of said, it's timeless. It doesn't really have a setting. It definitely feels medieval. So the title, The Beatryce Prophecy, refers to the main character, Beatryce, who is a girl who's not supposed to be able to read and write, but she can; her family taught her how it was important to them.
Cara: But society says that she's not supposed to, so that makes her very dangerous. She was actually supposed to be killed. Some of her family members were, but she escaped and she finds herself at a monastery. So there's a monk that's a character and there's also this demon goat Answelica.
Balance of humor and seriousness
Cara: She brings a lot of humor to the story as well. So I think she always does a really good job of balancing that; she usually has some kind of serious bent to her story, but she always works hope in. There's definitely not any that I feel like are dark stories. And humor as with the goat in this one.
Cara: And I always find it interesting, she always seems to work in some kind of food. I feel like that's a way of comforting her characters. They kind of always go back to that. So in this one, there are these maple candies that the monk has and he keeps giving them to Beatryce, and then she goes off on her journey and he packs some for her and she finds them later.
Cara: So just kind of a simple way, and I think a lot of us use food for comfort, right? So it makes sense to a lot of people, I think.
Illustrations
Of course, this one is illustrated by Sophie Blackall, who I absolutely adore and she's a Caldecott Medal winner, so that's kind of the Newbery equivalent for illustrations. So this one has illustrations of the characters and the goat.
Cara: Here are two of the kids, there's Jack Dory and Beatryce; so Jack's a boy that pops up in the story, that Beatryce finds on her way. And then there's the goat trying to get to them. So the goat adores Beatryce, but other people, she's not so fond of, so they have to be careful of the goat.
Kid appeal
So yeah, the only concern of mine, which I mentioned earlier, is kid appeal on this one, which the committee doesn't look at it at all.
Cara: So they don't care. It's definitely written in a style for a child audience. I worry that kids, I mean, obviously Kate DiCamillo, a lot of them will know who that is, so that'll help, but you know, for me, if you tried to sell it to me, and you said, well, it's set in medieval times and there's a monk who's a character, and they go on this journey, I'd be like, I don't know about that.
Cara: So that's the only thing that kind of made me hesitate. To promote it to kids, I think you really just have to talk it up. Teachers and librarians will have to sell it or read it aloud. It's definitely a way of getting them engaged, once they get into it.
Cara: Her language is always very economic, I would say. Her sentences seem simple, but she just manages to put them forth in such a way that there's a lot of emotion in them. And she just always does a great job. So, I definitely recommend that one.
Goat appeal
Kristine: I think to sell to the kid, you just got to sell among the goat.
Kristine: The kids will be hooked and they'll go, want to find out more about that demon?
Stacy: Did I hear you correctly? Did you say demon?
Cara: Yes, that is what they call her at some points because she likes to headbutt people. So she sends them flying and she's dangerous. The monk actually says that he has a hoofprint that's stayed on his chest, like it's a permanent mark on him from his encounter with the goat in a beautiful meadow that he describes, all the flowers and stuff. But then he had the encounter with the goat. It was very dangerous. So yeah, she's definitely scarred people, but she loves Beatryce. She's a good goat at heart.
Stacy: If all else fails if you can't hook a reader with any of the other wonderful things you said about the book, just say demon goat and see how many children will want to read it then. So awesome.
Third picks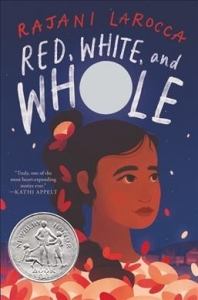 Red, White, and Whole
Kristine: All right. Well, my final choice today is called Red, White, and Whole, and this is realistic fiction. So this is kind of more my typical genre, but it's also considered historic fiction because it is set in the eighties.
Kristine: Which I don't know how I feel about that. But I think this, the three I've talked about this is probably one of my favorites.
About Red, White, and Whole
Kristine: So this story follows 13-year-old Reha and she is an Indian American girl and she's trying to fit in. She wants to be a typical American teenager. She's in junior high and just wants to, you know, kind of fit in with all of her friends at school.
Kristine: But yet at the same time, she wants to please her Indian parents who are very, very strict, especially compared to typical American parents. And so while she's trying to kind of navigate all of this and figure out where she fits in her mom becomes very ill and it's diagnosed with cancer. And so now she's got to try and deal with that on top of everything else.
Emotional story
Kristine: And this book is, it's just a really powerful book a bit of a tear-jerker it's much shorter than most of the other ones I've talked about, but the author Rashani Larocca just expresses things in such a beautiful way. And she draws from her own background. She is Indian, she was born in India and she's also a medical doctor.
Kristine: So she, she draws on that background to kind of tie it together. All these themes of trying to figure out who you are, a family, friendship, loss and grief using different metaphors with blood. And she ties in some Indian folk tales as well. Just to show how even though we're all made up of many parts we can still be whole. And I just thought this was a great book.
I know a lot of books this year for the Newbery are written in verse. So it'll be interesting to see how they all compare. But I really enjoyed this book.
Middle grade readers
I think kids kind of middle-grade kids will be able to relate with that whole idea of fitting in, even if, you know, they may not be from another country or their parents from another country, just that middle grade.Those middle-grade years, I think all kids kind of deal with that. Where do I fit in? So so I think this is a great book. I hope it gets some Newbery attention.
And I think as Cara had mentioned the little circle there in whole would be a great place to put the Newbery medal that is red, white, and.
Cara: I loved that one too. I listened to it and I feel like it feels very current, even though she definitely sets it in that eighties time period; there's a lot of references to songs from the time period. So it's got that eighties flavor to it, but it has enough there that it's just kind of universal things, like you were saying, of fitting in, that today's kids will definitely relate to it as well.
Stacy: Maybe the cover designer thought about that for the new sticker, sneaky. I like it.
Cara: You never know. It's interesting to see. I've seen blogs and things where they talk about where are they going to place it on the cover.
Stacy: Well, you don't want to cover up something really important.
Cara: Yep. You got to leave space for that potential Medal.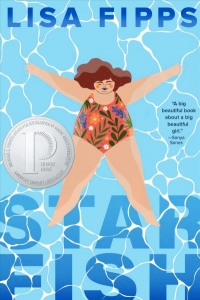 Starfish
Cara: So my last one is also in verse, so kind of a good way to compare two choices. I know there's been a lot of talk about this one this year; this one's Starfish by Lisa Fipps. It's a contemporary story about a girl named Ellie, who's been bullied for a very long time for being overweight by her classmates but also probably more disturbingly by her brother and her mom.
Cara: So it goes into how they've treated her in the past and then the current storyline where everything's all kind of coming to a head, but she's also going through therapy. So that's helping her kind of come to terms with what's happening and know how to cope with it, through that therapy.
Cara: And then, you know, she has some confrontations with her classmates, with her family. She does have some support. Her dad is supportive, but he's also kind of stuck in between, obviously, the family members. And then she has some good friends who are supportive as well. So it's not without hope, like I said. I think that's kind of the main thing about middle grade is that there has to be some kind of hope in the book; it doesn't necessarily have to have a happy ending.
Middle-grade versus YA
Cara: I feel like YA can get away with being ultimately dark and not having any hope, but middle grade can't; the kids aren't there yet. So the chapters written in verse are just gorgeous. I have seen some pushback on this book. I've seen quite a few librarians say that they feel like it's not realistic, like it goes too far in how she's bullied.
Cara: But the author's note at the end says that everything in this book happened to the author as a child; it's inspired by her life. So it's not unrealistic; it all happened to her, which is terrible to think about. But also, you feel like there must be kids out there that really need this book.
Cara: And kids that aren't going through it, but need it in order to be able to relate to people that might be going through that. I thought it was really fantastic in the way that she develops the characters and just the way that it's written in verse, I think is probably the most distinguished part about it, I would say.
Kid appeal
Cara: And some definite kid appeal there. I think a lot of kids will really like how her voice is; it's very straightforward and modern, but it does kind of have a little bit of a poetic twist to it too. So I think that makes it the perfect method of delivery for this story.
Stacy: I'm not a huge reader of middle grade fiction, but I did read Starfish this year and I loved it. I was like cheering by the end. And just that, like you said, the message of hope, just ultimately like at the end, like kind of how you said it it's modern. Like the trend right now is like, it's okay to be who you are own who you are, take up space. And that was just totally the message of this book, which I loved.
Cara: Yes. Thank you for mentioning that. I forgot to mention where the title comes from, taking up space. She calls it starfishing, taking up the space that she deserves.
Hard to pick just three
Stacy: So, it's wonderful. Yeah. Wow. Okay. How on a scale of one to 10, you two, how hard was it to pick only three titles to talk about today?
Cara: Very difficult.
Kristine: very difficult. Keep coming across. I was looking at some things this
Kristine: morning and I was like, oh, there's another one I want to read then there's another one. So it was, it was definitely a challenge.
Stacy: Yes, for sure. And it's a challenge whenever we recommend books to readers too, because you're like, I think they would really love this, but also this, and you don't want to bog them down too much, but hopefully they just keep coming back and you can keep recommending them.
Cara: You know a good librarian when they get too excited about books and they give you too many. We try hard not to, but I'm always picking up piles and piles of books. You just can't help it.
Livestream the awards
Stacy: Yes. Well, we will be anxiously awaiting the announcement of the Newbery award and all the other youth literature awards as well. So viewers, you can watch the 2022 American Library Association Youth Media Awards live. It's going to be virtual on January 24th, 2022 at 9:00 AM Eastern time. So I'll be right at work that day, which will be wonderful. It's exactly what I'm going to be doing, making sure we have all the winners, probably ordering extra copies.
Stacy: A live stream of the Youth Media Awards will be available at ala.unikron.com. Thank you guys for joining us. Listeners, remember to subscribe so you don't miss an episode and viewers follow the Clermont library YouTube channel for this and other great library content.
In conclusion
Stacy: You can find all of the books we talked about in our catalog or in our digital collections, via Libby, Hoopla or Freading. Thank you, Cara and Kristine for joining us today. We had a wonderful time and we'll catch you all on our next Newbery podcast. Thank you.
You might also enjoy
Podcast: Play in new window | Download
https://clermontlibrary.org/wp-content/uploads/2023/01/FENewberyHopefuls.jpg
440
330
Staff Writer
https://clermontlibrary.org/wp-content/uploads/2022/11/CCPL-Logo-tightcrop-transparent.png
Staff Writer
2021-12-15 11:11:23
2023-02-14 13:05:05
The Newbery Award For Children's Books Explained