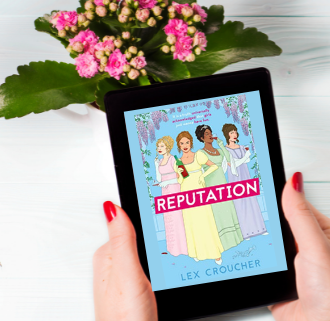 If You're a Bridgerton Fan, Read These 4 Romances
Andrea: Welcome to the Clermont County Public Library's Booklovers Podcast. I'm Andrea and I'm joined by Laura and Kasey. And during this episode, we are going to talk about historical romances because we are so excited for the next season of Bridgerton. Kasey, do you want to start us off?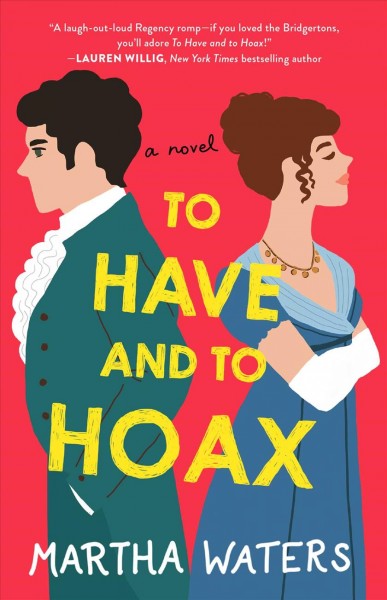 To Have and to Hoax by Martha Waters
Kasey: Sure. The first book that I'm going to recommend is actually listed in NoveList Plus as a readalike specifically for The Duke and I, but I think that it really has a lot of parallels with all the other books in the series.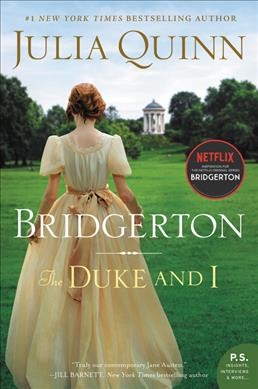 The book is To Have and to Hoax by Martha Waters and it is a part of the Regency Vows series. So, I just finished this one. It is filled with witty banter, and it is very funny. I laughed out loud multiple times while I was reading it, and my family was like, "what's going on?"
Description of To Have and to Hoax
So, I'm going to read a description. "An estranged husband and wife in Regency England, feign accidents and illness, in an attempt to gain attention and maybe just winning each other back in the process. Five years ago, Lady Violet Grey and Lord James Audley met, fell in love, and got married. Four years ago, they had a fight to end all fights and have barely spoken since. Their once passionate love match has been reduced to one of cold, detached, politeness.
But when Violet receives a letter that James has been thrown from his horse and rendered unconscious at their country estate, she races to be by his side. Only to discover him alive and well at a tavern and completely unaware of her concern. She's outraged. He's confused. And the distance between them has never been more apparent."
As the book goes on she's upset because he didn't tell her that he was injured and then she pretends that she has consumption.
She knows that he knows that she knows, and it's a lot of back and forth and the banter is great.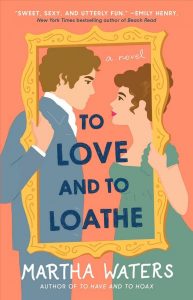 The second book in the series was just released last year.
And then the third book is coming out this summer. So, I will definitely be reading the other two in the series,
Essentially, in The Duke and I, a lot of their disagreements and misunderstandings are related to his terrible relationship with his father. Which as we know is a major plot point in The Duke and I.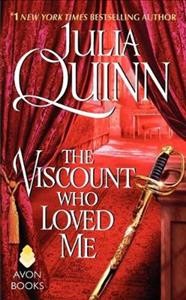 For anyone who has read The Viscount Who Loved Me, which is the second in the series, the second season of Bridgerton is based on that book.  The back and forth banter reminds me of a lot of that one. So definitely recommend.
Andrea: Kasey, Can I back up a minute and ask you, if I was a guest coming into the library and I'm looking for historical romance, am I going to paperbacks or am I headed to fiction to find it?
Kasey: Well, it varies across the series. This one specifically we have in regular print, soft cover, and it's also available through Libby/Ohio Digital Library as an e-book and e-audiobook.
Andrea: I will say if you are an eBook lover, there are a lot of the historical romances in Libby/Ohio Digital Library. I think because they read quickly for a lot of us.
People are voracious readers of that genre. So, there's a lot in there. In the past, we used to talk about the Harlequin romances, and I think a lot of people got an idea like that's trash. They looked down on it.
Over the years, people have looked down on historical romance or the paperback, the bodice rippers, as we call them. But then Bridgerton showed people like, oh wow, that's what's really going on in these books. I could get into that!
Laura, I feel like you want to say something.
Romances are fantastic
Laura: People who are rude about romance just haven't read it. They're super complex. There's delightful, witty banter. And the authors who write them actually do serious research.
Andrea: For sure. Because when you talk about Regency romances, it's a specific period of time. So you can't just wing that. You have to have those historical elements. And I agree with you, Laura, that the people who kind of trash the historical or just the romance genre are just not reading it or afraid to admit they're reading it. Which again, back to the eBooks, nobody's going to see the cover of the book you're reading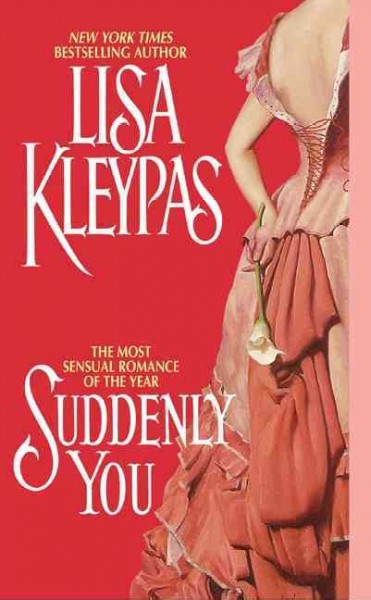 And a lot of these come in audiobooks. I'm an audiobook lover. I just listened to Suddenly You. Which was one of those books that came up recommended: "If you liked Julia Quinn's books, try this…"
And I agree with you, the writing, the language, the wittiness of their exchanges, it just keeps it moving along.
I don't want to say it's fluff, but if you need to kind of zone out for a period from life, you can dive into these books as an adventure in your mind.
Laura: I think there's a comfort level to romance which, goodness knows, we can certainly use. We know there's going to be an HEA – Happily Ever After at the end of the book.
Andrea: Right!
Laura: Reading thrillers, there's always that tension of how's it going to end? Are people still going to be alive at the end? What happens? But I think romance is a real comfort read because it's going to be okay.
Laura: It's interesting that you should mention audiobooks because my first book is one I listened to as an audiobook.
Andrea: Yeah.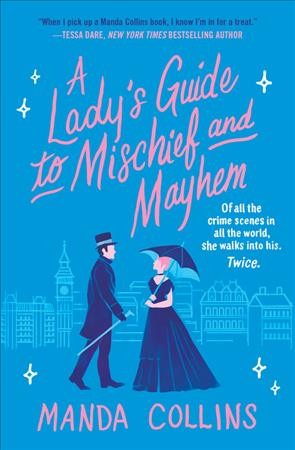 A Lady's Guide to Mischief and Mayhem by Manda Collins
Laura: It's A Lady's Guide to Mischief and Mayhem by Manda Collins. And this is a Victorian romance instead of Regency, but it's still got that historical feel. And this is a fast-paced story, intricately plotted, lots of witty banter, sparkling banter for days. there's a series of mysteries to solve.
About A Lady's Guide to Mischief and Mayhem
Our heroine, Lady Katherine, is a widow and after her husband died, she inherited his newspaper and she's very much a hands-on owner. At a dinner party she brings up a series of murders that have been happening and the men are all, Tut tut! That's not for women to hear or talk about.
And she's like, I think women deserve to know that there are dangerous things out there so they can protect themselves. She decides that she's going to write a column in her newspaper called A Lady's Guide to Mischief and Mayhem. She writes about these murders. It gets the public all riled up and the lead investigator, Detective Inspector Andrew Eversheds accuses her of inflaming the public opinion, and she's all it's on now.
It's a race to see who can solve the murders first. sparks fly hydrants and Sue. There are lots of smoldering, dark looks.
I listened to the audiobook, the narrator did a fantastic job. Her name is Mary Jane Wells. She's also narrated books by Lisa Kleypas and Tessa Dare. If audiobooks are your jam, check those out.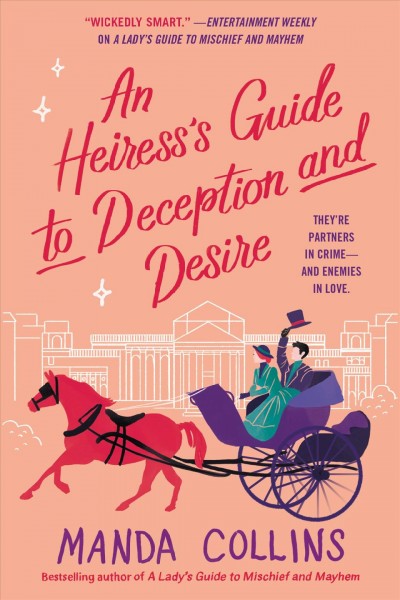 Sequel An Heiress's Guide to Deception and Desire
There's a sequel to A Lady's Guide to Mischief and Mayhem out called An Heiress's Guide to Deception and Desire. And I do believe there's a third book coming out later this year.
Andrea: That is a great thing about these books is that there's often a series.
If you get into one and you like it and you're craving more there are probably another one or two coming or already out, depending on what series you start.
Kasey. Do you have any other recommendations? Cause I feel like this is your wheelhouse.
Kasey: I have read hundreds of historical romance books, so I can talk about them for hours.
Andrea: Perfect.
Bedwyn Saga by Mary Balogh
Kasey: You mentioned series. The next thing that I'm recommending is actually a series of books called the Bedwyn Saga. They're written by Mary Balogh. They were published right around the same time as the Bridgerton series. And they also follow a family.
So, a short description about the series itself, "Meet the Bedwyns, six brothers and sisters, men and women of passion and privilege, daring and sensuality… Enter their dazzling world of high society and breathtaking seduction where each will seek love, fight temptation, and court scandal."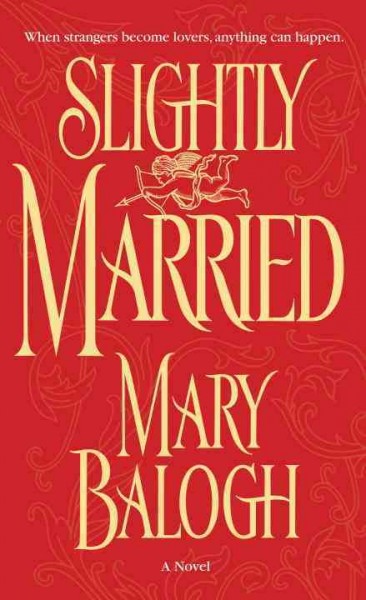 Book 1 of the Bedwyn Saga, Slightly Married
So, the first book in the Bedwyn Saga is called Slightly Married, and it is a marriage of convenience, which is one of my favorite tropes in historical romance, where two people come together and they get married for a specific reason.
Synopsis of Slightly Married
In this case, Aiden Bedwyn promised a dying soldier during a battle that he would protect the soldier's sister. So, he meets Lady Eve. And she's trying to save her homestead or her house that she lives on. It's going to go to the cousin who is inheriting, since her brother's dead.
And if she marries within a year of her brother's death, then she gets to keep the house for herself. So, Aiden takes this very seriously about protecting Lady Eve and he decides that he's going to marry her. And they fall in love by the end of the book. So sometimes the marriage of convenience can be really fun.  Sometimes it's not as well done, but in this case, I really liked it in this book.
There are six books in the series, so it'll keep you busy for a little while. And these are solidly regency. As it was mentioned previously, regencies are a very particular time period. 1811 to 1820, although they do stretch it out to 1830.
And in this series, part of it actually takes place during the battle of Waterloo. And because of this series, I got a Jeopardy question correct. So, if you're interested in the historical aspect, that's really strong in the series.
Show notes reminder
Andrea: it's good to know. It's great. If anyone is interested in the books, we've mentioned the show notes with all the links to the title will be available on Clermontlibrary.org.
So you don't have to write them down. As we talked, we will give you the full to-be-read pile with this episode. Laura, do you have anything else to share?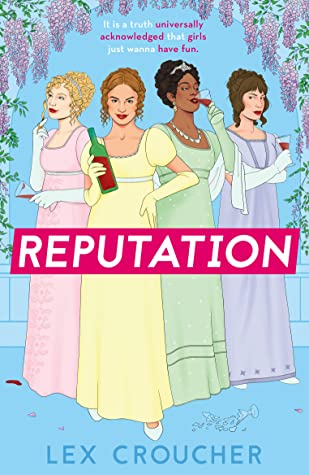 Reputation
Laura: My next book isn't due out until the summer. It's definitely one to put on your To Be Read list. It's called Reputation and it's by Lex Croucher.
About Reputation
Imagine Bridgerton crossed with Mean Girls. This Regency era, new adult romance starts with Georgiana being sent to live with her aunt and uncle. Because her mother is unwell, her father is taking her mother to the seaside to recuperate.
George has led a very sheltered bookish life with no expectations of marriage. Her father was a headmaster of a school. So libraries and books are her comfort zone. She feels kind of awkward around people. She hasn't gone to many parties.
When she's at a party that her aunt's taken her to, she meets a wealthy, popular girl named Francesca, who befriends her. George is immediately seduced into a life of rowdy parties, drinking, debauchery and being an absolute mean girl.
George has this delightful, dry sardonic wit about her observations. Everything from people's clothes to their conversations is fodder for her snark.
The romance is very light. Although it's present, the story is far more about George figuring out her priorities.
And even though she makes some bad decisions and she's not always very likable, by the end, I was solidly on board with George and her decisions.
Extra points to the author for including characters of color. I feel like historical romances set in England are often very white, so I appreciated the representation.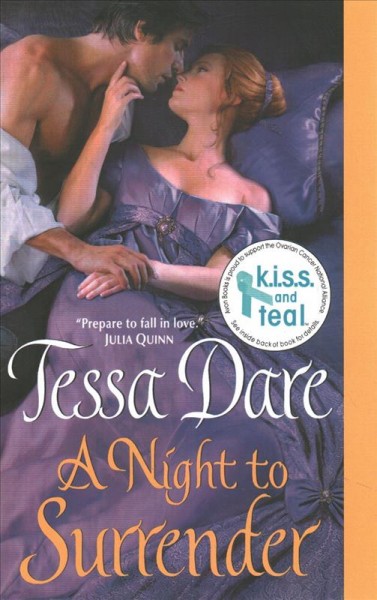 Spindle Cove series
Andrea: Great. All right. Do we have anything else as we wrap it up anymore, like just a snippet to add to your reading list or mentions?
Kasey: I have a bonus series. So previously mentioned was Tessa Dare. She has a series of books called Spindle Cove, and it is about ladies that go and stay by the seaside to protect their delicate constitutions.
Or that's what everyone thinks, but they're actually going there to pursue their own interests that they enjoy. And they do activities, not suitable for ladies, such as shooting and bathing in the sea. And the first book in that series is called A Night to Surrender, and the lady who runs the house where all of these women stay, Lady Susanna, has her schedule disrupted by someone who recently inherited a title and has come to set up his soldiers at the seaside to keep a look-out for Napoleon's forces.
There are hi-jinks and they like to rankle each other. There's a lot of banter. Tessa Dare is really good at banter and she's just really funny. And she has several series, some of them are more outlandish, like the Castles Ever After series, but I've loved every one of her books that I've read.
So, I would definitely start with Spindle Cove and then branch out to some of her other series, if you get a chance.
In closing
Andrea: Perfect! Alright, so we've gotten a great overview. I think historical romances will be ready for Bridgerton to welcome more people to the bandwagon. There's always room to jump aboard and keep pushing this genre along.
Thank you, lady Kasey and lady Laura for joining me on today's podcast.
Thank you, listeners. Remember to subscribe so you don't miss an episode. You can find all the books we talked about in our catalog or in our digital collection via Libby, hoopla, or Freading.
And again, we will put the show notes on clermontlibrary.org.
Thank you, reader. Read on.
You might also enjoy
Podcast: Play in new window | Download
https://clermontlibrary.org/wp-content/uploads/2023/01/FE-Reputation.png
440
330
Laura Eckert
https://clermontlibrary.org/wp-content/uploads/2022/11/CCPL-Logo-tightcrop-transparent.png
Laura Eckert
2022-02-02 12:14:45
2023-01-06 11:11:18
If You're a Bridgerton Fan, Read These 4 Romances