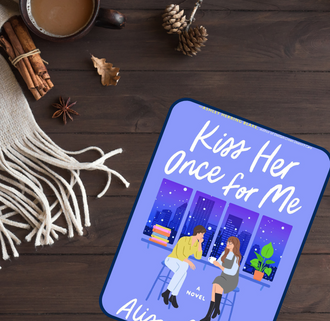 Keep Warm With A Holiday Romance
Hallmark movies, songs about sleigh rides and kissing under the mistletoe, parties full of glitz and glamour, general goodwill and joy in the air. Plus cookies! The holidays make the perfect setting for a seriously delightful romance. Get cozy and snuggle into one of these books guaranteed to give you that festive holiday happily ever after.
8 holiday romances to get cozy with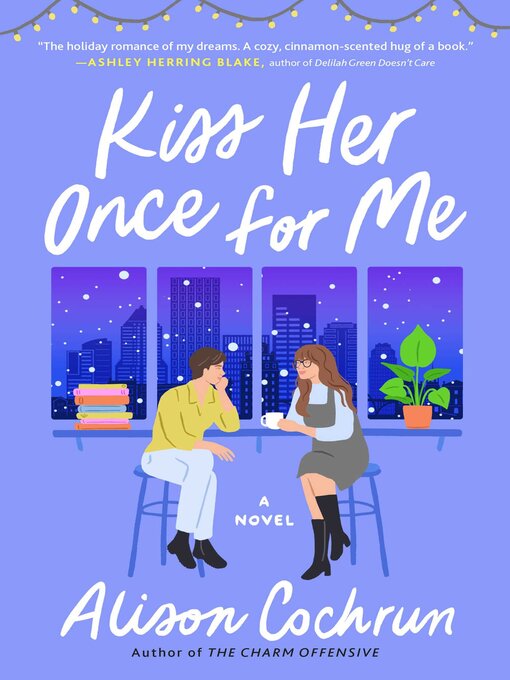 Kiss Her Once for Me by Alison Cochrun
One year ago, Ellie Oliver had her dream job in animation and a Christmas Eve meet-cute with a woman at a bookstore. She fell in love over the course of a single night. After a morning after betrayal and the loss of her job, she finds herself adrift, alone, and desperate for money.
Finding work at a local coffee shop, she's just getting through the days. Then Andrew, the shop's landlord, proposes a shocking, drunken plan. They should have a fake engagement. Then he'll get his recent inheritance and can alleviate Ellie's financial woes and isolation. They make a plan to spend the holidays together at his family cabin to keep up the ruse. But when Andrew introduces his new fiancée to his sister, Ellie discovers it's Jack. Jack, the mysterious woman she fell for over the course of one magical Christmas Eve the year before. Now, Ellie must choose between the safety of a fake relationship and the risk of something real.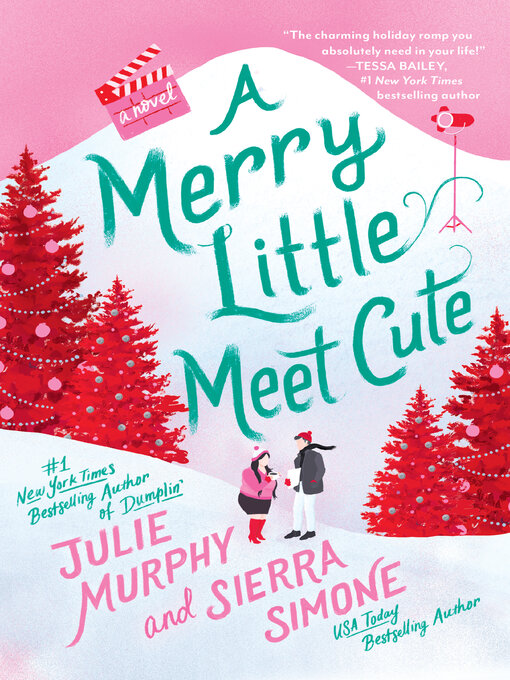 A Merry Little Meet Cute by Julie Murphy and Sierra Simone
Bee Hobbes (aka Bianca Von Honey) has a successful career as a plus-size adult film star. With a huge following and two supportive moms, Bee couldn't ask for more. Then Bee's favorite producer casts her in a Christmas movie for the squeaky-clean Hope Channel. Now Bee's career is about to take a more family-friendly direction.
Forced to keep her work as Bianca under wraps, Bee learns this is easier said than done. And then she discovers her co-star is none other than her childhood crush Nolan Shaw. He's an ex-boy band member in desperate need of career rehab. Nolan's promised his bulldog manager to keep it zipped up on set. Because cleaning up his image means providing a more stable living situation for his sister and mom.
But things heat up quickly in Christmas Notch, Vermont. Nolan recognizes Bee from her ClosedDoors account (oh yeah, he's a member). Now Bee and Nolan are sneaking off for quickies on set. They're trying to keep their new relationship a secret from the Hope Channel's execs.
Bee and Nolan need to keep their off-camera romance behind the scenes. Or this merry little meet cute might end up on the cutting room floor.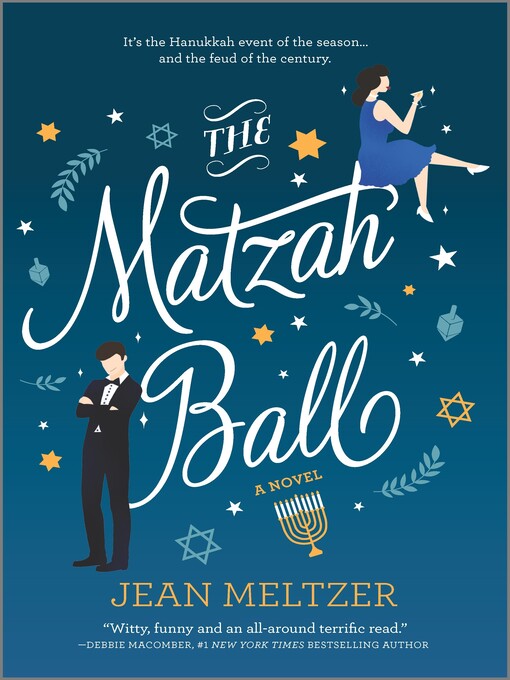 The Matzah Ball by Jean Meltzer
Rachel Rubenstein-Goldblatt is a nice Jewish girl with a shameful secret: she loves Christmas. For a decade she's hidden her career as a Christmas romance novelist from her family. Her talent has made her a bestseller. But her chronic illness has always kept the kind of love she writes about out of reach.
But when her diversity-conscious publisher insists she writes a Hanukkah romance, her well of inspiration suddenly runs dry. Hanukkah's not magical. It's not merry. It's not Christmas. Desperate not to lose her contract, Rachel's determined to find her muse at the Matzah Ball, a Jewish music celebration on the last night of Hanukkah. Even if that means working with her summer camp archenemy—Jacob Greenberg.
Though Rachel and Jacob haven't seen each other since they were kids, their grudge still glows brighter than a menorah. But as they spend more time together, Rachel finds herself drawn to Hanukkah and Jacob in a way she never expected. Maybe this holiday of lights will be the spark she needed to set her heart ablaze.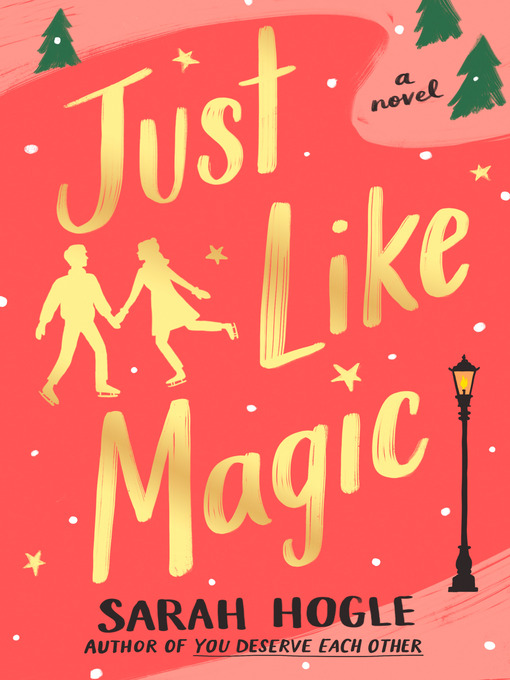 Just Like Magic by Sarah Hogle
Bettie Hughes once knew the comfort of luxury. She flaunted a collection of designer purses and an enviable dream home in Hawaii. That was before she lost all her money. Long obsessed with her public image, Bettie boasts an extravagant lifestyle on social media. But the reality is Bettie is broke and squatting in Colorado, and her family has no idea.
Christmas, with its pressure to meet familial expectations, is looming. Then Bettie plays a vinyl record of "All I Want for Christmas Is You" backward and accidentally conjures up Hall, the Holiday Spirit. He's in the form of a charming and handsome (if offbeat) man. Once the shock wears off, Bettie knows she's stumbled upon the greatest gift: a chance to make all her holiday wishes come true, plus a ready-made fiancé.
But as some of Bettie's wishes lose their charm, she finds herself thrown off-kilter by Hall's sweet nature. Suddenly, grumpy Bettie is finding her heart merry and light. But the happier she gets, the shorter Hall's time on earth grows. Can Bettie channel the Christmas spirit and learn to live with goodwill toward all men? Or will her selfish ways return as soon as the holidays are over?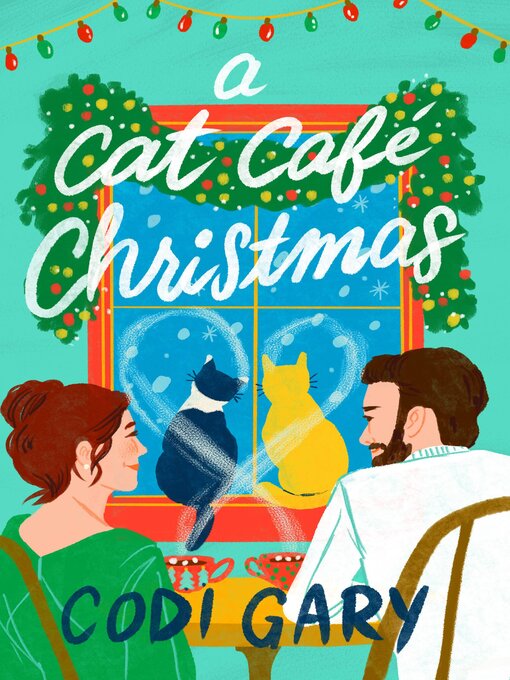 A Cat Cafe Christmas by Codi Gary
Veterinarian and animal lover Kara Ingalls needs a Christmas miracle. Opening the Meow and Furrever Cat Café to find loving homes for adorable, adoptable cats was a dream come true. But with more cats than customers, it's quickly turning into a nightmare. If Kara can't figure out how to get the café out of the red, it won't last past the holidays.
Ben Reese may be annoyingly smart and frustratingly bossy, but when he hatches a plan to put the café in the "green" by Christmas, Kara realizes that she'd be a fool to turn down his help. And so what if he turns out to be an excellent problem solver and nerdy-hot—he can't even handle fostering one little kitten. She needs to keep their relationship professional and focus on saving the cafe.
But if Ben and Kara can set aside their differences—and find homes for all the cats by Christmas—they might discover that, by risking their hearts, they'll have their own purr-fect holiday together.
A Holly Jolly Diwali by Sonya Lalli
Twenty-nine-year-old Niki Randhawa has always made practical decisions. Despite her love for music and art, she became an analyst for stability. She's always stuck close to home, in case her family needed her. And she's always dated guys that seem good on paper, rather than the ones who give her butterflies. When she's laid off, Niki realizes that practical hasn't exactly paid off for her. So for the first time ever, she throws caution to the wind and books a last-minute flight for her friend Diya's wedding.

Niki arrives in India just in time to celebrate Diwali, the festival of lights. There, she meets London musician Sameer Mukherji. Maybe it's the splendor of Mumbai or the magic of the holiday season, but Niki is immediately drawn to Sam. At the wedding, the champagne flows, and their flirtatious banter makes it clear that the attraction is mutual.
When Niki and Sam join Diya, her husband, and their friends on a group honeymoon, their connection grows deeper. Free-spirited Sam helps Niki get in touch with her passionate and creative side, and with her Indian roots. When she gets a new job offer back home, Niki must decide what she wants from the next chapter of her life. She can cling to the straight and narrow like always. Or she can take a leap of faith and live the kind of bold life she's dreamed about.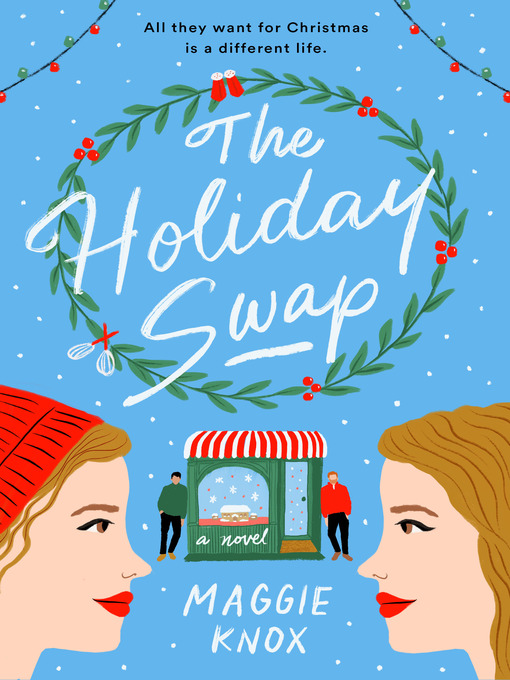 The Holiday Swap by Maggie Knox
When chef Charlie Goodwin gets hit on the head on her reality baking show, she loses her ability to taste and smell. Critical senses for her to succeed as a show judge. Meanwhile, Charlie's identical twin, Cass, is frantically trying to hold her own life together back in their quaint mountain hometown. She's running the family's bakery and dealing with her ex, who won't get the memo that they're over.
With only days until Christmas, Charlie asks Cass to do something they haven't done since they were kids – switch places. Looking for her own escape from reality, Cass agrees. But temporarily trading lives proves more complicated than they imagined. Especially when rugged firefighter Jake Greenman and gorgeous physician assistant Miguel Rodriguez are thrown into the mix. Will the twins' identity swap be a recipe for disaster? Or does it have all the right ingredients for getting their lives back on track?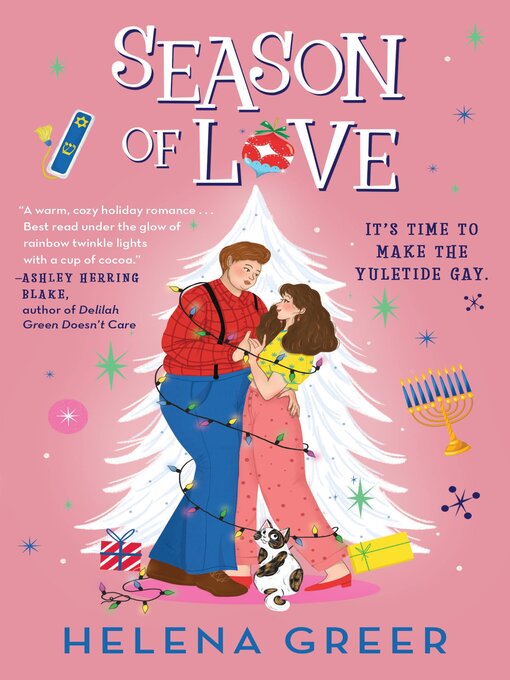 Season of Love by Helena Greer
Thanks to her thriving art career, Miriam Blum finally has her decoupaged glitter ducks in a row—until devastating news forces her to a very unwanted family reunion. Her beloved great-aunt Cass has passed and left Miriam part-owner of Carrigan's, her (ironically) Jewish-run Christmas tree farm.
 
But Miriam's plans to sit shiva, avoid her parents, then put Carrigan's in her rearview mirror are spoiled when she learns the business is at risk of going under. To have any chance at turning things around, she'll need to work with the farm's grumpy manager—as long as the attraction sparking between them doesn't set all their trees on fire first.
 
Noelle Northwood wants Miriam Blum gone—even if her ingenious ideas and sensitive soul keep showing Noelle there's more to Cass's niece than meets the eye. But saving Carrigan's requires trust, love, and risking it all—for the chance to make their wildest dreams come true.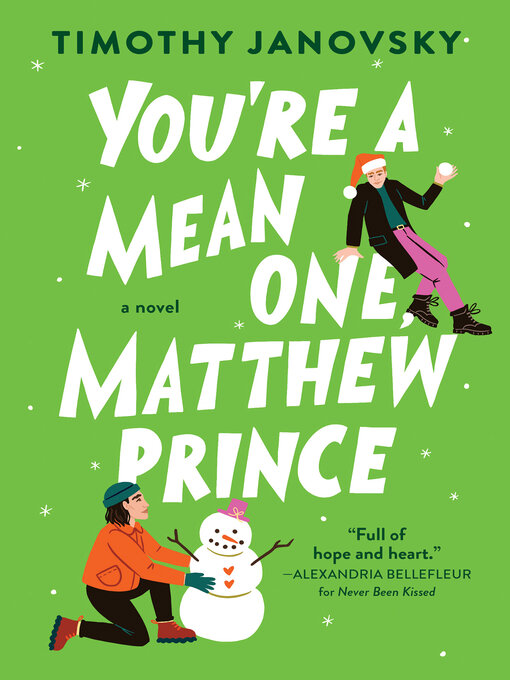 You're a Mean One, Matthew Prince by Timothy Janovsky
Matthew Prince is young, rich, and thoroughly spoiled. So what if his parents barely remember he exists and the press is totally obsessed with him? He's on top of the world. But one major PR misstep later, Matthew is cut off and shipped away to spend the holidays in his grandparents' charming small-town hellscape. Population: who cares?
It's bad enough he's stuck in some festive winter wonderland—it's even worse that he has to share space with Hector Martinez, an obnoxiously attractive local who's unimpressed with anything and everything Matthew does.
Just when it looks like the holiday season is bringing nothing but heated squabbles, the charity gala loses its coordinator and Matthew steps in as a saintly act to get home early on good behavior…with Hector as his maddening plus-one. But even a Grinch can't resist the unexpected joy of found family, and in the end, the forced proximity and infectious holiday cheer might be enough to make a lonely Prince's heart grow three sizes this year.
In closing
Stay warm with one of these fun and funny holiday romances during the festive season.
If you're looking for other book suggestions, explore our online resource, NoveList Plus. Or sign up for Recommends, our personalized reading suggestions via email service. Or ask Library staff for suggestions during your next visit.
You might also enjoy
https://clermontlibrary.org/wp-content/uploads/2022/12/fi-holiday-romances.png
440
330
Laura Eckert
https://clermontlibrary.org/wp-content/uploads/2022/11/CCPL-Logo-tightcrop-transparent.png
Laura Eckert
2022-12-07 12:06:00
2023-01-06 11:20:42
Keep Warm With A Holiday Romance