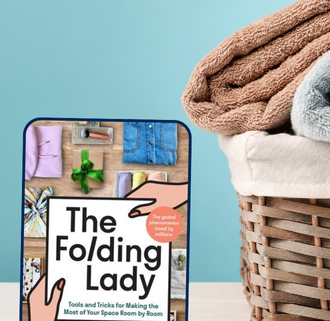 Books to Help You Crush Get Organized Month
Get Organized Month (GO Month) is celebrated every January. It dovetails with all of the many resolutions to declutter, project manage, and get our lives and homes organized. While we can't come to your house to help you straighten your closet or your filing cabinet, we can suggest books to help. Bonus? Library materials are free, unlike pricey home-organizing professionals. And since you'll return them to the Library, they won't create clutter in your newly organized home!
Books for Get Organized Month
How to Keep House While Drowning
If you're struggling to stay on top of your to-do list, you probably have a good reason. Anxiety, fatigue, depression, ADHD, or lack of support all derail getting organized. For therapist KC Davis, the birth of her second child triggered a stress-mess cycle. The more behind she felt, the less motivated she was to start. She didn't fold a single piece of laundry for seven months. One life-changing realization restored the functionality of her home: You don't work for your home; your home works for you.

The secret is to simplify your to-do list and to find creative workarounds that accommodate your limited time and energy.
Keep the Memories, Lose the Stuff
Matt Paxton distills his fail-proof approach to decluttering and downsizing. Your boxes of photos, family china, and even the kids' height charts aren't just stuff. They're attached to a lifetime of memories–and letting them go can be scary.
Learn how to let go of what no longer serves you. And identify the items worth keeping so that you can focus on living in the present. Whether you're tired of living with clutter, making space for a loved one, or moving to a smaller home or retirement community, this book is for you. This step-by-step process provides the tools you need.
The Folding Lady
In this illustrated guide, Sophie Liard shares her expertise. Learn how to fold all of your household items including boxers, leggings, sheets, towels, and even napkins and wrapping paper. The Folding Lady shows that anything is foldable. She shares the inner joy that folding brings. And she offers extra tips on organizing drawers, desks, snack drawers, and cosmetics. All of her tips make life a little easier and more manageable.
Sophie encourages you to take charge of small, simple, and achievable tasks. Let go of tackling the big stuff. And make the most of the little things you can control.
Four Thousand Weeks
The average human lifespan is brief. Assuming you live to be eighty, you have just over four thousand weeks.

We're obsessed with lengthening to-do lists, overfilled inboxes, work-life balance, and the ceaseless battle against distraction. And then we're deluged with advice on becoming more productive and efficient, and life hacks to optimize our days.
But such techniques often end up making things worse. The sense of anxious hurry grows more intense. And yet the most meaningful parts of life seem to lie just beyond the horizon. Still, we rarely make the connection between our daily struggles with time and the ultimate time management problem: the challenge of how best to use our four thousand weeks.

This book rejects the idea of getting everything done. Explore tools for constructing a meaningful life by embracing finitude. Learn about choices made and how we can do things differently.
Joy at Work by Marie Kondo
The workplace is a magnet for clutter and mess. Who hasn't felt drained by wasteful meetings, disorganized papers, endless emails, and unnecessary tasks? The modern-day hazards of working can slowly drain the joy from work, limit our career progress, and undermine our well-being.
There is another way. Read these stories, studies, and strategies to help eliminate clutter and make space for work that really matters. Use the world-renowned KonMari Method and cutting-edge research, to overcome the challenges of workplace mess. Enjoy the productivity, success, and happiness that come with a tidy desk and mind.
Looking for more?
If you're looking for more resources to help you crush getting organized, check out the Declutter and Get Organized collection of audiobooks available on the Hoopla app.
In closing
January, Get Organized Month, is the perfect time to set new intentions for the upcoming year. These books can help you map out a road to a less stressful, more orderly life.
If you're looking for other book suggestions, explore our online resource, NoveList Plus. Or sign up for Recommends, our personalized reading suggestions via email service. Or ask Library staff during your next visit.
https://clermontlibrary.org/wp-content/uploads/2023/01/fi-Get-Organized.png
440
330
Laura Eckert
https://clermontlibrary.org/wp-content/uploads/2022/11/CCPL-Logo-tightcrop-transparent.png
Laura Eckert
2023-01-04 00:00:00
2023-01-12 07:40:17
Books to Help You Crush Get Organized Month