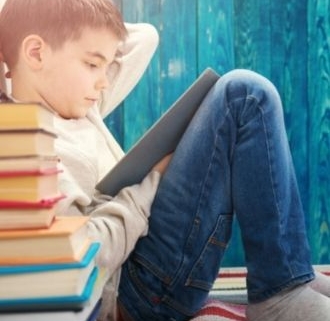 The Newbery Award: Staff Favorites
Kristine: Welcome to the Clermont County Public Library's Booklovers podcast. I'm your host, Kristine. And I'm joined today by youth Service librarian, Cara and Collection Development librarian, Stacy. If you are not aware, January 2022, we'll mark the 100th anniversary of the Newbery award. So during today's episode, we're going to talk about the history of the Newbery, the impact of the award, and some Newbery classics and favorites of ours from the past.
Remember that the show notes with links to all of the titles we talk about is available at Clermontlibrary.org. And with that, Cara is going to get us started with some Newbery history.
Cara: Thanks so much, Kristine. Thanks for having us today.
Kristine: We're glad to have both of you with us today.
Cara: If you've listened to our previous podcasts, you've heard a little bit of history about the Newbery award.
Newbery Award trivia
I'm going to talk about some other bits of trivia, not so much a full history since we've already covered some of it. We're recording these podcasts to celebrate the 100th anniversary. It's the first and oldest prize for children's literature. Interestingly enough, when we think of it, I think we think of those little stickers that we see on the book covers once they've won, and we see the gold stickers for medal winners. It's actually a bronze medal for the medal winners, and these are actual medals that are given to the winners every year. They get them at the awards ceremony at the American Library Association's summer meeting.
Actual Newbery Award medal
It's pretty cool that they get an actual medal, along with seeing their shiny sticker on their book cover for all of eternity. And yet in 2022, we'll actually see the 101st Newbery Medal winner, which is a little bit confusing because it's the 100th anniversary, but because it's awarded to a book from the previous year, from when it's awarded, the 100th book was chosen in 2021.
Newbery Award winners
So at the time of this recording, there are one hundred Newbery Medal winners to take a look at. Some of them would be considered classics, while some of them are definitely not. They've fallen out of popularity and pop culture, and definitely most people haven't even heard of them. And then of course, if my quick count of the Newbery list is correct, there are over 300 Newbery honor books as well. So we're not discounting those; we'll be talking about some of them. Both winners and honors, we're going to talk about our favorites that we would consider to be classics, from more of a personal angle.
Staff favorite Newbery Award winners
I think trying to analyze it critically and decide what's the "best" Newbery book, especially of these books that are already the best of the best, would be extremely difficult. But if our guests would like to try to do that, they can check out our contest on Facebook. We chose a list of 81 titles. These are Newbery Medal and Honor winners from past years, spanning from 1938 all the way through 2021.
We sent them out to our library staff as a survey, and over half of them voted on their top eight favorite Newbery books of all time. Then we're asking for our guests' help in determining the overall winner. We'll include that list of top eight favorites in our show notes, and then you can vote when the contest is open on Facebook.
Personal favorite Newbery Award winners
Like I mentioned, we decided to take a little bit of a different angle today, looking at ones that are books that are important to us personally, rather than trying to truly evaluate what's the best. We'll be talking about why they're important to us, but I think our guests will recognize a lot of books that they grew up with and loved as well. I think these are kind of perennial favorites that people will recognize.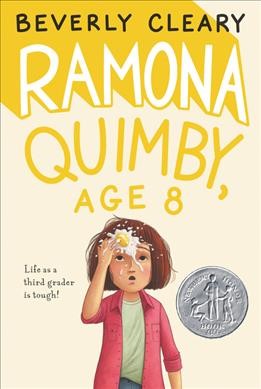 Ramona Quimby, Age 8
I'm actually going to start with the first book. The one that I chose is Ramona Quimby, Age 8 by Beverly Cleary. I feel like this is especially relevant to recognize this year since she's such a legend in the world of children's literature, and she sadly passed away in 2021 at the age of 104 – just amazing.
It was a Newbery Honor book in 1982. In spite of, I think, most or all of her books really standing the test of time – I think they're probably all still in publication, and a lot of people are familiar not with just the Ramona books, but a lot of her other books about animals like Socks; that was one of my favorites growing up – so a lot of them are still around, but she only won one Newbery Medal, which might be a little surprising to people, for Dear Mr. Henshaw in 1984. Then she has two Newbery Honors, for Ramona and Her Father, which was 1978, and then this one, Ramona Quimby, Age 8, in 1982.
Cara's perspective
From a personal perspective, I read her books over and over as a child, just absolutely adored them. To me, her books are those nineties covers, if our listeners are familiar with that version, that's the version that I think of. But I'm glad they keep redesigning them. This one's very cute. I think this one is an early 2010s version of the book covers; there's since been a new version, I believe.
The book's impact on her
But I give her a lot of credit for making me into a reader and definitely a librarian, so her books are really important to me. But I think just for any reader, she manages to capture the feelings of childhood, like of being overlooked or having to do things that you don't want to do, that really speak to child readers.
But also as an adult – I kind of skimmed this one before this recording so I could talk about it – and I think it reminds us as adults how we once felt. We kind of forget sometimes those feelings of being a child, like those everyday injustices of having to play nicely with your annoying, younger neighbor or having to eat a meal you don't like. So it's kind of simple things, but we all have dealt with them in the past. I identified with Ramona so much that when we had a day in second grade where we could pick a different name for a day, I wanted to be Ramona, so that's what I chose.
Synopsis of Ramona Quimby, Age 8
In this book in the series, Ramona's family is going through a transition period. Her dad is going back to school, so he's not working, so that means her mom has to work full time. Ramona's job becomes being kind to her neighbor Willa Jean and playing with her while she's babysat at her house after school. And then we hear a lot about her adventures in school as well.
So it's kind of a mix of home life and then all of the things that are going on at school, where she's being made fun of by a boy in her class, she feels like her teacher doesn't really like her, and she has these tragic things happen to her that embarrass her, which I mean, as a child, anything that makes you stick out can be really embarrassing.
She has an incident where she wants to bring a hard-boiled egg for lunch, but it's accidentally raw. And she cracks it on her head because that's what all the other kids are doing, and she gets raw egg all over her. She gets sick and throws up in front of her whole class, which I can imagine would be really traumatizing.
Heartwarming story
So lots of things happen to her, but I think as with all of Beverly Cleary's books, it's just a heartwarming story that shows the challenges that her family has but how they get through them together. Even though they aren't happy all the time or not everything goes right all the time, but they still manage to make it through. Definitely one of my all-time favorites.
Popularity of Beverly Cleary's books
Kristine: I remember we set up a display when she passed and how many adults and kids commented when they would pass it on reading her books and remembering them from when they were kids and now their kids were reading them. And I definitely her books stand the test of time for sure.
Kids today encounter a lot of the same things that kids did when we were little.
Beverly Cleary's books are relatable
Stacy: Yeah, for sure. I know all the Ramona books I feel are very relatable. Like you said, it's kind of just everyday occurrences, things that happen to almost every family. So yeah, nothing like huge usually ever happens in the books, but they're just like kind of slice of life, relatable stories.
Kristine: Thank you for sharing Cara, or should we now call you Ramona?
Stacy? You have our next title for us?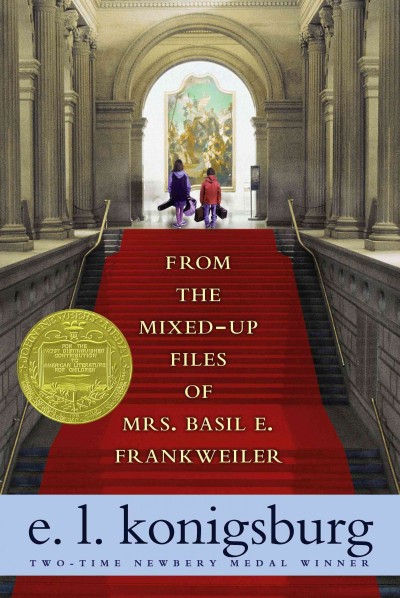 From the Mixed-Up Files of Mrs. Basil E. Frankweiler
Stacy: Yeah, so I have maybe not such a relatable, but I have, maybe this award would go to the like longest title in Newbery history. I'll have to figure that out and see if it's the longest title. It might be. Yeah. It's From the Mixed-up Files of Mrs. Basil E. Frankweiler by E. L. Konigsburg. And this actually won the Newbery medal in 1968.
Old school book cover
Cara was talking about covers. This is still an older cover, but it is updated from the original version, for sure. I don't know that any of our branches currently have the original version from the late sixties, I feel like those older covers even if, like you say the greatest things you can about the book, I feel like it would be a really hard sell to kids these days. Like if the cover looks like super outdated, this one's getting there. This is, the cover I remember it's the Metropolitan Museum of Art and then our characters, Claudia and Jamie, and they're standing with all their belongings. Getting ready to walk up the stairs.
Synopsis
So, the cover itself brings back memories of when I read this book. So, the premise of the book is Claudia Kincaid here; she feels very bored at home and very under appreciated by her parents. And so, she decides to run away. Which I do feel like a lot of kids can relate to at least having those types of feelings, but she decides to run away to the Metropolitan Museum of Art in New York City, which I feel like at least a lot of kids around here in the Midwest, like probably don't even know what that is or like, maybe they've heard of it, but they really don't know like the cultural significance of the Met. But anyway, so she decides to run away and she's successful at it.
So, she ends up bringing her little brother, Jamie, who she, you know, is not crazy about, but she decides to bring him because he's like a bit of a miser and he saved some money and she thinks it would be a good idea to bring him along because he has a little bit of money. And so, they devise a plan where they go into the Met, and then they sneak into the bathrooms at night to evade the security guards.
And somehow that works, the security guards are well, nobody's here. I guess we'll just leave. And they, end up staying in the Met, a good deal of time, several nights, at least. And they end up just kind of like wandering this huge, like beautiful space with all of these works of art.
Stacy's favorite scene
And, my favorite scene is when they bathe in the fountain, they take their bath in this giant fountain and they sleep in this antique bed that's on display. And then the rest of the plot is they end up kind of stumbling upon this mystery of a statue of an angel and they want to find out who the sculptor is.
Nobody knows. And it was donated anonymously to the Met. But Claudia and Jamie ended up kind of going on this hunt for the sculptor and it leads them to the eponymous Mrs. Basil E. Frankweiler, who was the person that actually donated the sculpture to the Met. So, it's kind of a fanciful story.
Fanciful story
Like it is set in realistic fiction, but it's quite fanciful. If you can imagine, there would likely be an Amber alert out for children who ran away from home these days, like with security cameras and everything. And everything's so high tech now, you can't imagine that two children would be able to run away and stay in this beautiful museum in a huge city and just not get caught. But when you're like that age, like 10 or 11, 12 years old, you're thinking about running away from home. How exciting would that be to like, be able to live in a museum and bathe in a fountain and all this stuff. So, I read this when I want to say I was in fourth or fifth grade.
Nostalgic feelings
So, around the age of the character of Claudia and I ended up doing a video project about it for school, and I was a reporter and I interviewed different members of my family who were pretending to know something about the mystery surrounding the statue. So, I'm sure that VHS tape is in my mom's basement somewhere.
I would love to watch it. You know, sometimes books from our childhood, even if they are required reading, which this was when I was in fourth or fifth grade, they can just really stick with you. And for whatever reason, I guess it just evoked like so many, like fun, good feelings.
Maybe the mystery really excited me, but it has just stuck with me for such a long time. And I think it adds like more detail and heart to the story. The fact that the brother and sister are together and then they go on this hunt to solve this mystery. It's just has stuck for me for so long and has continued to be a favorite of mine. So, that's my first pick.
Kristine: Thank you Stacy. I have to say I've actually not read that one, but I think now I need to go out and read it. It sounds like a great little story.
Dated language and appeal?
Stacy: It is. I feel like it would be a great read aloud because it was written in 1967, I guess so it won the metal in 68. So the language is a little bit dated.
So, I feel like if you just gave this to a kid now they would maybe not be like super into it, but I feel like it would make a really good read aloud in a classroom or at home.
Cara: Yeah, I'd be interested to hear a modern-day reader's perspective on that, a child's perspective, because like you mentioned, with the lack of technology. I was just talking about that last night; we were watching a movie that was filmed in the seventies, and I said to my husband, "That never would have happened if cell phones were around," but they didn't have any in the movie. You know that context as an adult, but giving that book to a child, or a child picking up that book, do they realize when it was written, why the technology's missing, and how that impacts the story? That would be really interesting to talk about.
Stacy: Yes, for sure. Yeah. I mean, the kids wouldn't even get halfway across the city before their parents were tracking their location on their phones, you know? So that's a good point.
Kristine: Once they came out of the bathrooms, I'm sure they would've set off some kind of alarm now in the museum.
Stacy: Yes, exactly.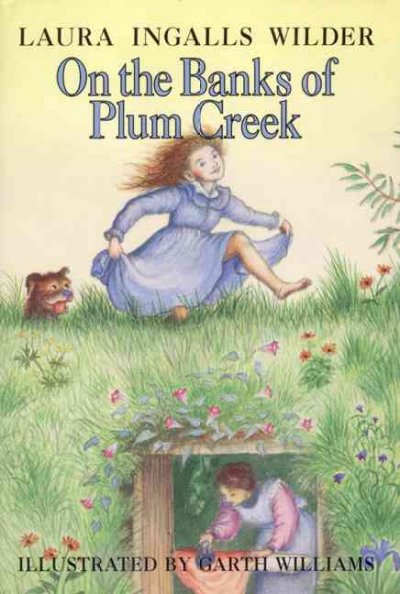 On the Banks of Plum Creek
Cara: Well, going to a book that has absolutely no technology, my next book is also a Newbery Honor winner. Somehow I picked two honor books for this round, and then for our next podcast, I picked two Medal winners. I don't know how that happened, but it's interesting too, to look at the medal books versus the honors and whether those have stuck around or not. We usually use the classic example of Charlotte's Web, which won an honor, but people don't even recognize the winner from that year. So yeah, it is interesting to see which ones stand the test of time.
Most Newbery honors received
My second choice was On the Banks of Plum Creek by Laura Ingalls Wilder, and this was a Newbery honor winner in 1938. I feel like it may even be older than people realize it is. This was her first Newbery recognition, and I would say this series is extremely important in the world of children's literature, and I think its Newbery recognition reflects that, because Laura Ingalls Wilder is actually the person with the most Newbery honors of any author.
She has five. This was the first one, and then I believe it was subsequent books in the series after this, but she never won a Newbery Medal. So kind of interesting that she got all that recognition, but never got the gold, or the bronze.
Synopsis
In this volume of the series (this is the fourth book in the series), her family is relocating once again, this time to Minnesota. Before Pa can build a house, they're living in a dugout. So that's kind of the quintessential cover image from this story. I think that's probably what people remember, is that they at first lived in this dugout, which is literally a room carved out underground, but Laura is careful to explain that it was very clean. They swept it, they kept it clean; Ma would never stand for anything else. The ground above actually insulates it, so it was fairly warm, and I guess a good place to live until they built their little house.
It's just a story about the continuation of their life. Their life has always been a mix of the everyday things that she explains that the pioneers did and then the extreme things that happen to them. Laura and her sister Mary go to school, and they endure bullying from their classmates who see them as uncultured because they live out in the country as opposed to the town.
Then it tells of the struggles of being pioneers. In this volume, they deal with grasshoppers eating their crops, prairie fires, and dangerous blizzards. As always with this series, it ends on a hopeful note. It's Christmas Eve at the very end; Pa had been stuck in a snowstorm and they thought maybe he was lost forever, but he ends up coming back.
So they're all together and they're just enjoying being alive, being together, celebrating simple things like music, which is one of the threads that runs throughout this, is appreciating the simple things in life that we should be grateful for, like family and having a place to live.
Controversy around the series
This series is surrounded by a lot of controversy, especially lately. I think a lot of people would still claim to love these books, myself included. But they've somewhat fallen out of favor. The text makes derogatory comments about Indigenous people, mostly in the volume of Little House on the Prairie, and of course glorifies the settlers who took their land and killed them. And then there's also an illustration of Pa in blackface in Little Town on the Prairie. So there's definitely some problematic aspects to this series, and recently librarians have had a lot of discussion about what to do with classics in general that have racist content.
Alternative books
Some of the suggestions have been that teachers and parents can offer alternative titles, maybe alongside the text or in place of it. For this series, that could be Louise Erdrich's Birchbark House series, which I've never read. I don't know if either of you have, but I hear it's very good.
I need to pick it up, but it's from the Indigenous point of view and of the same time period. And then to make sure to have a conversation with the child readers of what's problematic in the books and why. I think for a long time, we've had a discussion about recognizing that the books and the author are from a certain time period.
Dealing with two time periods not one
I recently read an interesting quote that talked about how there's actually two historical periods that you're dealing with, when looking at a book like this. It's not just the time it's written about, but it's also the time it was written in. This was written in the thirties, which was still a time of segregation that the author was living in.
And then of course, she's writing about her childhood, where unfortunately, even though these are considered to be fiction, it's largely based on her life, and it's things that unfortunately she saw happening around her, she heard happening or being said, all the comments that she records, so she was recording history as she knew it.
ALA changed the name of the Laura Ingalls Wilder Medal
In response to these criticisms, the American Library Association (ALA) did change the name of one of its awards, which was known as the Laura Ingalls Wilder Medal until 2018. It's now known as the Children's Literature Legacy Award, which is given to writers or illustrators of children's books published in the US who have made substantial and lasting contributions to children's literature. It was named after its first winner, Laura Ingalls Wilder. ALA wanted to acknowledge that Wilder's books are culturally insensitive, and to align the award with its own values, which they call "inclusiveness, integrity and respect", by renaming the award.
Not censoring the books
But they did make it clear that they didn't want to censor this series. They just wanted to encourage adults to think critically about. But the problematic content isn't the only controversy about this series.
Who actually wrote the series
They're also controversial for their authorship, which maybe not a lot of people know about. Laura's daughter, Rose Wilder Lane, was an accomplished author in her own right. We know for sure that she helped edit all of the Little House books, from letters between Laura and Rose we know that, but the question is, how much did she alter her mother's stories about her childhood? Was she really just an advisor and editor, or was she actually the ghost writer of the series? There have actually been multiple books written about the authorship of these books, but we'll probably never know the true extent of Rose's involvement.
Nostalgia
For myself, I would say that I can recognize the books as problematic while still holding onto my childhood attachment to them. I have a memory of reading Little House on the Prairie to my mom while sitting in a little child-sized rocking chair. That kind of is a symbol of the series. It's just comfort and homeliness. What I love about the series is the exploration of a world that's completely different from our own. I like all those little details of daily life, like making butter, but also the fantastical elements, like the blizzard that just never ended in The Long Winter and how they lived through that.
This was the oldest book on the Newbery survey to staff, being published in 1937. If you go back any further, you might recognize a handful more titles, like Caddie Woodlawn is one of them. But I would say the majority of people are definitely familiar with Little House. So they've definitely stood the test of time, for good or bad.
Kristine: Yeah, I, I enjoyed the Little House books growing up and I have some of those memories. My grandparents had a bookshelf in their kind of sitting room and they had all the little house books. And I remember sitting on the floor beside that bookshelf reading those when I was a kid.
And yeah, I kind of feel the same way. So you know, it brings back good memories.
Stacy: Yeah, I think it's hard for people, especially librarians. When you're talking about books to separate their feelings of nostalgia especially around something so huge as you know, the impact Little House has had on the literature world and then, you know, acknowledging all of the issues that have come to light in the past. I think the controversy has really ramped up around Little House in the past probably five years, but I want to say like, people were probably calling it out way before then.
That aspect of it has gotten the attention it deserves just within the last several years. But I do think it's important to point out that as public librarians, we don't censor these materials for our public.
We leave it up to them and do what we can to highlight other works by BiPOC authors. We can update classics lists, which is something Cara and I have worked on before. So, you can still hold those near and dear to your heart with taking it with a grain of salt and saying you're not denying that it has controversy around it.
So, I think, I do think that's important. I'm kind of on the opposite end. I never loved Little House. I have family members who did. My sister loved the TV show, she made me wake up early and watch it with her. And I just thought it was so boring.
I don't know why. But it just never caught my attention. Like it has so many other people, but I definitely can appreciate the lasting legacy it has made for sure. Well, I'm going to jump into my next title here and definitely not the same height of Little House at all, because you know, Little House has been around for so long.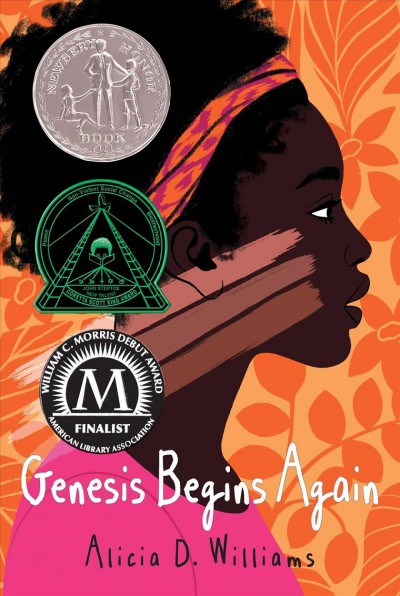 Genesis Begins Again
My next choice is actually quite a new title. It was 2020 Newbery honor, and it is Genesis Begins Again by Alicia D. Williams. And this was a debut book by Alicia D. Williams which I think is an amazing, and she's also a teacher, which is very cool. So, it was wonderful that she was recognized.
Where should the sticker go?
So, my earlier pick was a medal winner and this one is an honor winner and this one actually doesn't even have a sticker on it. It needs its sticker. I don't know. Maybe up here, it would go. We were talking about that in an earlier podcast of where does the sticker placement go? Because you don't want it to cover up to the title.
And I don't want to cover up her beautiful hair. So maybe right here, if it can stick in the corner, so I'll have to get a sticker around there. So, this book was just so beautifully written and so very moving. And taking some of this from some reviews and publishers' content, because I read it and I thought, well, I can't say it any better than that.
Synopsis
There are 96 things that 13-year-old Genesis hates about herself. And she knows the exact number because she keeps a list of things that she hates about herself. Like number 95 is because her skin is so dark that people call her charcoal and eggplant, even members of her own family. And number 61 because her family is always being put out of their house.
Belongings laid out on the sidewalk for the world to see because when your dad is a gambling addict and an alcoholic and loses the rent money every month, eviction is a very regular occurrence. So, what's not so regular is this time when they get thrown out of their place, they don't have anywhere to crash.
So, Genesis and her mother actually stay with her grandma. So, her mom's mom. And it's not that Genesis doesn't like her grandma, but her grandma and her mom always fight. Her grandma is trying to tell her mom she needs to go back to school to get a better paying job. She needs to leave her husband because he's just a no-good alcoholic.
But things aren't all that bad. Genesis actually comes to like her new school. And she's made a few friends and her choir teacher says she has some real talent and she even encourages Genesis to join the talent show. But for Genesis, she has just heard so many criticisms about who she is and how she looks all her life, that even her teacher telling her these wonderful things about her, how can she believe them when her dad says the exact opposite?
So, how can she stand up in front of all of those people, with her dark skin, knowing that even her own family thinks lesser of her. And she even resorts to using these fancy bleach creams and lemon and yogurt remedies in the hope that they will lighten her skin.
So, when she finally reaches number 100 on the list of things she hates about herself, will she continue on with this list? Or can she find the strength to begin again?
Well received book
So, like I said, this is a debut novel by Alicia D. Williams, who is also a teacher and it landed on so many best-of lists last year.
And it won several awards, including the Coretta Scott King John Steptoe for New Talent author award. It is, like I said, it's heartbreaking and it has very raw emotions, but it depicts real relationships and real problems. And it definitely doesn't shy away from difficult subjects like race and bullying.
Excited to see what the author does next
It is kind of a thicker book, I would say, but I sped through reading this because it was just so beautifully written and such a good, great heartfelt story. And I'm really excited to see what she comes out with next. Hopefully she is continuing writing children's fiction because I think she has really just like found like a true natural voice writing middle-grade fiction.
So definitely one of my favorite books that I've ever read.
Kristine: I have not read that it's on my TBR list, my to be read list. So I will definitely have to pick that one up soon.
Stacy: Yeah. Then I read it. But I also heard it was a great audio book, so, and I'm not sure who reads the audio book. I don't believe it's the author, but it has a really great blurb praise from Sharon Draper on the back. So, you know, it's good if Sharon Draper had some praise for it.
Cara: Yeah, I'm glad you picked that one, Stacy. I'm glad you picked a newer one. I love that one. Like you were saying, I just found it absolutely heartbreaking, but I think it's really important.
Books as windows and mirrors
We talk about windows and mirrors, and you've either got a kid who's gone through those situations, or you've got a kid who maybe has no concept of what that might be like, to have that many things about yourself that you don't like, especially because of how your family treats you. So to be able to have a window into that kind of life and develop empathy for other people who are going through that is just as important.
Stacy: Yes, absolutely. Yeah. Reading it as an adult. I mean, it's, some of it is a bit shocking, but you know, that as an adult, you know, that people have experiences like that.
But thinking about, you know, how I was as a child, I wouldn't have known anybody who went through these similar experiences. And so, for kids today to have the opportunity to read more books that feature Black characters written by Black authors you know, kind of writing or celebrating their own experiences. I think like you said, is really important. So yes, definitely. One of my favorite picks.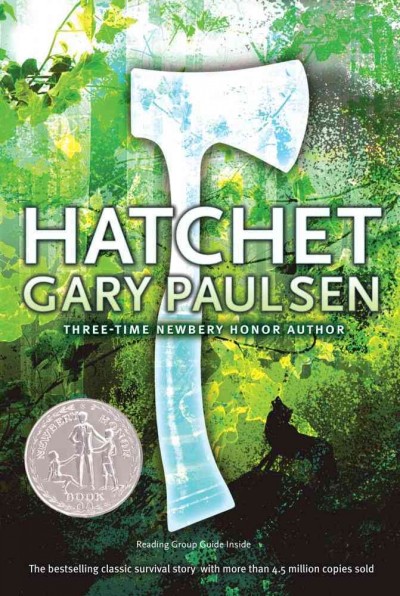 Hatchet
Kristine: Well, thank you, Stacey, for sharing your title. I had one I wanted to share and that is Hatchet. And I didn't read this one as a kid. I actually read this a few years ago with my son. And I think that might be part of why it's one of my favorites.
So Hatchet is written by Gary Paulsen and he actually just won the honor for this book, but I think he won the honor for two other books.
And if you've watched our previous podcast he has another book that came out in 20 21; one of his memoirs that has the potential for winning another Newbery award.
And unfortunately Gary passed away this year. So it'd be great to see him honored again.
Synopsis
But this is one of my favorites from the list. My son and I read this, it is a survival story. The main character Brian, he is on his way to visit his dad who lives in Canada and he's on a little plane and the plane crashes and the pilot dies.
And so the plane crashes in the middle of the Canadian wilderness. And so this is a story of how he has to learn to survive.
He's in the wilderness, I believe for 53 or 54 days before he is finally rescued. So he has to figure out how, what he could eat, how to make a shelter, how to start a fire. You know, he can kind encounters all kinds of critters.
He eats berries that worked so good. I think he ends up calling them, gut berries.
Appeal for reluctant readers
So it's a great survival story. It's got a lot of action and venture, which I think my son really enjoyed very, very great for reluctant readers. But as we talked about before when I talked about Gary's book that just came out in 2021 he does just a great job of describing the setting and the environment.
And even the feelings that Brian is going through.
I really enjoyed this story. My son really enjoyed it too, and it actually got him to read some of the other books that Gary Paulsen had written. This is one of my favorites, again, not from my childhood, but from a little more recent past.
Perennial favorite
Stacy: So that's awesome. Hatchet is definitely a perennial favorite for required reading in schools. There are so many copies and so many additions of that book. I think and at any time during the year, when I look up to see because I would order replacements if needed there are so many checked out all the time, so it's definitely a perennial favorite.
And I think it's awesome when like your son, Kristine when somebody reads an author's work and then it just opens doors to all of their other titles. I think that's awesome.
Newbery contest on Facebook
Kristine: well, I thank you, Cara and Stacy for joining us for today's podcast, be sure to keep an eye on our Facebook page.
As Cara had mentioned for our Newbery contest, that we'll be hosting.
Newbery Awards broadcast
And also we'll be anxiously awaiting the 2022 announcement for the Newbery award. So you can watch the 2022 American Library Association, Youth Media Awards live virtually on January 24th, 2022 at 8:00 AM. A live video stream will be available at ala.unikron.com
In conclusion
Thank you for joining us.  Listeners, remember to subscribe so you don't miss an episode. Viewers, follow the Clermont Library, YouTube channel for this and other great content. You can find all of the books we talked about in our catalog or in our digital collection through Libby, Hoopla or Freading.
Thank you.
You might also enjoy
Podcast: Play in new window | Download
https://clermontlibrary.org/wp-content/uploads/2023/01/FE-Newbery-3.jpg
440
330
Staff Writer
https://clermontlibrary.org/wp-content/uploads/2022/11/CCPL-Logo-tightcrop-transparent.png
Staff Writer
2022-01-05 12:13:55
2023-01-10 12:41:40
The Newbery Award: Staff Favorites